It lasted about 15 seconds and didn't grab many headlines, but there was a moment on the explosive Trump-Cohen tape about something else besides paying for a model's silence with cash or check.
The secretly recorded conversation between Donald Trump and his attorney Michael Cohen also mentions two names: Pastor Mark Burns and Pastor Darrell Scott.
The pastors were among the Trump's most trusted surrogates for black outreach during the 2016 campaign.
About one minute into the roughly three-minute recording, Trump can be heard telling Cohen "your guy is a good guy."
"Who, Pastor Scott?" Cohen replies.
Trump then asks Cohen if the campaign can "use" him anymore, not clarifying who he was initially referring to.
Cohen then realizes that Trump may be referring to Pastor Burns instead and offers up his name.
After some confusing back and forth where Trump also mentions Scott's name again, Trump repeats his question: "What's, what's happening? Can we use him anymore?" and Cohen says "No, no."
The tape, which was recorded in September, 2016, was made around the time a CNN interview with Burns revealed the pastor had falsified many parts of his professional background and credentials.
The more immediate question is: Did Trump really not know who was who among his black surrogates? Was it a mere slip of the tongue in terms of names amid a hectic campaign?
Some political insiders say this specific part of the tape raises questions.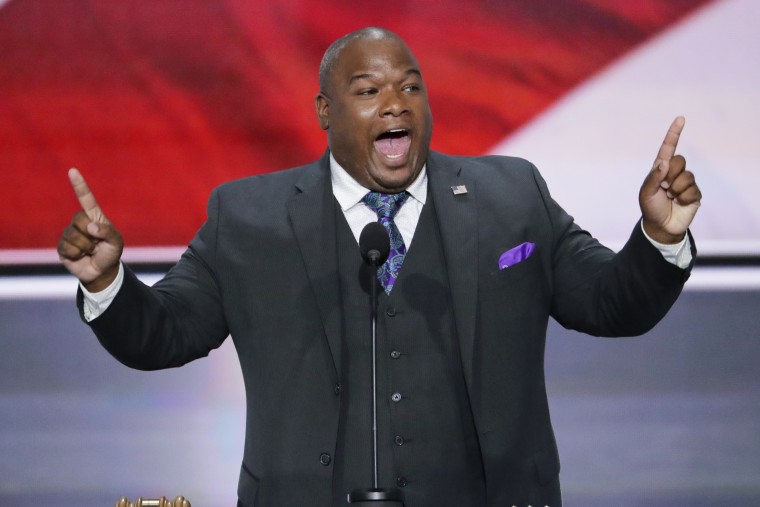 "Whether we're talking about his famous full-page ad in The New York Times attacking the Central Park 5 or last year when he implied Frederick Douglass was alive and `being recognized more and more,' it's no secret that Donald Trump doesn't care for black people," said Quentin James, co-founder and executive director of The Collective, a political action group which works to elect African American candidates nationwide.
"And now we're learning he didn't even know the difference between Darrell Scott and Mark Burns, two of his only black surrogates," James added. "But I can't really blame Trump for the mistake. When you have so many puppets saying the same thing over and over again on TV, it gets tough to distinguish them."
When it comes to race and politics, some experts told NBC News that the issue of Trump and other candidates utilizing black surrogates is not a new practice.
Democrats, Republicans and independents have all used black surrogates in recent national political campaigns, said Dr. Khalilah Brown-Dean, a professor of political science at Quinnipiac University in Connecticut who specializes on the intersection of U.S. elections, voting rights, and race.
"There's a long history of dispatching a surrogate in campaigns around race, civil rights and other issues," she said. "It often happens when a candidate is in crisis mode or falling behind with certain demographic groups. It is viewed as a way of understanding where your blind spots are and trying to shore them up."
The audio recording was made public just a few months before the 2018 midterm elections, in which the black vote could prove pivotal. Hillary Clinton won about 88 percent of the black vote in the 2016 election compared to Trump's 8 percent.
BlackPAC, which works to elect candidates of color, recently commissioned a "Black Battleground" poll that surveyed 1,000 black voters registered in key states: Missouri, Ohio, Pennsylvania, Virginia, Michigan, North Carolina, Illinois and Florida.
Among the findings:
70 percent say racism is getting worse since Trump was elected.
89 percent of black voters feel racism is prevalent today, while 63 percent feel it's very prevalent.
40 percent of black voters say they personally experience racism often.
56 percent of black voters feel black people are under attack and that this is not politics as usual.
78 percent of black voters agree with the statement that Donald Trump is racist (60 percent strongly agree).
"Black voters see a different America than the general electorate," said Adrianne Shropshire, executive director of BlackPAC. "While polling of the general public shows a country divided about its future, black voters are deeply dissatisfied with the direction of the country, and while the general public is optimistic about the economy, a majority of black voters say it's getting worse."
She added: "Disappointment with the direction of the country coincides with strong views that racism remains prevalent in America, that racism is getting worse and that the president, himself, is racist."
Trump's apparent confusion over the names of two of his top black surrogates hasn't rattled their support for him:
Wednesday on Twitter, Trump called the secret Cohen recording "sad."