Two dozen U.S. stealth jets were among hundreds of aircraft involved in war games in South Korea on Monday intended as a show of strength to neighboring North Korea.
Dubbed Vigilant Ace, the annual military drills come amid heightened tensions in the region triggered by Kim Jong Un's missile and nuclear tests and the ratcheting up of rhetoric from both sides.
A total of 230 planes will fly from eight locations in South Korea, the Air Force said in a statement.
The Navy and Marine Corps were also participating in what was described as "a realistic air combat exercise" designed to improve the technical cooperation between the American and South Korean militaries. About 12,000 U.S. military personnel are involved.
North Korea described the exercises as a "grave provocation," claiming in its state-run media Monday that they could escalate the situation "to the brink of nuclear war."
Pyongyang said Vigilant Ace was being staged at a time "when insane President Trump is running wild" and it also condemned South Korea as "puppet war maniacs."
The Air Force said the exercises were "not in response to any incident or provocation" and pointed out that the U.S. and South Korea engage in war games every year.
But this latest round, which runs until Friday, comes less than one week after North Korea's latest test of what appeared to be an intercontinental ballistic missile, or ICBM.
Analysts said the rocket was the most powerful ever launched by the North — with some suggesting it had the range to reach anywhere in the U.S. mainland.
However, any long-range nuclear weapon would still need a robust re-entry vehicle, a lightweight warhead and accurate guidance systems, elements Kim's regime has not publicly demonstrated.
Experts are unsure exactly how close Kim is to achieving his goal, and many believe he wants the weapons to deter the U.S. from trying to topple his regime, rather than to strike them without provocation.
North Korea has said in public statements that it wants an official end to the Korean War. The conflict was halted by a 1953 armistice but no peace treaty has been signed. It also wants nothing short of full normalization of relations with the U.S. and to be treated with respect and as an equal in the global arena.
Related: 'Ghost disease' ravages N. Koreans near nuke site, defectors say
The U.S says its war games with South Korea are "designed to ensure peace and security on the Korean Peninsula" and show Washington's "commitment to stability" in the region.
The scale of the drills is similar to previous years, the military said. However, six F-22 fighter jets, as well as six F-35As and 12 F-35Bs, were involved for the first time.
The North has offered to freeze its nuclear and missile programs in exchange for the U.S. stopping its joint drills with South Korea. Russia and China also back what the latter calls a "dual suspension" solution to the standoff.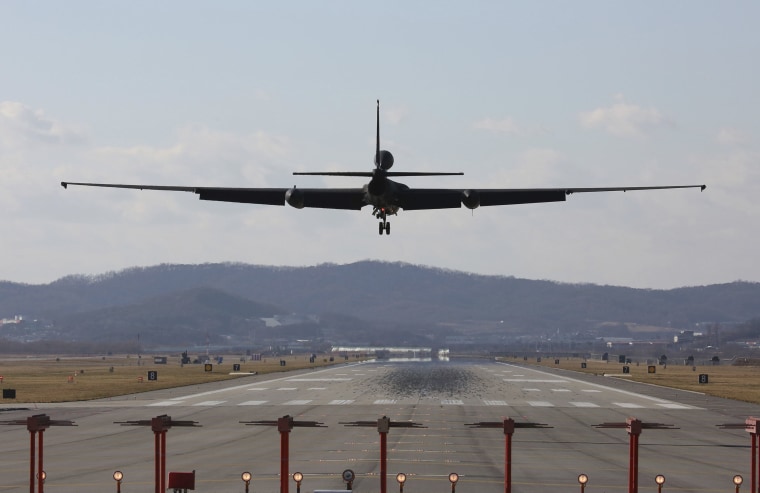 Earlier this year, Secretary of State Rex Tillerson rejected such a freeze because he said it would effectively enshrine the nuclear capability that North Korea has already achieved and leave little leeway to dismantle its program as it stands, something that would be unacceptable to the U.S.
Referring to this week's military exercises, Chinese Foreign Minister Wang Yi said, "it is regrettable that all parties did not grasp the window of opportunity China had previously appealed for."
China also opposes a U.S. anti-missile system deployed in South Korea. It says the Terminal High Altitude Area Defense, better known as THAAD, could penetrate into its territory using the system's powerful radar.
Many experts agree that war on the Korean Peninsula would likely result in a high level of civilian casualties.
Related: Bomb shelters are everywhere in Seoul
China has appeared reluctant to impose the level of sanctions that the Trump administration would like, possibly fearful of a humanitarian crisis at its border and a U.S.-backed unified Korea.
National Security Adviser Gen. H.R. McMaster said Sunday that President Donald Trump would "take care" of the issue, without offering specifics.
McMaster, in an interview with Fox News, said that Trump had made it a priority "to move as quickly as we can to resolve this crisis with North Korea."
"If necessary, the president and the United States will have to take care of it, because he has said he's not going to allow this murderous, rogue regime to threaten the United States," McMaster said.
Sen. Lindsey Graham, R-S.C., said he believes that it's time for U.S. military families in South Korea to leave the country because conflict with North Korea is getting close.
In addition to American diplomats and other embassy workers, about 28,500 U.S. troops operate in the country, and many come with their families, who often live on huge, well-guarded military bases.