Formula 1 driver Max Verstappen made history Sunday with a 10th consecutive win, continuing a season of extraordinary dominance with a victory in the Italian Grand Prix.
Verstappen, driving for Red Bull Racing, broke a record of nine wins in a row that first set 10 years ago by Sebastian Vettel, who won four world championships, also driving for the Red Bull team.
"Another win! And a nice one, too, as well," Verstappen said on his team radio after he took the checkered flag. "That's a nice stat."
"I never would have believed that was possible," he said in a post-race interview. "But we had to work for it today, so that made it definitely a lot more fun."
Verstappen, 25, who matched Vettel's record last week by winning his home race in the Netherlands, is on course to win his third world championship this year.
After Verstappen and Vettel, the next names in that record book are three Formula 1 drivers who have won seven races in a row: Alberto Ascari, Michael Schumacher and Nico Rosberg.
It wasn't a straightforward win for Verstappen on Sunday. He started the race in second behind Ferrari driver Carlos Sainz, who scored pole position at his team's home race and delighted the tifosi by fending off early attempts by Verstappen to attack his lead on the track. Verstappen eventually overtook him on lap 15.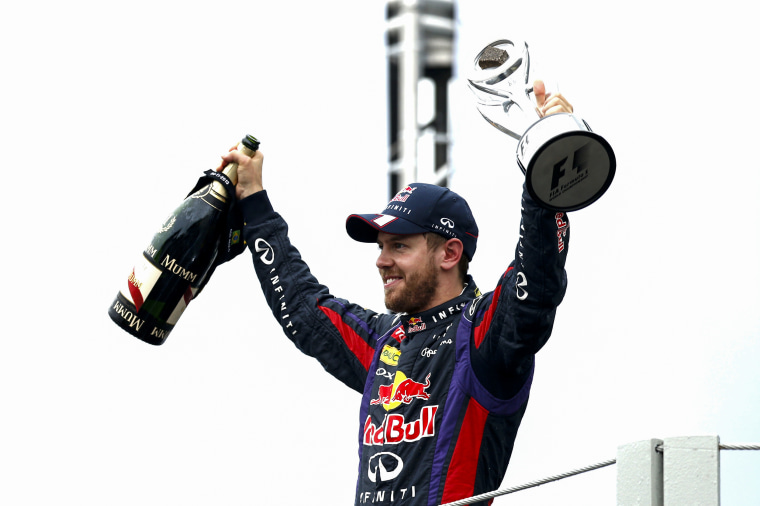 Verstappen has won 12 of the 14 races this season, while his Red Bull Racing teammate Sergio Perez has won the two others. No team has ever won every race in a Formula 1 season.
Perez finished second Sunday, while Sainz held off Ferrari teammate Charles Leclerc to take third place.
Mercedes driver Lewis Hamilton, a seven-time champion whose consecutive win streak is five, sought to downplay Verstappen's achievement before the race.
Hamilton told Sky F1 he's "no more impressed" by Verstappen's feat than by the achievements of other champions, like Schumacher, Vettel and Fernando Alonso. Hamilton added that he believes "all my teammates have been stronger than the teammates Max has had."
Verstappen, who defeated Hamilton in a thrilling championship battle on the last lap of the 2021 season, said before the Monza race that he wasn't bothered by his rival's jab.
"Maybe he's a little jealous of my current success," Verstappen quipped to Dutch reporters, according to RacingNews365.
"This kind of statement ... he possibly thinks he's winning something with that, but it makes no difference to me," he said. "I think Mercedes have a very hard time dealing with losing after all these years of winning so much."