The Florida prosecutor in charge of the murder case against alleged cop killer Markeith Loyd said Wednesday that she is "eagerly anticipating" a new state law for seeking the death penalty after the Supreme Court struck down Florida's system last year.
The comments by Ninth Judicial Circuit State's Attorney Aramis D. Ayala suggest that she could seek the death penalty for Loyd, who is accused of killing a woman pregnant with his child in December and then fatally shooting a police officer during a manhunt in January. But Ayala said no decision has been made.
"We are eagerly anticipating a new statute from the Florida Legislature. And at that point, we will evaluate and determine whether we are seeking death on Markeith Loyd," Ayala said at a news conference Wednesday.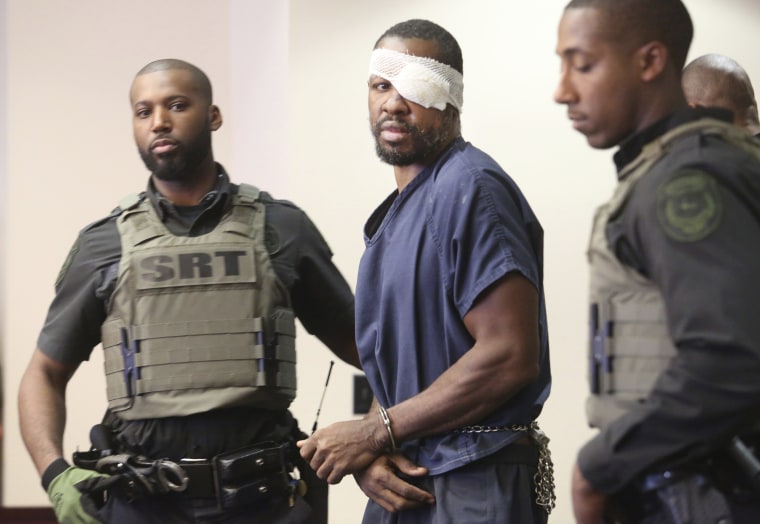 Loyd, 41, was indicted Wednesday on first-degree murder charges in the Dec. 13 killing of Sade Dixon, 24, and the Jan. 9 shooting death of Orlando police Lt. Debra Clayton, 42, whom authorities said Loyd killed in a Wal-Mart parking lot.
Related: Suspected Cop Killer Markeith Loyd Competent to Represent Himself, Judge Rules
Orange County sheriff's Deputy Norman Lewis was killed in a motorcycle crash with an unrelated car during a pursuit.
Loyd was indicted on 11 counts, including three counts of first-degree murder, in the deaths of Dixon, Clayton and Dixson's unborn child, NBC affiliate WESH reported.
When Loyd was arrested on Jan. 17, police video from a helicopter appeared to show two law enforcement officers kicking him as he was on the ground, and he has appeared in court with a large bandage over his left eye.
The U.S. Supreme Court in January 2016 ruled that Florida's death penalty law was unconstitutional because it requires the trial judge and not the jury to make critical findings necessary to impose capital punishment.
Related: Accused Orlando Cop Killer Markeith Loyd Makes First Court Appearance, Goes on Profane Tirade
The Supreme Court found that the process violated defendants' rights under the Sixth Amendment, which guarantees the right of a trial by an impartial jury. The court ruled 8-1, with Justice Samuel Alito dissenting.
Orlando police are investigating the use of force during his arrest. Ayala said Wednesday that the investigation is ongoing. Orlando Police Chief John Mina has said Loyd tossed two handguns to the ground before he was arrested, refused to put his hands behind his back when on the ground and was considered extremely dangerous.
"In the video he's — it does look like he's having trouble crawling to where the officers are. The officers were very concerned about what was underneath him," Mina said in January. After Loyd was handcuffed and officers removed his body armor, they found a large bag of ammunition on him, "so they didn't know what was under there," he said.