It was a Sunday that Amtrak officials would just as soon forget.
Two railroad workers were killed when a train crashed into a backhoe south of Philadelphia. A motorist was killed in Illinois when a train crashed into a car at a rail crossing. And again near Philadelphia, a pedestrian lost a leg after he was struck by a train.
All this mayhem was preceded by an Amtrak accident Saturday near Sacramento, California, that left one man dead.
"We have been a safe and reliable transporter of more than 30 million passengers across a 21,000-mile national network every year," Amtrak said Monday evening. "However, we need to assess how we can get better."
As regular Amtrak service resumed Monday across the system, the National Transportation Safety Board deployed teams of investigators to probe the what transit experts say was an unusual spate of Amtrak accidents.
Meanwhile, lawmakers demanded answers — especially about Sunday's deadly derailment in Chester, Pennsylvania, on one of the nation's busiest stretches of track.
"There is no excuse for a backhoe being on the track that a train, that a live train, was running on," Sen. Chuck Schumer, D-New York, said shortly after the wreck.
The Delaware County medical examiner's office identified the victims as Joseph Carter, 61, the driver of the backhoe, and Peter John Adamovich, 59, who was struck by the train. Their deaths were ruled to be accidents.
Thirty-five other people were hospitalized after the accident with non-life-threatening injuries, Chester Fire Commissioner Travis Thomas said.
There were 341 people aboard Amtrak train 89, bound for Savannah, Georgia, when the accident happened at 8 a.m. Sunday. The lead engine derailed after striking the backhoe, according to Amtrak.
Among the injured was the locomotive engineer, NTSB investigator Ryan Frigo said.
Investigators have recovered the train's event data recorder, along with the forward-facing and inward-facing video from the train, Frigo added.
All will be sent to the NTSB laboratory in Washington, D.C., for full examination, but Frigo said preliminary data showed that the train was traveling at 106 mph on a stretch of track where the speed limit is 110 mph. The engineer began emergency braking about 5 seconds before the point of collision, he said.
Passenger Stephanie Burroughs said she heard a loud boom and then a crunching sound. She said that was followed by a fireball and a plume of smoke.
"You heard the train just literally grinding to a halt, and then there was silence," Burroughs told NBC News. "There were some people shaken up. There were some people crying."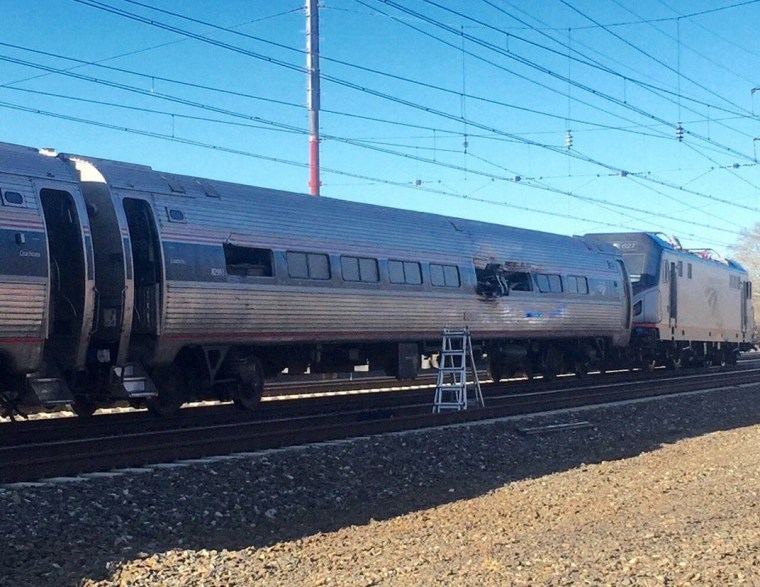 "There was an explosion, then a fire, then the windows busted out," said Linton Holmes, a 15-year-old from Wilson, North Carolina, who was riding in the back of the train.
Linton said that in the aftermath, he saw dozens of people banged up and bloodied.
NTSB investigators were also probing another deadly crash in Somonauk, Illinois, about 66 miles west of Chicago.
In that incident, a California-bound train struck a car at a railroad crossing Sunday afternoon, the Somonauk Fire Department reported. The name of the dead motorist hasn't been released.
In Bensalem, Pennsylvania, the NTSB was trying to determine how a man who wound up losing a leg found himself at 7:30 p.m. Sunday in the path of Train 672, which was heading north to New York City.
Calling it a "trespassing incident," Amtrak spokesman Marc Magliari said it isn't easy to get on that stretch of track near the Cornwell Heights Station.
And in California, investigators were piecing together the last moments of a man who died after he was struck by an Amtrak train in West Sacramento.
"It appears the individual was attempting to cross not at a crossing," Union Pacific spokesman Justin Jacobs told NBC News. "We really want to reiterate safety. The only safe place to cross is at a designated crossing, when it's safe and when the signs permit."
The weekend's accidents happened nearly a year after eight people were killed and more than 200 others were injured when an Amtrak train traveling from Washington, D.C., bound for New York City derailed in Philadelphia.
While the exact cause of the derailment hasn't yet been determined, authorities have said the train was traveling twice the posted speed limit on that stretch of track.
This weekend aside, total train accidents have declined by 19.2 percent from 2013 through 2016, according to the Federal Railroad Administration.
And 9 out of 10 deaths last year and in 2014 were due either to trespassers who wandered onto the tracks and got struck — or to persons who walked or drove into the paths of trains at crossings.