Dozens of Syracuse University students walked out of a forum attended by the school's chancellor on Wednesday night, demanding he endorse all of their requests after a series of racist incidents on campus or resign.
The students held fists in the air and shouted "sign or resign!" as they filed out of a campus auditorium before Chancellor Kent Syverud spoke. Syverud said he would be unable to commit to all of the demands on the spot, then briefly met with some of the student protesters saying he hoped to come to an agreement by Thursday, reported NBC affiliate WSTM.
"I do not agree with everything I've heard," Syverud said in response. "I do not agree with all the facts said."
The forum capped a tumultuous day at the private university in Syracuse, New York, which has been roiled by a string of recent incidents on the campus that have targeted marginalized groups, including Jewish, Asian and black community members. There have been at least 12 episodes since Nov. 6, including anti-Asian and anti-black slurs graffitied in residence halls and a swastika drawn in a snowbank near an apartment complex where students live.
Angered over the perceived inaction by university officials to protect students and get a handle on the hate speech, which included the alleged sharing of a white supremacist manifesto, members of the student movement Not Again SU said in a social media post that they wanted the resignation of Syverud as well as the campus chief of police and others if their full demands aren't met.
Early Thursday, the chancellor said he signed on to nearly all of the 19 recommendations made by students; 16 were approved as written, and Syverud suggested minor revisions for three others that he said were necessary to comply with the law or because they need the Board of Trustees' approval.
"I can sign and will sign to show the 98 percent that I can agree with and I do agree with and have the power to agree with ... I will do that as promptly as a I can," Syverud said earlier at the student forum.
The school on Tuesday had released a summary for a proposed action plan based on the student's demands, including that any student involved with the recent hate crimes be expelled, the school's current anti-harassment policy be revised, new staff and faculty undergo mandatory diversity training, and newly hired counselors should better represent "all marginalized identities on campus."
In the wake of some of the incidents, the school has taken action, including suspending fraternity social activities after one chapter's members and their guests allegedly subjected a black student to a "verbal racial epithet" on Saturday night.
Syrverud said Wednesday that four students have been suspended as a result of an investigation, while 10 others were referred to for "appropriate discipline."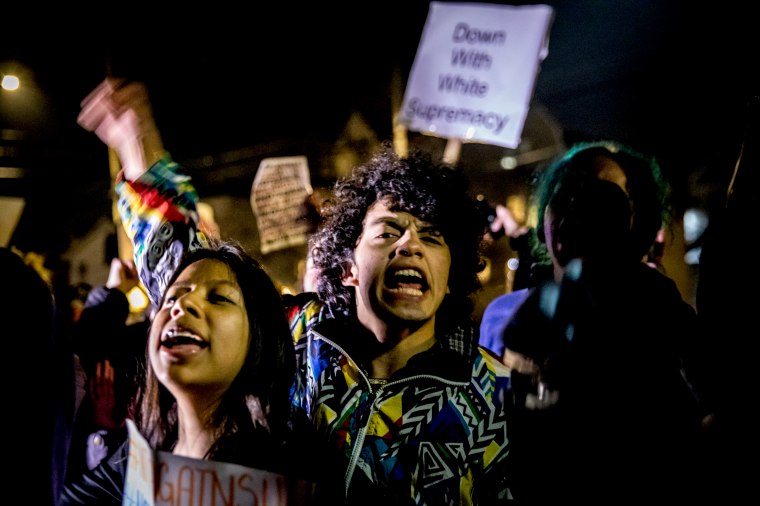 The school is working with New York State Police and the FBI in connection with some of the incidents, including the swastika found in the snowbank and a purported "white supremacist manifesto" posted online and allegedly attempted to be shared via students' cellphones through a file-sharing function on Apple products called AirDrop.
In addition, the administration confirmed Wednesday that campus public safety was working with state police and the FBI to investigate an email sent to a faculty member that "contained anti-Semitic language and was threatening in nature."
At a student senate meeting on Wednesday, Syverud said nine officers, consisting of campus safety and Syracuse police, were dedicated to finding the people responsible for the "hateful incidents."
The chancellor said he understands the students' concerns after emotionally recalling a time years ago when he worked in the South while raising his mixed-race family. Syverud, whose wife is Asian American and currently teaches at Syracuse, said the perpetrators who sent his family threats were never found.
"That was then, that was the South. It was hard for my wife and it was hard for my kids," Syverud said. "But this is Syracuse, this is 2019. I do not accept this hatred here and now."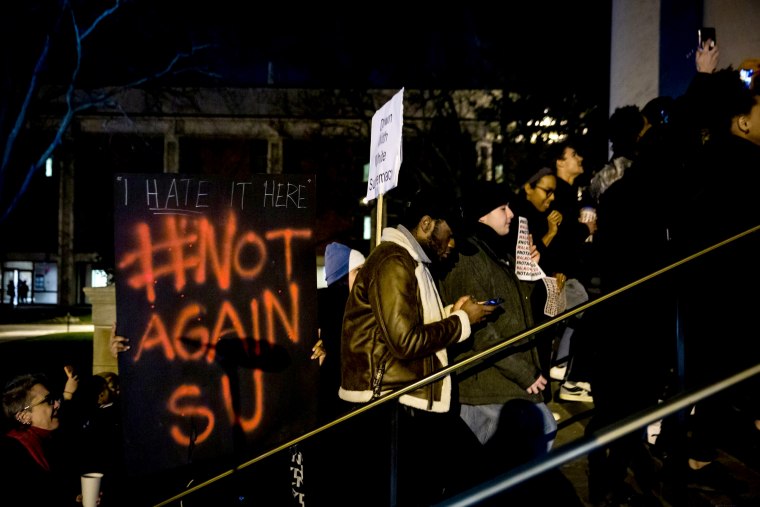 He went on to say that no person on campus should be afraid because of who they are and that the school now has a team ready to respond to further incidents.
Syverud also reiterated that a $50,000 reward was available for information that leads to the apprehension of suspects.
Students on Thursday continued their protests that began with a sit-in more than a week ago to object to the administration's handling of the incidents. The campus remains open ahead of the Thanksgiving week break, but some students said they were leaving early out of fear for their safety.
Those in attendance at the student senate meeting continued to express a lack of faith in the administration's ability to tackle the larger problem. One student also criticized the school for using the term racist "incidents," emphasizing that the episodes were instead "hate crimes."