A major search for a 14-year-old girl who disappeared from the Phoenix area over three years ago came to a happy end when the young woman, now 18, reported to a police station in Montana, officials said Wednesday.
Alicia Navarro went to the small town near the Canadian border recently and said she is the girl who vanished from her Glendale, Arizona, home on Sept. 15, 2019, Glendale police said.
"She is by all accounts safe, she is by all accounts healthy, and she is by all accounts happy," Jose Santiago, a spokesman for Glendale police, told reporters at a news conference.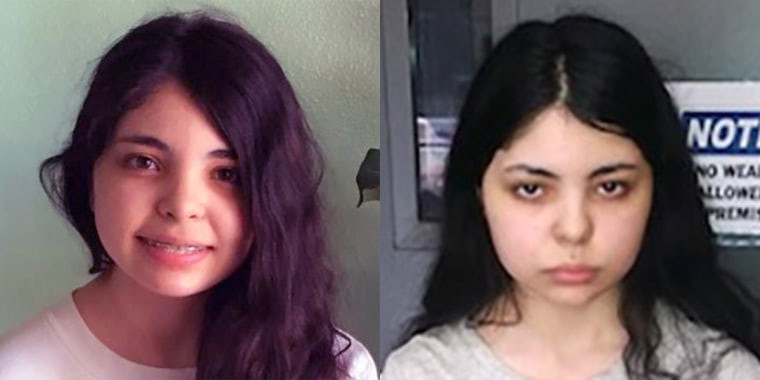 The disappearance started as a runaway, police Lt. Scott Waite said, but the case is under investigation, and more details about how she got to Montana remained unclear.
"Every indication she's given to us so far is that she willfully left her home," Waite said. "Now the dynamics surrounding that decision are obviously something we're looking into."
When Navarro went to police in the very small Montana town, around 40 miles from the U.S.-Canada border, she was alone, and every time she talked to police she did so alone, officials said.
"She showed up to a police department. She identified herself as Alicia Navarro. She basically asked for help to clear her off of a missing juvenile list," Santiago said.
"She is not in any kind of trouble. She is not facing any kind of charges," he said.
Navarro's disappearance sparked a search that included the FBI and the Center for Missing and Exploited Children. There were thousands of tips over the years, police said.
Waite said that when Navarro was reunited with her mother, it was "emotionally overwhelming" for both of them.
"I can say, for everyone involved, including the detectives, it was extremely overwhelming," Waite said.
Police clarified Friday that the mother and daughter "were connected electronically."
"They have not been in physical contact. We are working with Alicia to fulfill her needs/wishes. That said, we have been in communication with her mother," a spokesperson said.
Navarro and her family are asking for privacy, police said. Police would not name the Montana town.
"She wanted to talk to her mom, and she wanted to make sure her mother knew she was OK," Santiago said.
Navarro is "very apologetic to what she has put her mother through" and expressed that it was not intentional and that she hopes to have a relationship with her mother and move on with her life, Santiago said.