The Trump administration's rush to remove any and all undocumented immigrants has resulted in an almost 40 percent increase in immigration arrests — with the largest arrest spike being in immigrants with no criminal offense other than being undocumented, according to a new government report released Wednesday.
Since being given the green light to ramp up its pursuit of undocumented immigrants under a presidential executive order, U.S. Immigration and Customs Enforcement (ICE) officers have arrested more than 41,000 individuals since January — at an average of 400 arrests per day, according to a report by ICE.
That's an increase of 37 percent over the 30,028 immigration arrests made during the same period last year, under the Obama administration.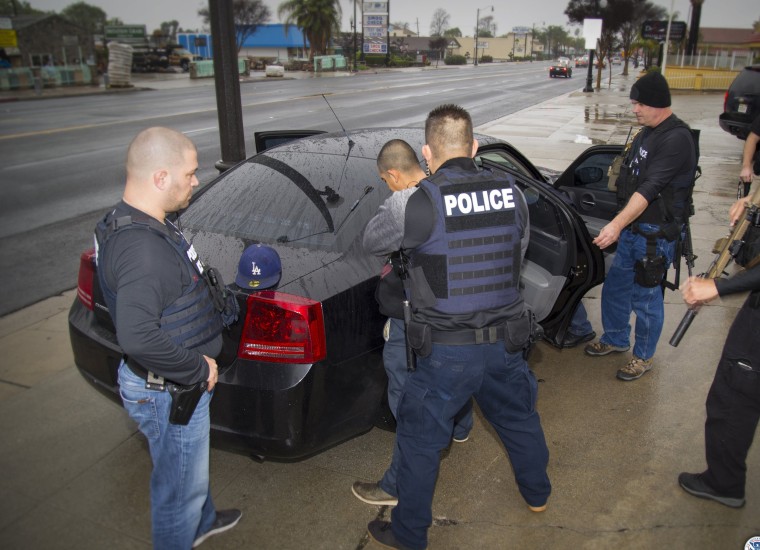 But despite Trump stating time and time again — and even writing in the executive order — that his immigration crackdown would be focused heavily on "criminals," "bad hombres," and "public safety," the largest spike in immigration arrests has actually been those with no criminal records.
There was a "rise in non-criminal arrests over the same period, which increased from approximately 4,200 in 2016 to more than 10,800 in 2017," — a stratospheric spike of over 150 percent, according to the report.
"These statistics reflect President Trump's commitment to enforce our immigration laws fairly and across the board. ICE agents and officers have been given clear direction to focus on threats to public safety and national security, which has resulted in a substantial increase in the arrest of convicted criminal aliens," said ICE Acting Director Thomas Homan in a statement.
While ICE is touting its numbers as a success, several civil rights organizations say the data reveals a different agenda.
"ICE's celebratory announcement that it arrested more people than last year misrepresents the true workings of Trump's deportation force," said Chris Rickerd, a policy counsel at the ACLU. "Fewer than 10 percent of criminal arrests were because of violent crimes, so ICE isn't prioritizing its operations. Six thousand more immigrants without criminal records were arrested this year — their suffering families and separated children are casualties of Trump's mass deportation agenda," he said.
Immigration arrests from January to April 2016 were lower than 2017, but 92 percent of those arrested had criminal records, as opposed to 75 percent with criminal records under Trump, according to data provided to NBC News by ICE.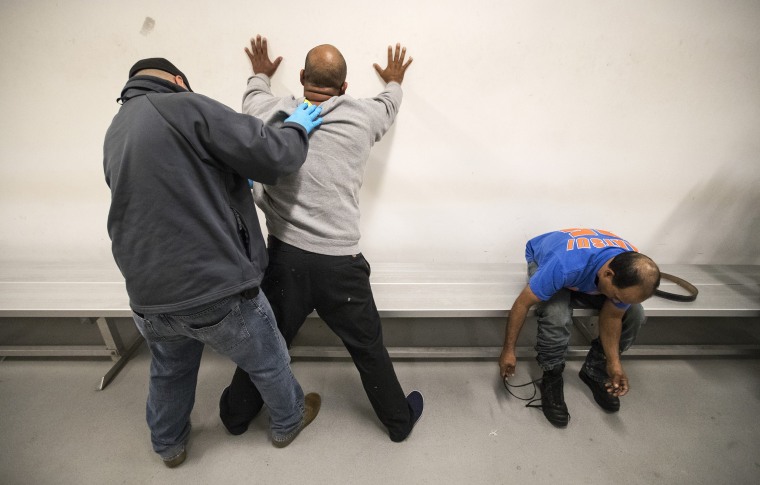 "What ICE's focus on numbers conceals is that the Executive Order expanded who can be defined as a 'criminal' to include those charged with pending criminal charges and those who have never been charged with a crime," said Mizue Aizeki, Deputy Director of the Immigrant Defense Project.
"This new data confirms what we already knew based on the calls we've received from frantic family members, and the people our legal staff see in detention centers, said Mary Meg McCarthy, executive director of the National Immigrant Justice Center.
"These arrests rarely seem to be in the interest of public safety, but rather are tearing apart families, hurting small businesses, and heightening fears in communities that have previously thrived because of their immigrant populations," she said.
But ICE officials say there should be no delineation between criminals and non-criminals, despite Trump's executive order giving clear "priority" to "aliens convicted of any criminal offense," when it comes to undocumented immigrants.
"As Secretary Kelly has made clear, ICE will no longer exempt classes or categories of removable aliens from potential enforcement. All of those in violation of the immigration laws may be subject to immigration arrest, detention and, if found removable by final order, removal from the United States," said Matthew Bourke, a spokesman for ICE.