The Florida college student accused of killing a couple and biting the dead man's face had claimed he had super powers in recent days — and authorities say they will test for a delirium-inducing synthetic drug as they investigate the apparently random attack.
Suspected killer Austin Harrouff, a 19-year-old Florida State University student, was in custody at a hospital Wednesday and was coherent but unable to speak due a breathing tube, the Martin County Sheriff's Office said.
Investigators believe Harrouff attacked Michelle Mischon, 53, and John Stevens, 59, as they sat in the garage of their Tequesta home Monday night, killing both of them. Deputies arriving on the scene found Harrouff on top of Stevens' body biting his face, Martin County Sheriff William Snyder said, and it took several deputies to overpower him.
"The suspect in this case was abnormally strong," Snyder said Tuesday. A Taser stun gun had no effect and deputies were initially unable to pull him away. "Nothing was working, using all the physical force they could muster," Snyder said.
Initial tests showed no evidence of common street drugs like cocaine, methamphetamine or heroin, he said.
But turther tests will look for evidence of "flakka," the sheriff's office said Wednesday.
Flakka is a synthetic drug that has been gaining popularity recently, it is known to cause delirium, paranoia and what has been called superhuman strength.
Related: College Student Kills Couple, Found Biting Face of Victim
A Jupiter, Florida, police report indicates that Harrouff's mother noticed her son making odd statements in the week before the killings.
Mina Harrouff called police to report her son was missing after he abruptly stormed off during dinner with family and friends at a restaurant following an argument with his father at around 8:30 p.m, authorities said.
"Mina said he would say things like he had super powers, he was here to protect people, and other such remarks," Jupiter police wrote in an incident report. In a 911 call released by police Wednesday, she told a dispatcher, "it seems like he's a little delusional" and "he says he feels immortal and like a super hero."
Harrouff's mother told police she didn't think he was a danger to himself or others, but did ask that police look for him and make sure he was safe, according to the report. She told police her son had no history of mental illness or drug use, according to the report.
Harrouff lived with his mother several miles away from the scene of the attack in Tequesta, authorities said. His father lives one street away from where the attack occurred.
Related: 'Devil's Drug' Flakka Is Driving Florida Insane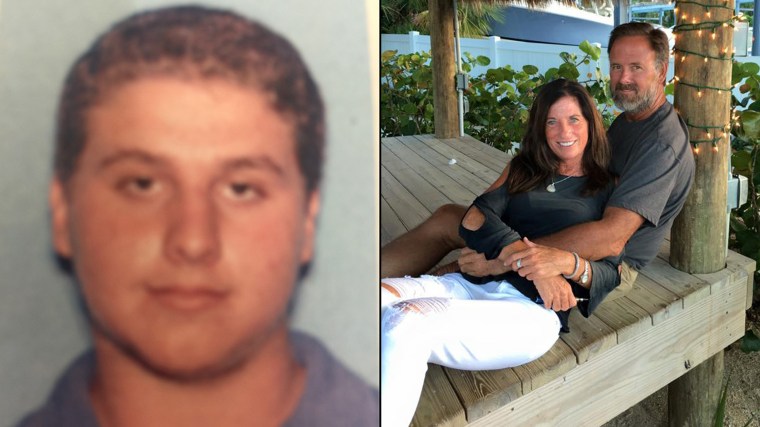 The neighbor who tried to help Mischon and Stevens, 47-year-old Jeff Fisher, was stabbed but survived. His family in a statement said "Jeff is doing as well as can be expected but he has a long healing process to go through."
"We are very proud of Jeff and the courage he has shown while attempting to help his friends and neighbors," the statement said, and asked for privacy.
Harrouff has not yet been formally charged with any crime, but the sheriff's office said it was working with prosecutors Wednesday on possible charges. Snyder said Harrouff used "weapons of opportunity" in the killings, which occurred at around 9:20 p.m., and a large switchblade was found.
Autopsies determined Mischon died of multiple blunt trauma and Stevens died of multiple injuries, the sheriff's office said.
Harrouff's family attorney, Michelle Suskauer, told NBC affiliate WPTV that there some questions in the case that may never be answered. "Certainly, there are mental health issues that are going to have to be investigated here. We don't know if anything is going to show up on toxicology or not," she told the station.
The tests for flakka could take one to three weeks, the sheriff's office said. The additional testing that will sample Harrouff's blood, hair and DNA to determine what drugs, if any, he may have been on.
Flakka has been associated with spiking body temperatures that can cause users to take off their clothes. Harrouff had taken off his shirt, but Harrouff's core temperature was not elevated, Snyder said.
Another substance that can cause similar effects, bath salts, could be involved but Snyder said Tuesday it was too early to speculate.
A similar attack occurred in Miami in 2012 when a naked man chewed the face of a homeless man for unknown reasons. The attacker was shot dead by police and the victim survived but suffered serious facial injuries. Bath salts had been suspected in that case, but an autopsy showed the attacker only had marijuana in his system, NBC Miami reported.