Bill Cosby will go on trial again Nov. 6, five months after a jury deadlocked on whether he was guilty of sexual assault.
The 79-year-old comedian is charged with drugging and molesting Andrea Constand at his home in 2004, the only criminal case stemming from dozens of accusations of sexual misconduct that he vigorously denies.
The first trial ended with a hung jury. The panel deliberated for 52 hours before telling the judge it was hopeless. After the judge declared a mistrial, prosecutors immediately said they planned to try again.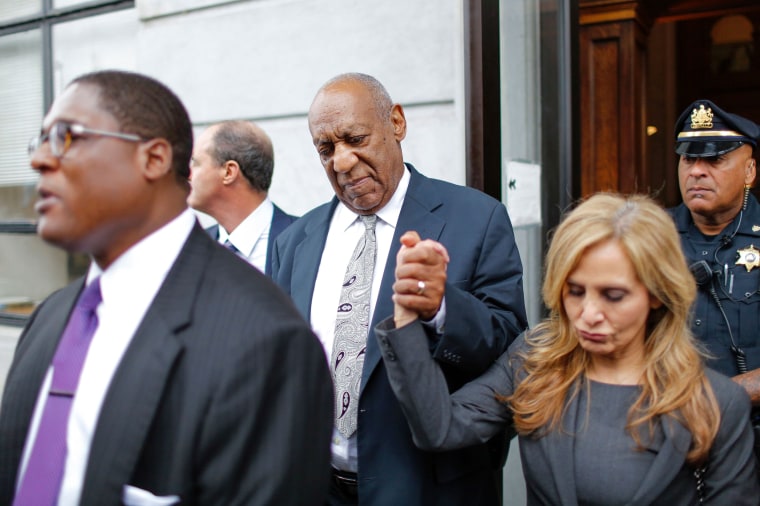 Cosby's spokesman, Andrew Wyatt, said he had no comment on the setting of a new date.
Jurors have given somewhat different accounts of why they couldn't reach a unanimous verdict, but the few who have spoken agree the deliberations were emotional and tearful at times.
Juror Bobby Dugan, who believed Cosby was guilty, told NBC News that he believed a second trial was necessary.
"Whether the verdict is guilty or not guilty, you need that final nail in the coffin," he said.
But another juror, who asked to remain anonymous, said it would be a "waste of money."
"Whatever the man did, he has already paid his price, paid and suffered," that juror told NBC affiliate WPXI. "He's looking bad. I was wondering if he was going to make it through the whole trial."
Cosby didn't testify at the first trial, but one of his defense lawyers has said that might change.
"We never ruled it out," attorney Angela Agrusa told NBC News last month. "He's a very charismatic and articulate person."