CHARLOTTE, N.C. — Buses shuttled thousands of people to the Billy Graham Library on Monday, offering the famed evangelist's followers an opportunity to pay their final respects to the man who was called "America's Pastor."
The Rev. Billy Graham, who had spread his crusading message to millions, died at age 99 last week. But those who came here to see the man lie in repose hoped this would not be the last time they saw the remarkable figure, a man who prayed with presidents privately one day and ministered to millions via satellite the next.
Photos : Mourners bid farewell to Billy Graham
"This is a celebration of the life that he led on earth," said Ulla Kappler, who drove in from Atlanta on Sunday night. "But while we're saying goodbye to him, there are so many people in heaven welcoming him home.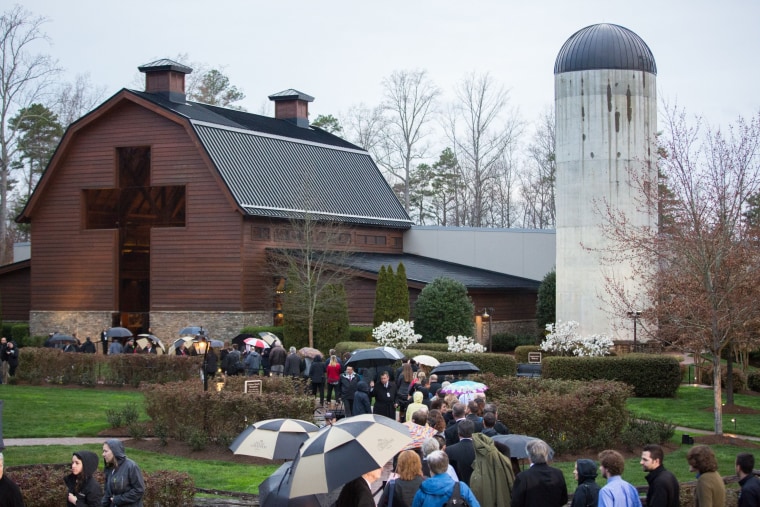 Kappler, 57, is one of many here who said that her life was changed by Graham, particularly after she attended his Atlanta crusade in 1994 — just one of the more than 400 evangelical campaigns he conducted across the globe between 1947 and 2005.
The difference between Graham and other televangelists, Kappler said, is that his ministry followed up after he spoke to those mass gatherings. They sent her a copy of the Book of John, one of the four Christian gospels, to study with a series of worksheets. It kept her engaged.
"Then they followed up and asked me if I found a church, and they put me in touch with one," said Kappler, who wiped away tears as she stood next to Graham's casket on Monday morning. "And I've been attending that church ever since. I have Billy Graham to thank for that."
Photo Gallery: The evangelist pastor Billy Graham's life in pictures
Throughout the day, thousands of people slowly filtered through the library and its surrounding buildings. The complex here is situated on 20 acres of rolling, wooded North Carolina hills, only a short drive from downtown Charlotte and its handful of gleaming skyscrapers.
While some mourners dressed in suits to pay their respects, others showed up on the gray Monday simply wearing jeans and T-shirts. The crowd ambled down a brick walkway to the front doors of the library, a large barn with a glass cross built into its side. After walking past the gift shop and cafeteria, some chose to sign their names in a guestbook next to a television that played video of the motorcade that had brought Graham's casket here on Saturday.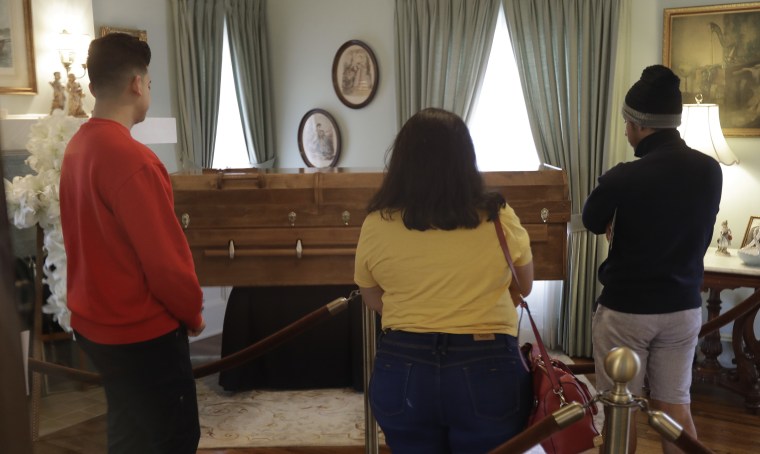 Another short walk outside finally brought mourners to Graham's childhood home, moved here to the library's grounds in 2007. Further down, past walls lined with photos — some taken while he or his wife preached at the pulpit, but most shots of his large family — Graham's body rested inside a simple wooden casket, built by prisoners at Louisiana's Angola Prison.
As people filtered through, Roy Graham, a grandson, stood in the corner of the room across from the casket and spoke softly with a few of them at a time.
"One thing I found rather unique while I was standing in there was how many people knew the exact date, time and place where they had seen my grandfather speak or preach, and they gave their life to Christ," said Roy Graham. "That's what they remembered: when they made their decision that changed the rest of their lives. We appreciate every one of them."
Related: Billy Graham 'would want to be remembered as a preacher,' son says
And he influenced some of the most important people in the United States, many of whom plan to pay their respects here. Former President George W. Bush — who credited Graham's preaching with convincing him to quit drinking — visited the library with his wife Laura on Monday, and former President Bill Clinton is expected to come on Tuesday without his wife, former Secretary of State Hillary Clinton, organizers said.
"If there is such a thing as a humble shepherd of the Lord, Billy Graham is that person," said Bush, who also conveyed his parents' condolences. "I'm unbelievably blessed to have met him."
"I know he wishes he could come, too, but he's not moving around much these days," he said of the elder President Bush. "But his spirit and heart is here."
President Donald Trump said he plans to attend Graham's private funeral on Friday, which the Billy Graham Evangelistic Association estimated could draw 2,300 people.
Graham's influence also stretched across the globe.
Suresh Sammangi, 44, first heard of Graham when he was in his native India. He said Graham's ministry found him in his early twenties, which led him to become a pastor himself.
"My heart is filled with joy," Sammangi said. "I was wowed by this man, and we were able to see his house and what kind of simple life he lived. He impacted the whole world."
Graham's personal pastor, Dr. Don Wilton, said that Graham's ability to speak, see and hear began to fail in his final days, but he insisted on Monday that Graham's commitment to others, his mission and his brand of Christianity had never wavered and continued on.
"I've been here since 5 o'clock this morning," Wilton said. "And ever since Wednesday, when I went to see Mr. Graham in the funeral home, I've been reminded of what he said. 'You're going to hear one of these days that I'm dead. Don't believe it! Because I'm not. I'm with Christ.'"
"And I believe that," Wilton added. "I really do."