/ Source: NBC Los Angeles
A wind-whipped wildfire swept over a California freeway Friday, torching nearly two dozen vehicles and sending motorists running for safety. No major injuries were reported.
The fire broke out near Interstate 15 in the Cajon Pass in San Bernardino County at around 2:30 p.m., and was quickly spread by hot winds that gusted up to 40 mph, fire officials said.
Cars and trucks were set ablaze as the flames jumped over the interstate, which is the main highway between Los Angeles and Las Vegas. Twenty vehicles were destroyed and another 10 were damaged.
Motorists stuck in traffic described how the fire jumped the freeway and raced up the mountain.
"Everyone decided to get out of the vehicle and just move upward, away from the fire," said Vicky Beglari Friday as she returned to her car left on the interstate.
"I was terrified. And then look how close I am," she said as she put her belongings in the trunk, motioning to a vehicle that was burned. "They said they tried to save my car, which I really appreciated."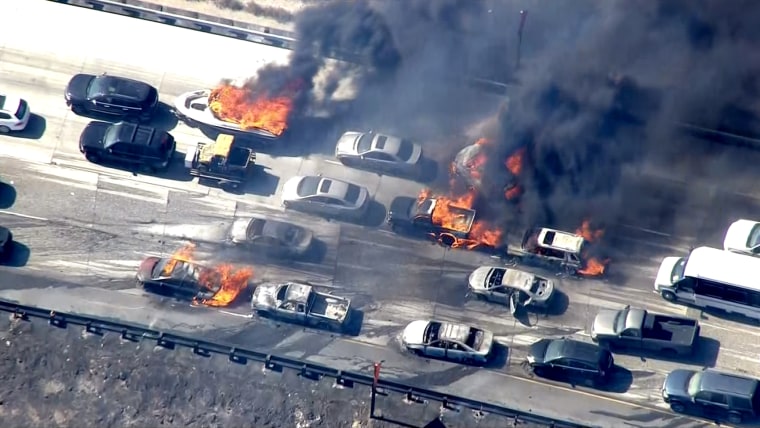 There were no injuries, firefighters said Friday evening. Earlier, officials reported that some people suffered smoke inhalation and burn injuries.
Watch Live Coverage on NBC Los Angeles
Firefighters used helicopters to try to douse the fires from above, as firefighters on the ground tried to put out burning vehicles on the interstate.
By 6 p.m., the blaze dubbed the North Fire swelled from hundreds of acres to 3,500 acres and it had set five structures on fire and threatened 50 others.
California is in the fourth year of a historic drought, exacerbating wildfire conditions. Hot, dry winds that gusted up to 40 miles per hour swept the blaze toward the interstate so quickly that officials couldn't stop traffic in time, said Liz Brown, spokesperson for the California Department of Forestry and Fire Protection.
"It's so dry that it's carrying that fire a lot faster, and put a little wind on it and this is what we have," she said.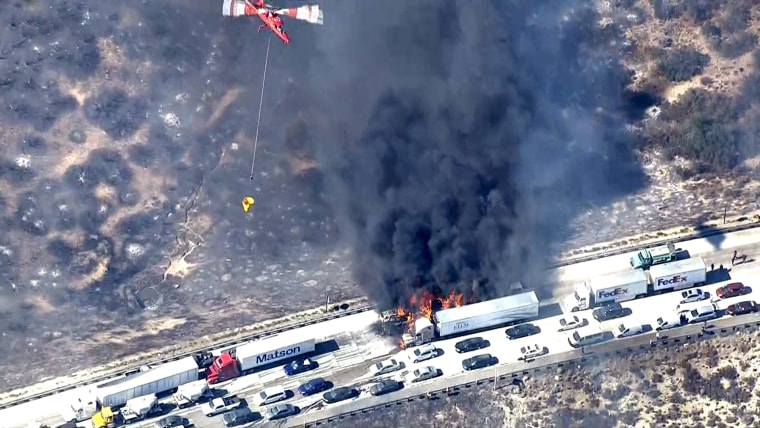 Flames from burning cars on the interstate spread to other vehicles, including a towed boat and a tractor-trailer, that were engulfed. The flames torched a car carrier, and the vehicles it contained were seen charred and ruined in the fire's aftermath.
The North Fire was zero percent contained Friday evening, and threatened homes in Baldy Mesa, where a mandatory evacuation order was in effect, the U.S. Forest Service said.
Nearly two dozen fire engines, three helicopters and an air attack plane, as well as other aircraft, were being used to fight the fire's spread Friday.
Ambulances and medical helicopters were sent to the the interstate, and San Bernardino County Fire prepared for a mass casualty event. The Cajon Pass where the fire burned vehicles on the interstate is about 60 miles northeast of Los Angeles.
A cause of the fire is not yet known.