A major chemical plant and two hazardous waste sites stood in the path of floodwaters streaming over two breached dams in central Michigan, authorities said Wednesday.
About 10,000 residents along the Tittabawassee River in Midland County, Michigan, began evacuating Tuesday night as floodwaters reached "containment ponds" at Dow Chemical Co. by Wednesday morning.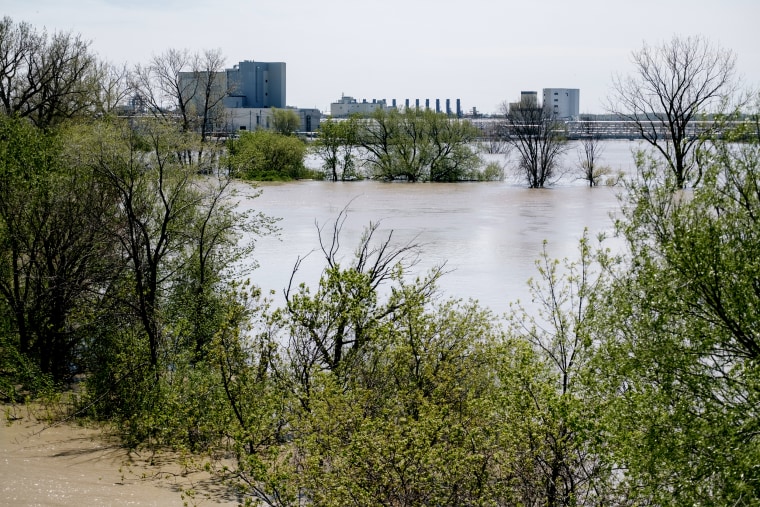 Floodwaters were expected to reach their highest points by late Wednesday night, but the river crested three hours earlier than predicted and under the forecast levels. Officials said that it is expected to be days before the waters recede to normal river levels.
A flood warning remained in effect for the entire length of the Tittabawassee River in Midland County, the National Weather Service said Wednesday night.
The river was expected to fall slowly through the night but remain above major flood stage, the weather service said.
Dow officials said they've implemented their "flood preparedness plan" and are working in coordination with Midland County authorities and the U.S. Coast Guard.
"All operating units on site have been safely shut down, except for facilities needed for safely managing chemical containment, and all railcars are secured," according to a company statement.
"Only essential staff are onsite to monitor and manage the situation with no reported employee injuries."
Dow said Wednesday evening that flood waters commingled with an on-site pond used for storm water and groundwater remediation. The was no reported product release and no threat to residents.
The EPA said it's closely monitoring two nearby Superfund sites, the Tittabawassee River itself and the Midland Soil Contamination sites. Superfund sites are environmentally contaminated areas that have been targeted by the EPA for cleanup.
A major flood in the region back in 2017 did not cause any additional environmental harm, the EPA said.
"EPA is prepared to assist the State of Michigan in assessing and responding to any public health and environmental impacts from the Tittabawassee River Superfund Site and Dow's Midland facility due to the ongoing flooding," the agency said in a statement on Wednesday.
Midland has been the headquarters for Dow Chemical Co. for more than 120 years and employs 9,000 workers and contractors, casting a long shadow on the city of 42,000 residents and county of 83,000.
Midland has two public high schools — Herbert Henry Dow Hight School, named after the company's founder, and Midland High School, which athletic teams nicknamed the "Chemics."
The city of Midland tweeted late Wednesday night that the disaster could have been worse but for the reaction of residents to heed warnings.
It said around 11,000 people were evacuated without a single casualty or major injury, adding " That is what happens when our residents listen to our warnings & work w/us. Thank you Midland for making our jobs easier."