The Coast Guard on Saturday suspended its search for members of a Florida family nearly a week after a father and his three kids went missing during a sailing trip in the Gulf of Mexico.
Two bodies discovered during the search effort this week were identified as Ace Kimberly and his 17-year-old daughter Rebecca, who also went by Becky, Coast Guard Sector Commander Gregory Case said at a news conference. The other children — Donny, 15, and Roger, 13 — were not located.
Related: Body Found in Search for Dad, 3 Kids Missing Off Florida Coast
Case said it was a "very difficult decision" to suspend active search operations for the other children. The Kimberlys had left Sarasota on Sunday morning headed for Fort Myers on an impaired boat.
"This is probably the most difficult decision I ever have to make in this position," Case told reporters.
Authorities found a body clad in a life vest Wednesday afternoon, but had been holding out hope Thursday that some family members might still be alive, especially after spotting what they thought might have been a flare flashing overnight.
On Thursday morning, search teams recovered a second body four miles southeast of where the first body was found, the Coast Guard said.
Related: Second Body Found in Search for Family Whose Sailboat Went Missing
The disheartening discoveries came after authorities found numerous items bobbing in the water that had been on the family's boat, including birth certificates in a bucket and two kayaks the boat had been tugging. Six life vests were also found.
Officials said the Kimberlys were going to Fort Myers to meet up with Ace's brother, who was going to help them do repairs on their boat. The last they were heard from was Sunday at 3 p.m. ET, when Ace called his brother to tell him the boat was in 6-foot seas, and said the family was attempting to survive offshore.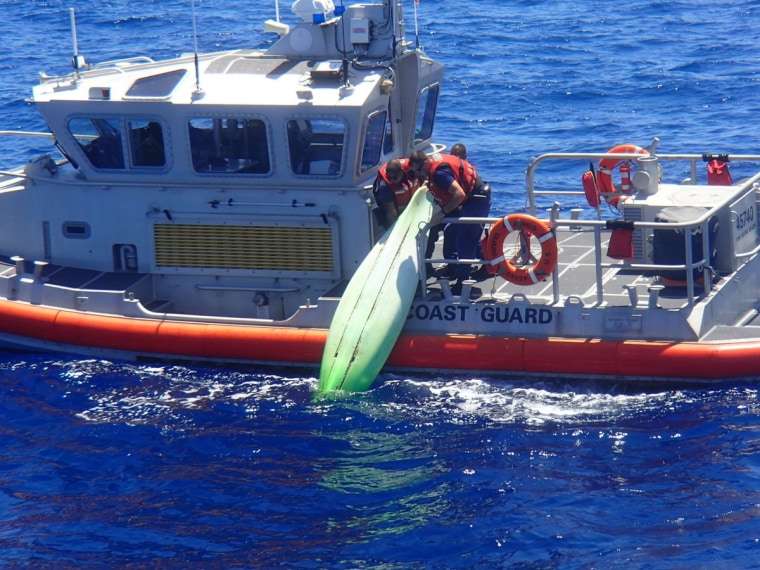 Ace's brother didn't report the family missing until Tuesday morning, at which point the Coast Guard launched a massive search by sea and by air for the boat, which vanished near Englewood, on the Gulf of Mexico side of Florida.
The brother "did the best he could," Case said Saturday, explaining he didn't have the family's exact travel plans before they left.
After debris from the boat, including the life vests, was found, Ace's brother told officials he believed there had been seven life jackets on board. Just one body found was wearing a life jacket.
"Rebecca had a life jacket on, and father Ace did not," Case said Saturday.
The search covered more than 33,830 square miles. Case thanked the Kimberly family and said: "They're a strong family and they were very helpful in getting us information we needed to help us do a more effective search."
Maj. Roger Young with the Florida Fish and Wildlife Conservation and Commission called the search-and-rescue effort "extremely tense," and said his agency would be conducting an accident investigation "to try to get to the bottom of what happened."