A Columbia University student who carried a mattress around the campus all year to raise awareness of sexual assault graduated Tuesday — with her mattress in tow.
Emma Sulkowicz, who says she was raped on her first day of her sophomore year, brought the mattress with her as she walked across the stage during the ceremony. The audience applauded.
Sulkowicz says the case against her alleged abuser was dismissed and he was allowed to remain enrolled at the school. As part of her senior thesis, a performance art project called "Carry That Weight," the visual arts major said she would carry the mattress everywhere she went on campus for as long as she attended the same school as her alleged rapist.
Columbia's student newspaper, the Columbia Daily Spectator, reported Monday that school officials emailed a provision to graduating students that specified: "Graduates should not bring into the ceremonial area large objects which could interfere with the proceedings or create discomfort to others in close, crowded spaces shared by thousands of people."
The regulation had not been implemented in previous years, according to the newspaper.
Some wondered if the rule would bar Sulkowicz from bringing the mattress to her school's class day:
A commencement ceremony for the whole university is planned for Wednesday.
Teo Armus, a student reporter for the Columbia Spectator, reported before the ceremony Tuesday that a school official had asked Sulkowicz to leave her mattress in a room and pick it up after the event, but Armus told NBC News that Sulkowicz was ultimately allowed to bring the mattress into the tent.
The commencement speaker, Los Angeles Mayor Eric Garcetti, even alluded to Sulkowicz in his speech, Armus said. "You've held contrary opinions, held die-ins and sit-ins, carried mattresses," Garcetti told the students. "Never stop being academics, and never stop being activists."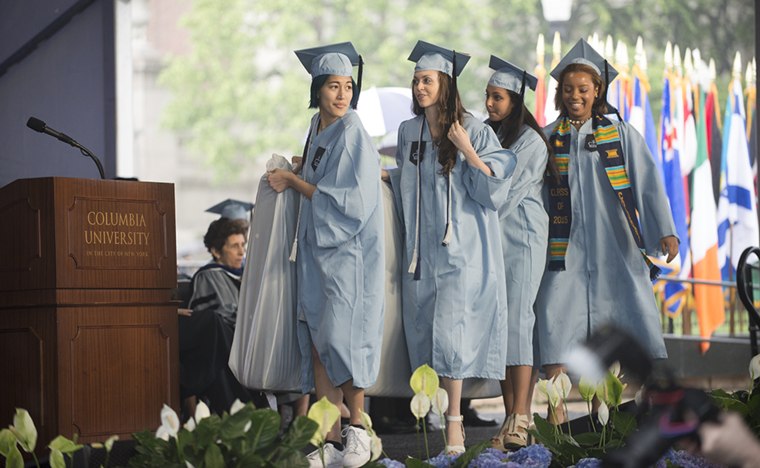 After Sulkowicz's art performance garnered nationaland international media attention, the student she accused, Paul Nungesser, filed a gender-based harassment and defamation suit against the school, according to NBC New York. The suit said Columbia sponsored Sulkowicz's senior thesis, which he said "resulted in an intimidating, hostile, demeaning ... learning and living environment."
The suit also said that Nungesser's job prospects were "severely jeopardized," and he feared he and his parents, who live in Germany, would not be able to attend graduation because of Sulkowicz's vow to bring the mattress.
Nungesser attended Tuesday's ceremony, Armus said.