A major conservative conference disinvited Breitbart editor Milo Yiannopoulos on Monday after a conservative advocacy group, Reagan Battalion, posted clips in which he appeared to defend sexual relationships between young teenagers and adults in certain circumstances.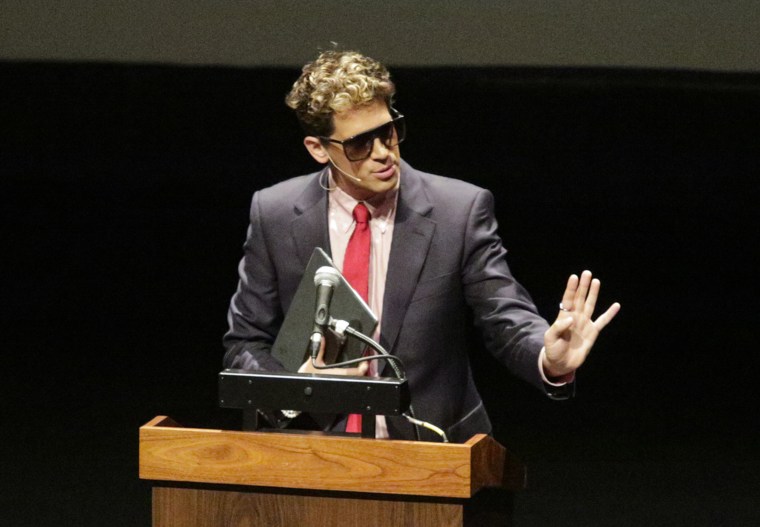 "We continue to believe that CPAC is a constructive forum for controversies and disagreements among conservatives, however there is no disagreement among our attendees on the evils of sexual abuse of children," American Conservative Union President Matt Schlapp, whose group organizes the Conservative Political Action Conference, said in a statement.
Yiannopoulos had responded to the video earlier on Facebook that he considered pedophilia "a vile and disgusting crime" and that his words were misinterpreted. Schlapp said that explanation was "insufficient," however, and urged him to "further address these disturbing comments."
Related: CPAC's Organizer Explains Why He Invited (and Disinvited) Yiannopolous
Yiannopoulos was invited to speak at CPAC this week, which also announced Monday it would host President Donald Trump on Friday morning. White House adviser Steve Bannon, who was president of Breitbart until leaving to join the Trump campaign, is also scheduled to appear.
The series of edited clips was posted by a Twitter account run by Reagan Battalion, a small group of conservative activists. In them, Yiannopoulos recounts a sexual encounter he had as a teenager with a priest in graphic termsand describes certain relationships "between younger boys and older men" as "highly positive experiences."
In a Facebook post, Yiannopoulos said the videos had "deceptive editing" and noted that the same clips showed him affirming existing age-of-consent laws, although they also showed him going on to add: "There are certainly people who are capable of giving consent at a younger age," including himself.
He defended his remarks about his experience with a priest as "gallows humor" to cope with "sexual abuse" he suffered as a teen. He wrote that his reference to relationships with "younger boys" was a "sloppy choice of words," but he said he used the phrase as a slang term for older teens above the age of consent.
"I am certainly guilty of imprecise language, which I regret," he said in a second follow-up statement on Monday. "Anyone who suggests I turn a blind eye to illegal activity or to the abuse of minors is unequivocally wrong. I am implacably opposed to the normalization of pedophilia and I will continue to report and speak accordingly."
Related: Protests, Violence Prompt UC Berkeley to Cancel Milo Yiannopoulos Event
Yiannopoulos also confirmed on Facebook that, as first reported by Publishers Weekly, Simon & Schuster has canceled his planned book, "Dangerous," in response to the controversy.
The clips prompted a wave of outrage, much of it from conservative commentators. They included at least one Republican operative affiliated with the American Conservative Union, which hosts CPAC.
"While I'm all for free speech, there is such a thing as vile, hateful speech that does not deserve a platform," Ned Ryun, who sits on the ACU's board, tweeted.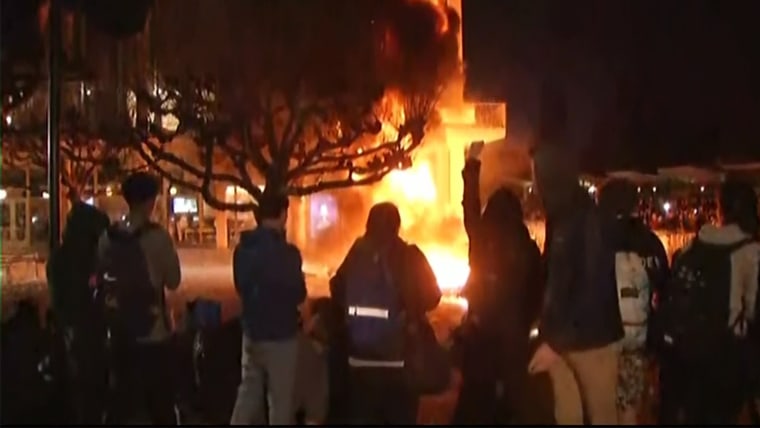 A notorious internet troll who was banned from Twitter for allegedly inciting abuse campaigns, Yiannopoulos was already a controversial choice for CPAC. Critics argue that his work helped popularize the "alt right," a broad countercultural movement that groups like the Anti-Defamation League and the Southern Poverty Law Center say overlaps with white nationalist and anti-semitic circles. Yiannopoulos has said he does not identify with its racist elements or adopt the "alt right" label himself.
He made news recently after violent protests at the University of California-Berkeley forced the school to cancel a speaking appearance. Schlapp, the CPAC organizer, framed his appearance in part as a defense of free speech in response to the incident.
"We initially extended the invitation knowing that the free speech issue on college campuses is a battlefield where we need brave, conservative standard-bearers," Schlapp said in his statement announcing that CPAC would rescind its invite.
The founder of Reagan Battalion, who asked not to be identified for fear that he might be targeted by fans of Yiannopoulos, told NBC News on Sunday night that the clips were passed on by readers upset over the news of his invitation. He said he considered Yiannopoulos "outrageous" and worried that he would "delegitimize the other speakers" at the event.
"It's sadly the mainstream view now: If you hate liberals, you're my friend," he said. "It's dangerous and wrong."