After thousands of people took to the streets across the country Saturday to display dissent for Donald Trump's election, many more demonstrations began all over the nation Sunday afternoon — the fifth straight day of protests.
Organizers created Facebook events to help coordinate anti-Trump protesters in a number of large cities, including New York, Los Angeles, Philadelphia, Oakland, California, and San Francisco, as well as smaller cities such as Springfield, Massachusetts; Erie, Pennsylvania; Fort Lauderdale, Florida; and New Haven, Connecticut.
In New York on Sunday, thousands of demonstrators gathered outside Trump Tower to protest the president-elect. They then marched down Sixth Avenue before returning to chant outside the president-elect's Manhattan residence.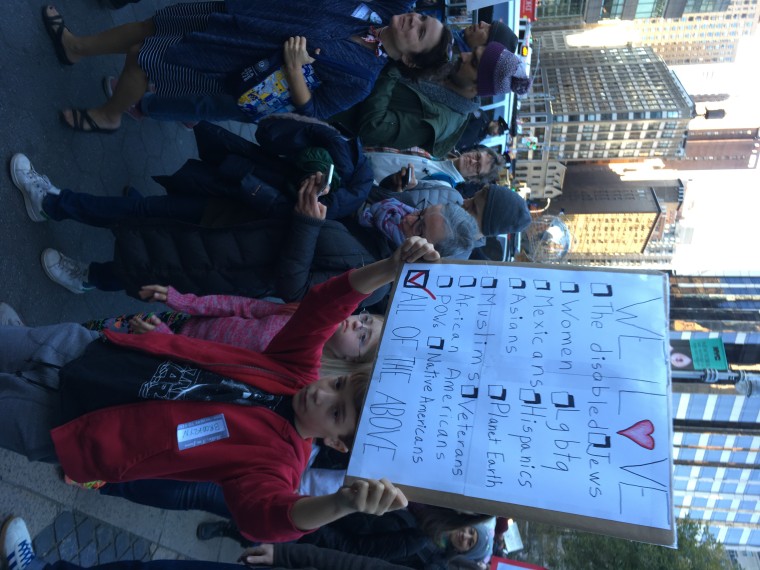 Taking part in her first march, Lizzy Lovinger, 28, said that as a queer woman she feared the racist, xenophobic and misogynistic rhetoric that grew out of Trump's campaign but believed this movement was encouraging.
"I think this is a really promising show of support for women, people of color, immigrants, Muslims, and for survivors of violence, and I think it is important to be here and be part of that support," she said.
Between chants like "We are the popular vote," Madeline Mendez, 50, said she knew many of her immigrant neighbors were worried that they could be deported and separated from their children.
As a lifelong New Yorker who grew up in East Harlem, she said, she had never seen a protest like this.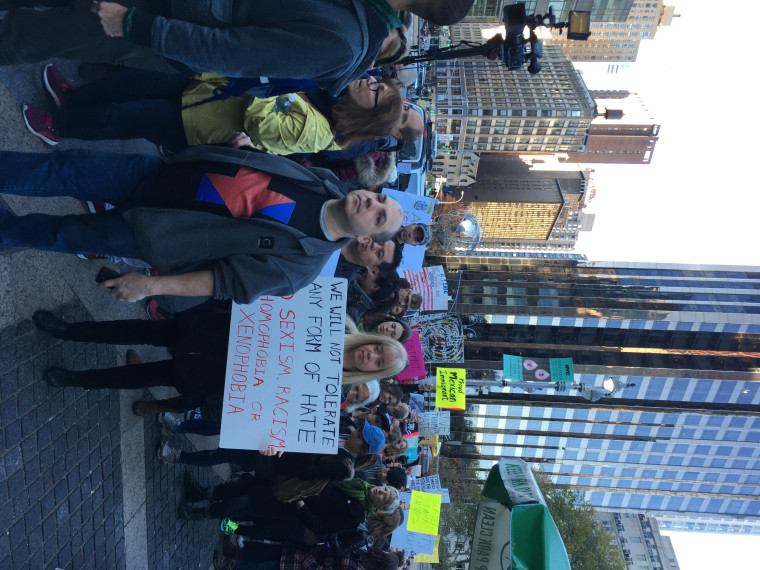 "It's not only the blacks and Hispanics. It's everybody: caucasians, Jews, Muslims — it's everybody sticking together," Mendez said. "I felt like we were going backward [after the election], but in reality: we're not."
New York police estimated that 25,000 turned out Saturday. They chanted phrases such as "We reject the president-elect." Protests were also held in Los Angeles, Washington, D.C., Las Vegas, Miami, Birmingham, Alabama, and Fresno, California, among other places.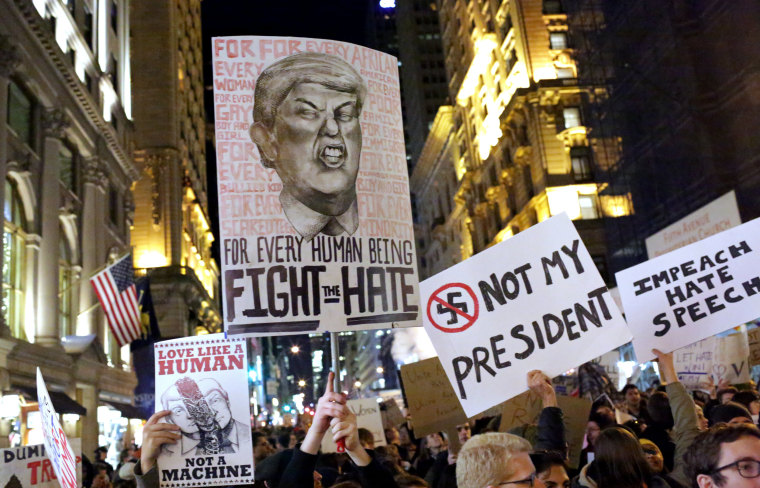 Police in Portland, Oregon, said they used tear gas and "diversionary bang devices" to make 71 arrests during an "unpermitted" march Saturday, a day after a protester was shot in a confrontation on a bridge. Two people were arrested in connection with the shooting.
Although the demonstrations remained relatively peaceful elsewhere Saturday, police reported that arrests were made at multiple protests: 180 in Los Angeles, three in Indianapolis and two in New York City.
Protesters were not limited to the United States on Saturday, as hundred of people reportedly gathered in Berlin at the Brandenburg Gate, some of them carrying anti-Trump messages.
Through Twitter, the United Arab Emirates' consulate in Los Angeles asked its citizens steer clear of the protests, warning of potential harassment, violence and detention.
This is a developing news story. Refresh this page for updates.