A 22-year-old woman brought to the U.S. illegally as a child was arrested by immigration authorities Wednesday shortly after participating in a news conference in which she asked President Donald Trump to protect her.
Daniela Vargas, a 22-year-old from Argentina, was arrested in what Immigration and Customs Enforcement called a "targeted immigration enforcement action" in Jackson, Mississippi.
After participating at a news conference held by several immigration advocacy groups in Jackson, Vargas was in a car driven by a friend on Interstate 55 when they were pulled over by two law enforcement officers, who turned out to be ICE officers.
Related: Immigration Hardliners Look Favorably on Trump's Speech
"We're disappointed they took her under custody today," Vargas' attorney, Nathan Elmore, told NBC News.
Vargas had received protection under the federal Deferred Action for Childhood Arrivals program, commonly known as DACA, but it had expired and she was in the process of trying to reapply, Elmore said. He said her status expired several months ago. DACA status lasts for two years.
On Feb. 15, ICE officers arrested Vargas' brother, Alan, 26, and father Daniel, 55, who are in the country illegally, Elmore said.
Daniela Vargas hid in the closet, but when questioned by ICE agents at the time the agency chose not to arrest her because she claimed to have current status as a so-called "Dreamer," Elmore said and ICE confirmed in a statement. After that encounter, ICE agents learned her status was expired.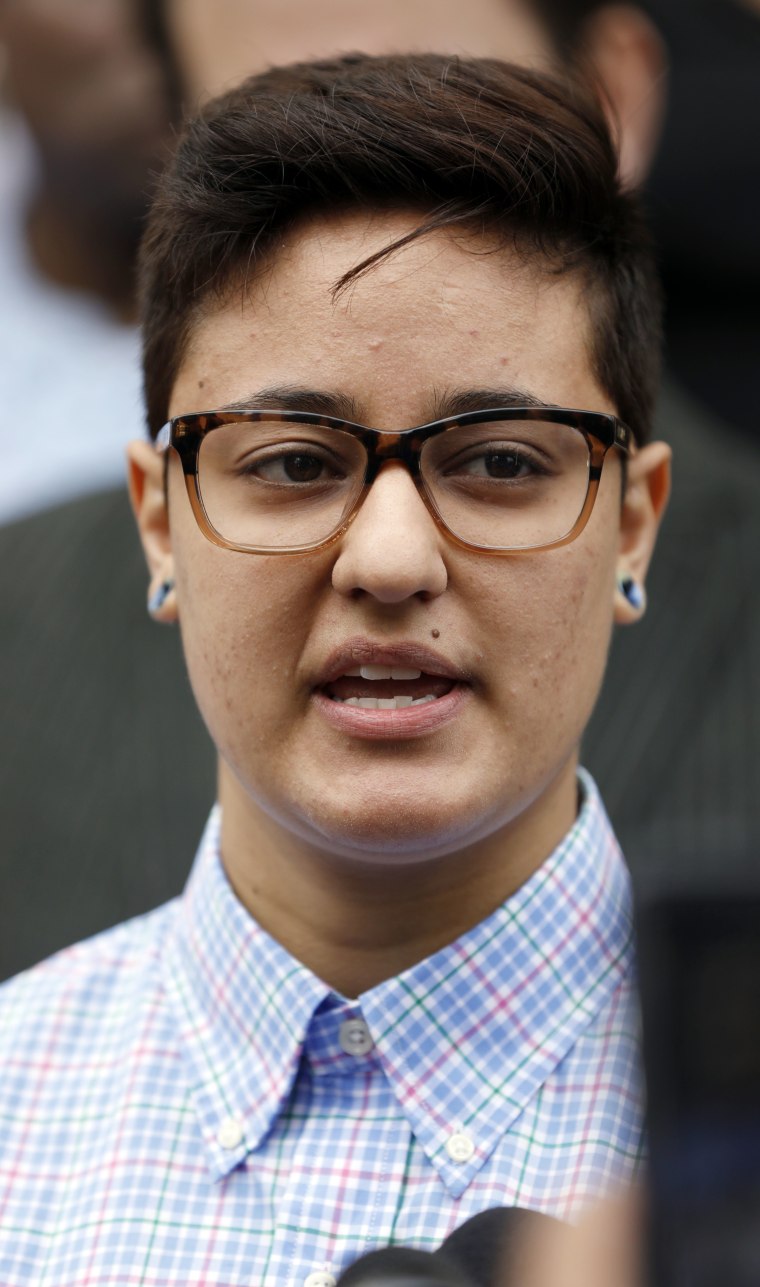 The immigration enforcement agency did not say in its statement why Vargas was targeted for arrest. ICE has said a priority is on public safety threats. "ICE does not conduct sweeps or raids that target aliens indiscriminately," agency spokesman Thomas Byrd said.
Vargas was brought to the U.S. when she was 7. She graduated high school in 2013 and just started at the University of Southern Mississippi, The Associated Press reported. Elmore said she does not have a criminal record.
At the rally earlier Wednesday, Vargas described watching her father and brother get arrested. "I was scared for my life," she said.
"A path for citizenship is necessary for DACA recipients but also for the other 11 million undocumented people with dreams," she said. Trump last month said "we're going to show great heart" when asked about the program, and called DACA one of the most difficult subjects he's faced with.
Vargas' case will go before an immigration judge, who could grant relief, ICE said in its statement. Elmore said they will file a motion for a bond hearing.
Related: DHS Told to Start Crackdown on Illegal Border Crossings
Vargas' arrest came a day after Trump spoke to a joint session of Congress and suggested that a compromise could be reached on immigration reform. His speech was praised by some for a change in tone, although some immigration advocates said it continued a pattern of criminalizing immigrants.
Elmore said that before Trump, "you knew what the priorities were" for ICE deportations.
"You knew what cases ICE deemed most important so that helped you as an attorney, if you were advising somebody to inform them of the gravity of their situation," Elmore said.
But he said Trump's executive orders on immigration enforcement and the border have made things more complicated so that "you are not so certain anymore."
Trump's tough tone on immigration during the campaign and arrests of undocumented immigrants in several states in February prompted fears that ICE was beginning to crack down on immigrants in the U.S. illegally — the agency has said the enforcement actions were routine and not connected to the Trump administration.
One of the people arrested in an ICE raid last month was another "Dreamer," Daniel Ramirez Medina, who was arrested in Washington state. Federal authorities said he has admitted gang ties. His attorneys have denied that and have called the claim fabricated.
A federal judge has denied a request that Ramirez, 23, be released, and last week said he would not hold an immediate hearing to consider releasing him.