Four U.S. Secret Service agents working protection for Hillary Clinton in New Hampshire were seriously injured Tuesday when their car collided head-on with another vehicle, officials said Wednesday.
The driver of the other car, Bruce Danforth, 45, died at the scene.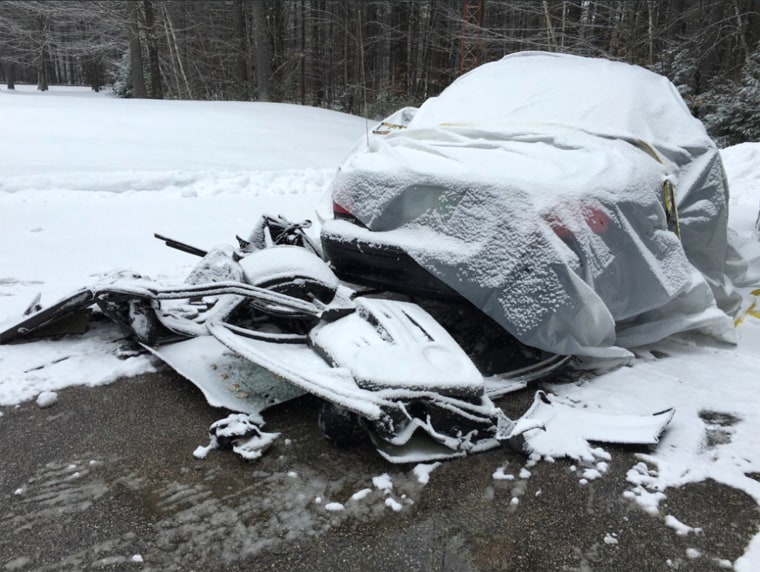 Danforth and two passengers were in a 2001 Mercury Sable on Route 16 south in Wakefield, near the Maine border, when his vehicle crossed the double-yellow solid line and collided with the agents' 2008 Ford Taurus, police said. The crash occurred at around 7 p.m.
His two passengers — his 35-year-old girlfriend and 21-year-old friend — were treated at the hospital with unspecified injuries.
Police are still investigating the crash, but said at a news conference Wednesday that Danforth may have been trying to pass another vehicle.
Danforth had been driving on a revoked license and was known to officers for his "extensive criminal history," said Wakefield Police Chief Kenneth Fifield. He could not immediately confirm details about the prior charges.
A month ago, Danforth was arrested in Massachusetts for possession of a controlled drug, reported the New Hampshire Union Leader. Danforth's autopsy is pending, Fifield added.
The four Secret Service agents — on duty at the time but not traveling with Clinton's motorcade — were also rushed to the hospital. They were not identified.
"At this time, our personnel have sustained what is described as serious, but non-life-threatening injuries," Secret Service Director Joseph Clancy told NBC News in a statement. "Please join us as we keep all the victims of this accident and their families in our thoughts and prayers."
Clinton released a statement saying she was "saddened and concerned" to hear about the crash.
"My husband and I send our prayers and condolences to all the victims and their families," she said.
The Democratic presidential front-runner had been traveling throughout New Hampshire on Tuesday, speaking to supporters in Berlin, two hours north of Wakefield, about an hour before the crash. New Hampshire is the first primary state in the nominating process.