BROWNSVILLE, Texas — The man who rammed an SUV into a group of migrants at a bus stop in this Texas border city has been charged with eight counts of manslaughter, police said Monday, describing the driver as a local resident with an "extensive rap sheet."
The driver, whom authorities identified as George Alvarez, 34, killed eight people and injured at least 10 others when he plowed into the crowd early Sunday, officials said.
The victims were waiting at a stop near the Ozanam Center, a migrant aid facility in Brownsville, a senior law enforcement official said.
Brownsville Police Chief Felix Sauceda said authorities are investigating and have not ruled out the possibility that the crash was intentional.
Officials are waiting on the results of a formal toxicology report to see whether Alvarez was drunk at the time of the crash.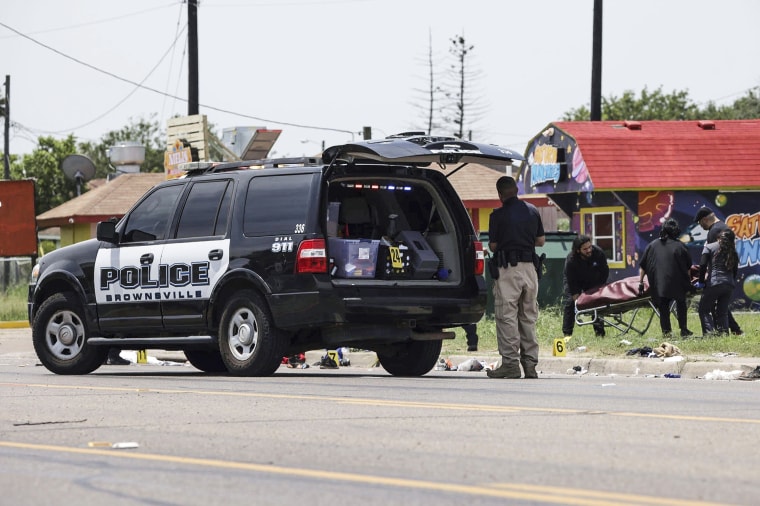 Sauceda told reporters at a news conference Monday that Alvarez ran a red light and apparently lost control of his vehicle, which flipped on its side and struck 18 people.
Six people were killed on the scene, and 12 were critically injured. The number of deaths later rose to eight, Sauceda said.
Alvarez tried to flee, but he was "held down" by people until authorities arrived, Sauceda said. He has not cooperated with officials, Sauceda added, and is being held on $3.6 million bail.
The driver's criminal history includes two counts of aggravated assault with a deadly weapon, a count of assault against an elderly or disabled person, four counts of assault causing bodily injury to a family member and at least 11 other charges, according to information on a placard displayed at the news conference.
In an interview, a migrant from Venezuela said he witnessed the driver cursing at the group and raising his middle finger at them.
The driver, speaking in Spanish, shouted "f------- migrants!" at the people standing at the bus stop, said the witness, Kendal Madrid, 33.
Sauceda said the police department could not "validate" claims that Alvarez yelled anti-immigrant slurs.
Brownsville is one of the border cities that is already seeing an influx of migrants trying to cross into the U.S. from Mexico before the Title 42 immigration law expires Thursday.
The pandemic-era ban, imposed in the last year of the Trump administration, has turned migrants back to Mexico more than 2.5 million times since it went into effect in March 2020.
Title 42 expelled migrants immediately, without allowing for asylum hearings. It did not levy penalties for repeated attempts to cross the border and recidivism grew under the law.
Gabe Gutierrez reported from Brownsville and Daniel Arkin from New York.