A deadly flash flood that struck a family gathering in Arizona took another grim turn as more bodies were recovered, bringing the total number of deaths to nine, officials said.
The dead were identified by the Gila County sheriff's office Monday as Jonathan Leon, 13; Mia Garnica, 5; Emily Garnica, 3; Danial Garnica, 7; Javier Raya-Garcia, 19; Selia Garcia Castaneda, 57; Erica Raya-Garcia, 2; Maribel Raya-Garcia; 24; and Maria Raya-Garcia, 27.
The search for the remaining missing person, an unidentified 27-year-old man, continued along the Verde River in Tonto National Forest north of Phoenix, Detective Sgt. David Hornung said.
Fourteen people were caught in the flash flood that struck at the Cold Springs Swimming Hole shortly before 3:19 p.m. (6:19 p.m. ET) Saturday, sheriff's officials said. Four people — identified Monday as Julio Garcia, 29; Esthela Atondo, 28; Acis Garcia, 8; and Marina Garcia, 1 — were rescued Saturday and have been released from a hospital, Hornung said.
"It's a tragedy," Hornung said as search-and-rescue teams looked for survivors and relatives searched for their loved ones on the banks of the river. "I can't even imagine what they're going through." he said.
About 40 people from a search-and-rescue team, along with a state Department of Public Safety helicopter, were involved in the search for survivors, Hornung said.
The area in recent months had suffered a series of forest fires that are believed to have created a large amount of debris that washed down through the creek and burst through the swimming hole on Saturday, the Payson Fire Department said.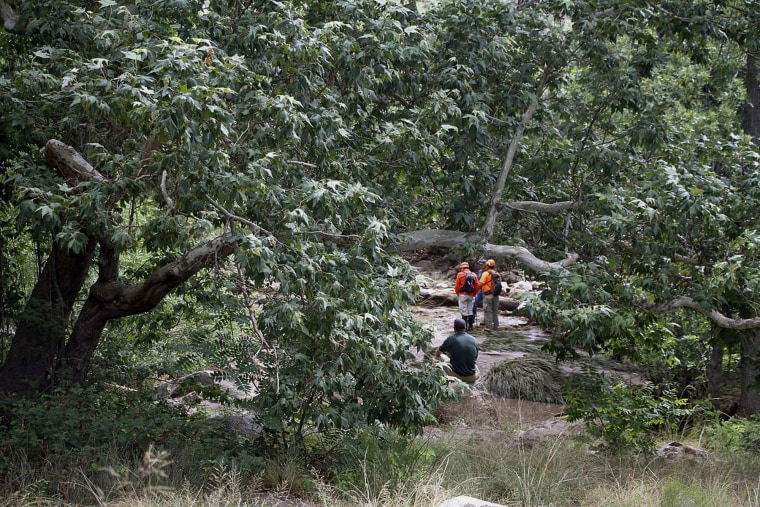 Arizona is in its monsoon season, and nearly an inch of rain is believed to have fallen from 1:15 p.m. to 3:55 p.m. on Saturday, according to the Automated Weather Observation Station in Payson, just south of the swimming hole.
The rain that caused the fatal flood fell 6 to 8 miles north of the scene, Hornung said, before the rushing water and debris struck the group. He estimated that the floodwaters were traveling at 35 mph.
"Normally, it's just a trickle of a creek, but during the monsoon season it can go from a foot deep to 10 feet deep in a matter of minutes," he said.
The sheriff's office began a search-and-rescue operation at about 3:30 p.m. after much of the rain had already hit the area. Many roads and trails were already flooded and closed.
The National Weather Service in Phoenix issued a flash flood watch that continues through Monday evening for the southern and central regions of Arizona.