Drug lord Joaquin "El Chapo" Guzman will be allowed to send letters to his beauty-queen wife — but he can't call or or meet her while he's locked up in a Manhattan jail, a judge ruled Thursday.
"We're extremely disappointed," the Mexican kingpin's court appointed lawyers said in a statement. "This is devastating news for both of them."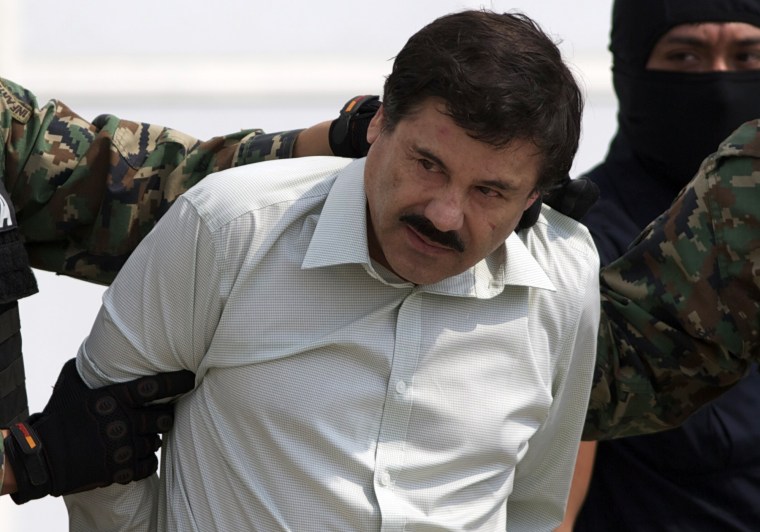 The decision came in response to a litany of complaints from Guzman's legal team about jail conditions and restrictions on his communications.
Guzman, who is due in court for a hearing Friday, is being held in the Special Housing Unit of Manhattan's Metropolitan Correctional Center, where he is confined to his cell up to 23 hours a day and has not been allowed to visit with anyone except legal staff.
He asked to be put into the general prisoner population, a request that U.S. District Judge Brian Cogan firmly rejected.
"The Court would be hard pressed not to acknowledge that defendant's widely-publicized second escape from a Mexican maximum-security facility was accomplished under 24-hour video surveillance in solitary confinement," Cogan wrote in Thursday's ruling.
"The risk attendant to placing him in the general prison population is not lost on the Court."
Guzman had also asked that he be allowed to call or meet with his latest wife, former beauty queen Emma Coronel Aispuro, to discuss what private attorney he should hire and how he would pay the legal bills.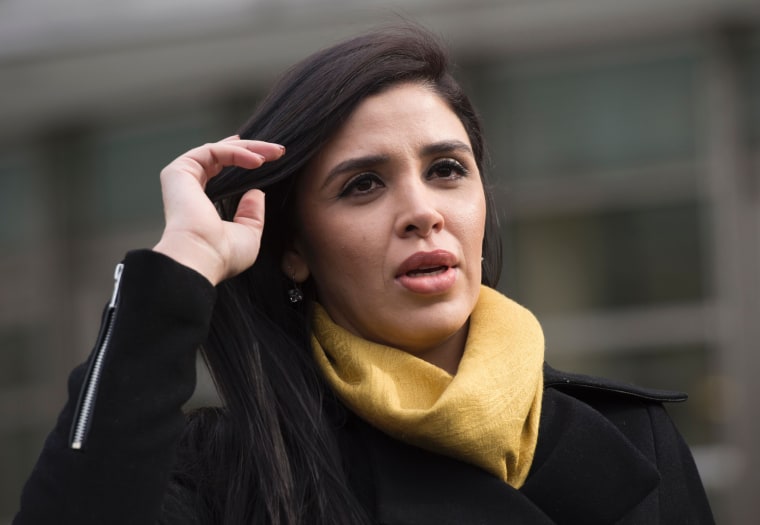 Cogan said he can write her letters, which will be screened by someone outside the prosecution team to make sure he's not sending coded messages to run the Sinaloa cartel from behind bars, coordinate an escape or direct an attack on possible snitches.
The messages, the judge said, can discuss the hiring and paying of lawyers or can be "of a personal nature."
His ruling also addressed a list of gripes from the defense about Guzman's treatment at the MCC — the size of the window on his cell, the fact that the exercise bike doesn't face the TV in the recreation room, a bar on purchasing bottled water, a clock temporarily taken away.
Cogan's advice: Take it up with the Bureau of Prisons and only bring those issues to him if jail officials make the process too difficult.
"None of these issues present constitutional concerns and the Court is not going to micro-manage the BOP," Cogan wrote.
Guzman's lawyers have said that the conditions at the prison have put his sanity at risk.
"He has difficulty breathing and suffers from a sore throat and headaches. He has recently been experiencing auditory hallucinations, complaining of hearing music in his cell even when his radio is turned off," his attorneys wrote in one filing.
But the judge said the restrictions are to be expected in solitary confinement and he turned down a request to have Amnesty International visit, saying it would "further sensationalize an already sensationalized case."
However, he did order prison officials to stop "keeping tabs" on what happens during El Chapo's meetings with his attorneys and reporting those details back to federal prosecutors.
"We are pleased that the judge recognized that the prosecution team's invasions into Mr. Guzman's conversations with his attorneys are illegitimate and barred them from speaking with jail guards regarding Mr. Guzman's legal visits," Guzman's lawyers said.
"We continue to believe that the conditions of Mr. Guzman's detention, including being held in solitary confinement, are untenable, especially over the time that it will take for this case to go to trial," the defense team wrote.
"Mr. Guzman has not been convicted of any crime and we will continue to fight for his right to fair and humane treatment while he awaits his chance to confront the government's allegations in court."
The 59-year-old is under indictment in a half-dozen federal courts but the U.S. Attorney's Office in Brooklyn is getting the first chance to convict him of charges that he ran the world's largest drug-trafficking enterprise, flooding the United States with $14 billion worth of narcotics and using violence to wipe out his rivals.
He has pleaded not guilty.