A federal appeals court on Friday threw out the life sentence of a Blackwater Worldwide security guard who was convicted of murder in the killing of 14 Iraqi civilians in Baghdad.
Nicolas Slatten, 33, was convicted in April 2015 of first-degree murder by a federal jury in Washington, D.C., but now gets a retrial in the case.
Three former guards with the private military company who were found guilty in the same incident — each earning 30-year sentences — also will be resentenced by an order of the court.
Paul Slough, Evan Liberty and Dustin Heard were convicted of voluntary manslaughter in October 2014 and sentenced the following May.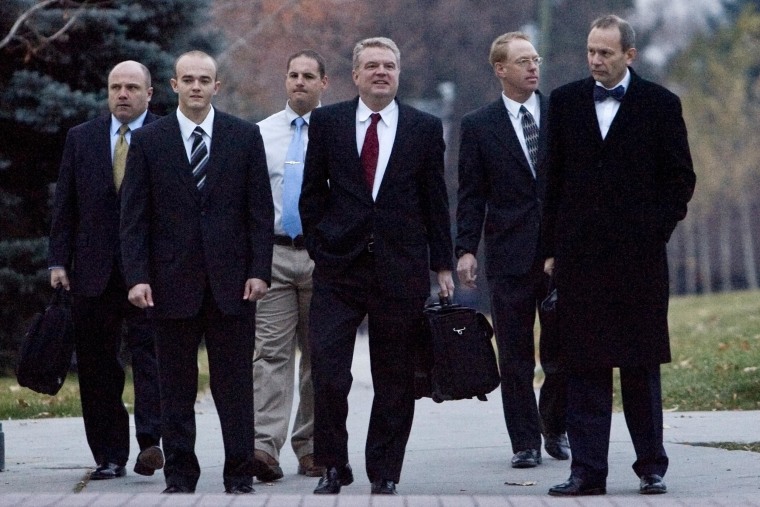 In deciding to give Slatten a retrial, the U.S. Court of Appeals for the D.C. Circuit concluded that the "district court abused its discretion" when it denied his request to be tried separately from his former co-workers.
Slatten was the only one who faced a murder charge because prosecutors alleged that he was the first to fire shots at the Iraqi civilians.
They also ruled that the 30-year sentences for Slough, Liberty and Heard violated "the Eighth Amendment prohibition against cruel and unusual punishment."
Related: Blackwater Founder Repped Trump at Secret Meeting Overseas: Sources
The four men were part of a Blackwater security team that carried the code name Raven 23. Their orders were to secure the route for a diplomatic convoy that was set to travel through western Baghdad in September 2007. When a car bomb exploded in downtown Baghdad, the team set up a protective blockade in the traffic circle of Nisur Square and shot 31 innocent Iraqis in an ensuing firefight, the appeals court said.
Fourteen of the Iraqis, including women and children, died.
Prosecutors said that Slatten, who had taken up a concealed position inside the convoy's command vehicle with his sniper rifle, "initiated the entire incident" when he fired the first shots "without justifications."
There were no witnesses during the 2014 trial who said that they saw the guards come under threat and no evidence of a two-sided firefight was ever produced.
Blackwater, which became well-known after the 2007 shooting, was renamed Xe Services in 2009 and Academi in 2011.
NBC News could not immediately reach the four men's lawyers for comment.
Erik Prince, the founder and former CEO of Blackwater, is the brother of Education Secretary Betsy Devos.