The former Minneapolis police officer charged with killing an Australian woman last July was free Thursday after posting $400,000 bail.
Mohamed Noor was given a May 8 court date when he went before a judge on Wednesday for the first time since he was charged with third-degree murder and second-degree manslaughter in connection with the death of Justine Ruszczyk Damond.
Dressed in an orange prison jumpsuit over a black T-shirt after spending the night in the Hennepin County Jail, Noor, 32, stood silently as the judge explained that he would also have to surrender his passport, all firearms and ammunition, and that he would be barred from having any contact with his former partner, Officer Matthew Harrity.
Noor turned himself in on Tuesday — the same day he he lost his job.
If convicted of third-degree murder, Noor could face a maximum of 25 years in prison. The judge can also hit him with a sentence ranging from about 10-1/2 to 15 years. The second-degree manslaughter charge carries a maximum sentence of 10 years behind bars.
"Mohamed Noor was hired by the Minneapolis Police Department on March 23rd, 2015, and his end date is March 20th, 2018," Police Chief Medaria Arradondo said in a statement. "At the request of the County Attorney's Office I delayed any employment related decisions in this matter as to not in any way interfere with the criminal investigation in this case."
Damond, 40, a life coach and motivational speaker from Sydney, had moved to Minneapolis to get married. On July 15, she called 911 to report a possible sexual assault in the alley behind her home.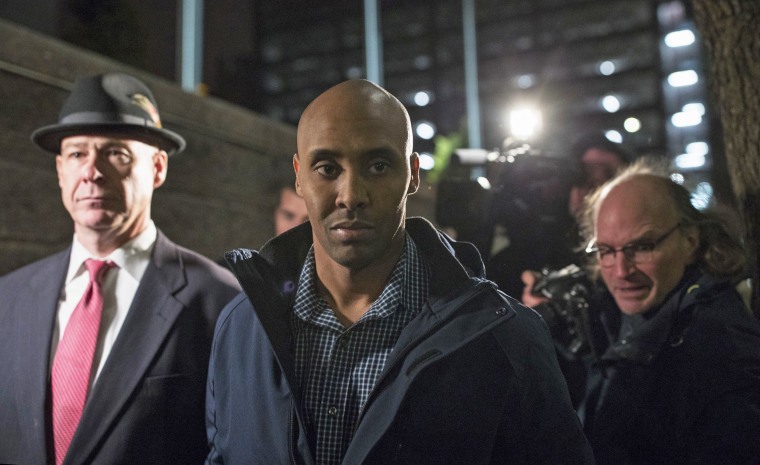 When Noor and Harrity arrived, Damond walked toward their SUV, police said.
Harrity, who was at the wheel, told investigators he was startled by a loud noise just before Damond approached the open driver's side window. He said Noor fired from the passenger seat, striking the woman.
Both officers were wearing body cameras, but they were turned off. So were the headlights of their vehicle. And no evidence of any sexual assault was ever found.
Damond's death made international news and resulted in the ouster of Minneapolis Police Chief Janeé Harteau.
Hennepin County Attorney Mike Freeman blamed stonewalling by the Minneapolis police for the eight-month delay in charging Noor.
"This would have been done a good deal quicker if we had gotten cooperation," he said at a news conference Tuesday after Noor was charged.