Mississippi cleaned up Monday after multiple storms killed at least one person and injured nearly two dozen as Texas remained in the grip of a powerful heat wave that saw temperatures top 100 degrees across the state.
In Mississippi, after storms cut off power for nearly 50,000 customers, electricity had been restored to roughly half of those home and businesses by Monday night, according to outage tracker poweroutage.us.
The emergency management agency confirmed the death of a person in Jasper County, an area about 70 miles east of Jackson. The victim has yet to be publicly identified. At least one other person was killed Friday in Madison County, 30 miles north of Jackson.
The agency was working closely with counties to assess the damage, it tweeted. Drone video showed splintered houses, downed power lines, mangled trees and scattered debris.
The storm was the latest in a series of extreme weather incidents over the holiday weekend that have left six people dead, injured more than 100 others and cut off power for nearly 500,000 customers.
By Monday night, nearly 260,000 homes and businesses were still without electricity across a stretch of the South, including Arkansas, Louisiana, Mississippi, Oklahoma and Texas, according to the online outage tracker PowerOutage.us.
Oklahoma appeared to be the hardest hit, with nearly 162,000 customers still without power Monday night.
The National Weather Service said late Monday that severe thunderstorms were possible overnight in parts of Mississippi, Louisiana, Texas and Florida.
More than 2 million people across the region were under a storm watch, meaning large hail and powerful winds were possible, the service said.
An additional 24 million people across much of Texas remained under an excessive heat warning as cities topped records and officials urged residents to stay safe.
The city of San Antonio recorded 105 degrees Monday — a record for June 19 — while the border city of Del Rio hit 109, also a record, according to the service.
In Houston, where temperatures reached 100 degrees, the heat index made it feel like 110, the service said.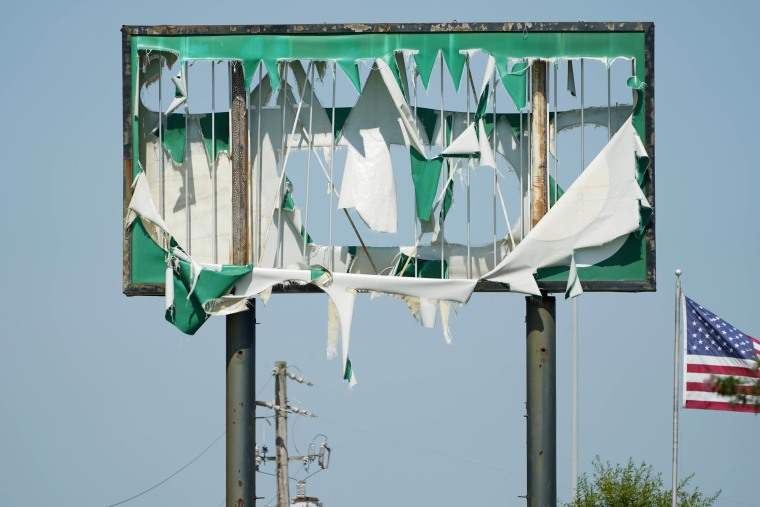 The weather service urged people to stay hydrated, limit strenuous outdoor activities and take breaks in the shade as much as possible if they are working outside. It also recommended that residents check in on anyone elderly, sick or without air conditioning, and it reminded drivers never to leave children or pets unattended in vehicles.
A number of cooling centers will be open across Texas, Gov. Greg Abbott's office said.
"The State of Texas continues working around the clock to swiftly provide the necessary resources for Northeast Texas communities impacted by these horrific storms," he said in a statement Sunday. "State and local officials are on the ground to restore power and ensure the safety and well-being of our fellow Texans."
Three people were killed in the state and more than 50 others were injured Thursday after a tornado struck the city of Perryton, near the Oklahoma state line.
In Florida, a person was pronounced dead Thursday after having been trapped under a tree at home following a tornado.