LAHAINA, Hawaii — Nearly two weeks after deadly wildfires burned much of west Maui to the ground and left more than 100 people dead, the island remains open for business, say workers and shop owners who rely on tourism to pay their bills. 
But their desire to keep visitors coming has sparked tensions with residents who say now is not the time to travel to the island. 
"We're really in pain, but I have no trouble with a customer coming in with a smile on their face," said Panna Cappelli, whose art gallery on Front Street and the work of some 200 local artists were all but destroyed when the historic town of Lahaina was leveled.
Cappelli has three galleries on other parts of the island that were not affected by the fire, and said she cannot afford to pay her employees or donate to Lahaina residents if customers don't continue shopping: "I need them to buy something."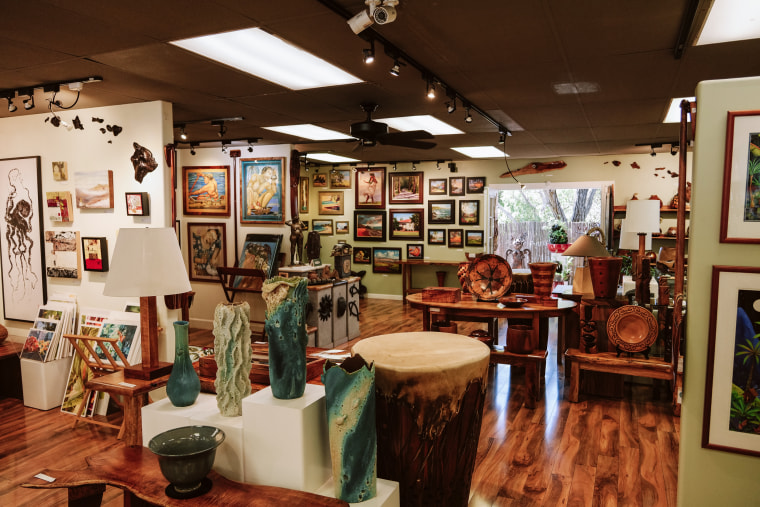 Unsurprisingly, tourism has taken a hit since Aug. 8 when wildfires turned everything in its path to ash, forcing evacuees to jump into the ocean to escape the flames and leaving hundreds of friends and loved ones unaccounted for.
Airline passenger numbers to Maui fell 80% this week compared to the same time last year, according to the Hawaii Department of Business, Economic Development and Tourism. It estimates Hawaii's economy has lost some $8.5 million in sales revenue each day since the wildfires erupted on Maui and the Big Island. 
The total economic damage and cost could total $7 billion, Moody's Analytics said in an initial estimate, which called the price tag "astronomical" and suggestive of a "brief but severe local recession."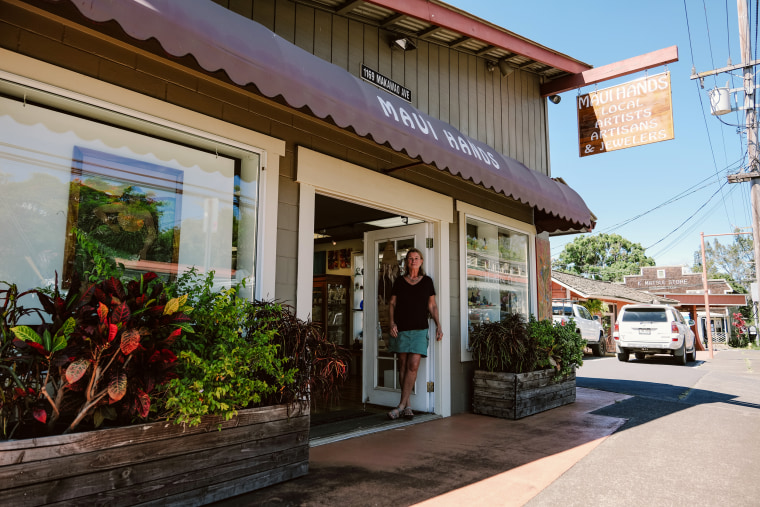 'Respect what is happening'
Many business owners and their employees say the only way to help the community heal is by aiding Maui's economic recovery. That means continuing to welcome outsiders to the island.
"Come to Hawaii, but also respect what is happening," said Maui resident Jon Baker, who owns and operates a rental car business near the normally bustling Kahului Airport. 
"If you don't see the typical aloha, it's only because people are hurting and grieving," he continued, referring to the spirit of love and community in Hawaiian culture. "We rely on tourism. We need it."
Baker, who was born on Oahu and has lived on Maui for 17 years, said business has been at a "complete standstill" since the wildfires broke out. His fleet of 60 cars is sitting unused in the lot except for the six he has loaned out, free of charge, to families who lost theirs in the fires.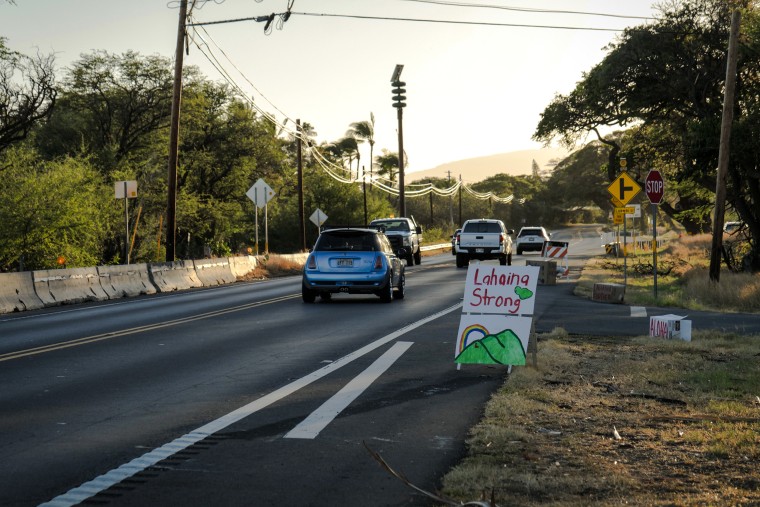 To make ends meet, Baker is working with his bank to forgive monthly loan payments for three months as he contributes to the island's economic recovery by staying open while continuing to provide free rentals to those in need.
"Financially it doesn't help us at all with our business," he said. "It's kind of insane, but it's really about caring for people."
Last year, 2.9 million tourists visited Maui by air, according to the Hawaii Tourism Authority. They spent $5.82 billion annually, compared with $4.04 billion in 2021 during the height of the pandemic. 
Prior to Covid, Hawaii's tourism industry had been in transition as officials worked to build better relationships with local communities and create more sustainable infrastructure. The pandemic and its many restrictions halted some of that progress, but this year there was an influx of visitors and an uptick in tourist spending.
Maui's comeback felt like a sure thing as people weary of public health restrictions flocked to vacation destinations across the globe. 
10,000 jobs lost to the fires
But state tourism officials warn that as many as 10,000 jobs have been lost as a direct result of the Maui wildfires. Visitor spending losses are estimated at $1.05 million a day, and household income loss is estimated to top $535,500 a day, according to the Department of Business, Economic Development and Tourism.
"It's a fine line. It's a fine balance," said Ilihia Gionson, spokesman for the Hawaii Tourism Authority. "At the end of the day, for those people who want to be working, we want to make sure they can be working. What we don't want to see is people losing their homes and then losing their jobs."
After the fires, state officials gave conflicting messages about whether to keep or cancel trips to Maui. An early emergency proclamation by the governor's office barred nonessential travel to the island, but it was adjusted a few days later to apply only to west Maui.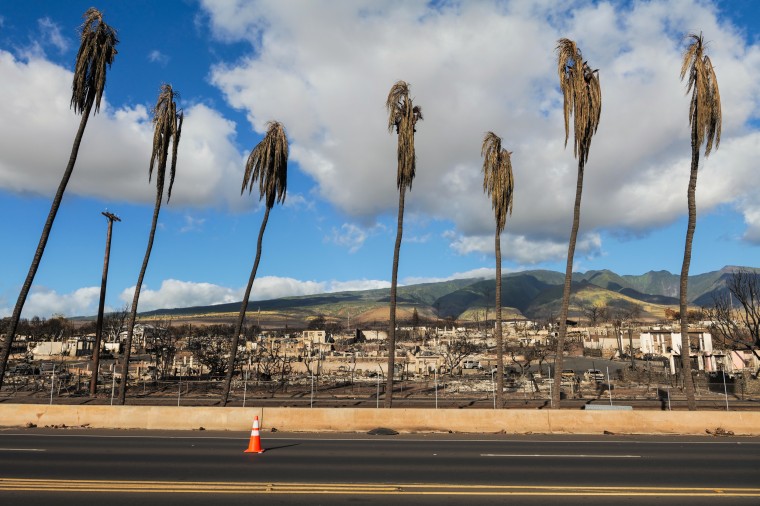 Still, locals and high-profile celebrities like the actor Jason Momoa warned visitors on social media to avoid the island out of respect for victims and survivors. 
"That is the wrong message," said Maui-based wedding photographer Tara Lee Murphy, who shot a ceremony on Lahaina's beachfront just hours before the venue was devoured by flames. "We want to keep working to keep Maui open. We don't want Covid 2.0."
Speaking to reporters after the fire, Hawaii Gov. Josh Green said the pandemic has also forced state officials to weigh the public health risks of allowing tourists in against the economic harm of keeping them out.
"Like we saw in the pandemic, decisions we made can affect everyone across the islands," Green said in a statement. "So what we're saying now is travel should not be to west Maui. But the other parts of Maui are safe.
"And the rest of the state, of course, is also safe."
Standing alongside a glittering row of necklaces, rings and bracelets at a luxury resort in Maui's Wailea Beach, island native Aysha Nitze helped customers try on jewelry that she and her mother had made.
She depends on high-end clients to keep operating her small business and said sales are down about 90% since wildfire leveled Lahaina, about 45 minutes away. 
The resorts where she typically sets up her handmade creations have transformed into headquarters for emergency personnel, filled with employees from FEMA, the Red Cross and other agencies. 
"They're not buying anything," she said, adding that it's "shortsighted" to tell tourists to avoid Maui. 
"We can't all lose our houses because one town was devastated," she added.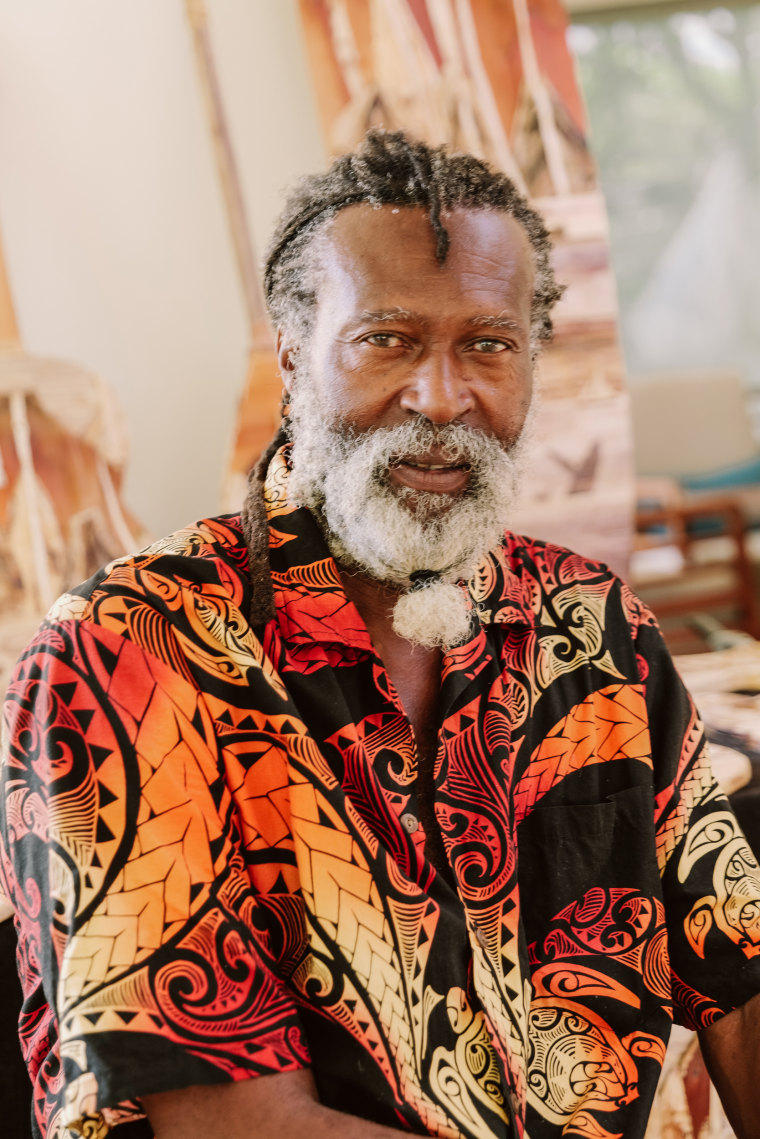 At his stand next to Nitze's, artist Baz Cumberbatch tugged at a thick sheet of bark. Cumberbatch creates natural landscapes on plywood from locally sourced materials, such as palm and banana trees, selling his wares at beachfront resorts and local art galleries. 
He usually makes $800 to $1,000 a day but has been averaging $200 since the Lahaina fire destroyed Cappelli's gallery that showcased his work. Cumberbatch estimates he lost some $15,000 worth of pieces in the blaze. 
"Without cash how are we going to donate to the people of Lahaina?" he asked. "We want to help but we need to survive, too."