Five circus performers under the direction of world famous high-wire performer Nik Wallenda were injured Wednesday when they fell 25 feet to the ground during a practice session in Sarasota, Florida.
Wallenda, who was not among the injured, was up on the wire with them and trying to form an eight-person pyramid when the performers lost their balance.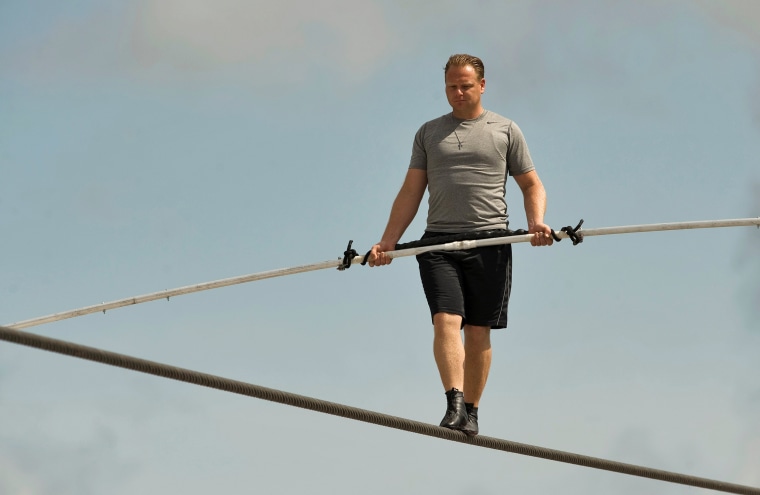 "Nik was at the rear of the pyramid, and he did not fall off the wire," said Pedro Reis of the Circus Arts Conservatory. "He was the anchor at the back of the pyramid."
While Sarasota Fire Chief Michael Regnier said that initial reports were that all eight performers fell and that at least half suffered a "substantial injury" that required hospitalization, Reis insisted that only five tumbled from the wire while working on the high-wire act.
"They were approximately, I would say, 20 feet, 25 feet off the ground," Reis said. "This was going to be one of the highest eight-person pyramids ever done."
Reis did not identify any of the injured, but said the aerialists were both men and women. He said the mishap had "nothing to do with rigging." He said they had performed the act "flawlessly" on Tuesday.
"Obviously it's a shock to everybody," Reis said. "Nik is feeling a lot of pain right now."
Asked to be more specific, Reis said, "Emotional pain." He said Circus Sarasota will have to come up with another finale for the show, which opens Friday.
"We will go to Plan B, obviously, and come up with a finish," he said. "But like I said, the circus is resilient. The circus people are resilient. And the show must go on."