It was a jarring image from the coronavirus crisis: thousands of people frolicking on Clearwater Beach and seemingly thumbing their collective noses at the deadly pandemic sweeping across Florida and the rest of the country.
And the man who had the power to close the state's beaches and send everybody packing was refusing to do so.
"These are our neighbors who may need to go out there, clear their head," Gov. Ron DeSantis declared on March 17 after the sight of sunbathers soaking up rays caused widespread consternation. "Because a lot of people are on edge now."
DeSantis, a Republican who took office in 2019, added that spring break was coming to an end and the horde of young people who descend on the beaches from out of state would all be clearing out and heading home.
Full coverage of the coronavirus outbreak
Since then, most of Florida's beaches have been closed. But DeSantis' cautious approach to managing the spread of coronavirus has not gone unnoticed and has been harshly criticized by some of the state's most powerful voices.
"Coronavirus is killing us in Florida," read the headline of a Miami Herald editorial on Sunday that blasted DeSantis' response. "Act like you give a damn."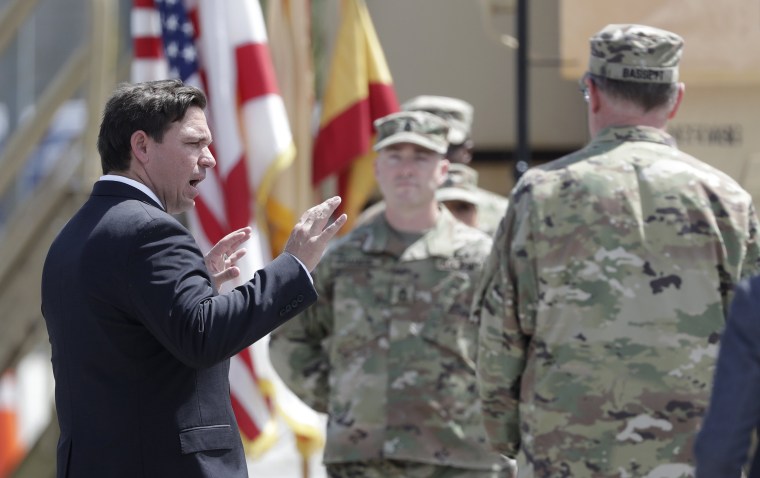 The Herald noted that DeSantis, an outspoken supporter of President Donald Trump, has not joined other Florida lawmakers in appealing to the federal government for more help. That bipartisan group includes the famously pro-Trump Rep. Matt Gaetz, who represents a district in the Florida Panhandle.
"DeSantis must step up, whether he ticks off his benefactor Trump or not," the editorial stated. "He must add his voice to the bipartisan group of U.S. lawmakers and insist Florida get those 'vital medical supplies, equipment, and personnel required to protect healthcare professionals, treat patients and combat the spread of COVID-19.' Otherwise, he's as derelict as the president."
Meanwhile, The Tampa Bay Times over the weekend published an exhaustive analysis that found that Florida lagged behind dozens of states in imposing restrictions aimed at slowing the spread of the coronavirus.
Download the NBC News app for full coverage and alerts about the coronavirus outbreak
While it credited DeSantis with curtailing St. Patrick's Day festivities — and the possible spread of the virus — by closing down the bars and nightclubs where young people tend to party, the newspaper noted that 35 other governors were far more pro-active in shuttering gyms and fitness studios, and especially the eateries, malls and movie theaters where the people most vulnerable to the virus tend to congregate — those over 60.
"We have a very vulnerable population in the state of Florida — almost a quarter of the people that live here are over 60 years old," Rep. Debbie Mucarsel-Powell, a Democrat whose district stretches from Miami to the Florida Keys, said Monday on MSNBC's "Morning Joe." "I am just concerned that the governor is not taking appropriate action."
NBC News reached out to DeSantis for comment via his spokeswoman, Helen Aguirre Ferre. There was no immediate response.
But Aubrey Jewett, a longtime Florida politics watcher and an associate professor of political science at the University of Central Florida, said fealty to Trump did not drive DeSantis to make the decisions he did.
"DeSantis took a more moderate approach to the virus at the beginning - I think somewhat more active and worried than President Trump but not nearly active enough for a number of critics," Jewett wrote in an email to NBC News.
Florida's economy relies heavily on tourism, Jewett said, and "he did not want to spook visitors and destroy the Florida economy unless it was absolutely clear that it was necessary to do so."
Instead, DeSantis waited for the private sector and tourist magnets like Disney World and Universal to act and once they shut down "his position changed to a more aggressive approach," Jewett said.
As for the beaches, Jewett said, DeSantis' position was to allow local governments to decide if they wanted to close them. But from the start the governor insisted that they should enforce the federal Centers for Disease Control and Prevention's rules on social distancing and not allow groups larger than 10 on the sand.
Jewett's assessment of DeSantis' performance thus far appears to be somewhat in line with the results of the latest Florida Politics poll that found that the state's residents are, for now, giving the governor relatively high marks and have more confidence in him than they have in Trump.
DeSantis has also been keeping his family out of harm's way. His wife, Casey DeSantis, an Emmy Award-winning former TV news reporter and local talk show host, is pregnant with the couple's third child.
A 41-year-old Florida native and Harvard Law grad, DeSantis also holds a bachelor's degree in history from Yale. He is an Iraq War vet who served a year-long stint there in 2007 as a lawyer assigned to the Navy SEAL commander in Fallujah.
DeSantis was also something of a baseball phenom as a child and helped lead his team in the St. Petersburg suburb of Dunedin to the 1991 Little League World Series, which was won by a team from Taiwan.
But even then DeSantis had his eye on a much bigger prize.
"I always knew he was going into politics," Brady Willian, then one of DeSantis' closest friends and now manager of one of the Tampa Bay Rays' farm teams, told The Tampa Bay Times. "His goal was to be the president of the United States."
It was as a staunch opponent of one president, Barack Obama, and as a staunch defender of another, Trump, that DeSantis made his mark on the national stage after he was first elected to Congress in 2012. He was also a founding member of the conservative Freedom Caucus and in 2013 he was one of several lawmakers who pledged not to sign onto any anti-global warming legislation that would raise taxes.
"Ideologically DeSantis is conservative, but is part of the newer younger conservative movement that believes the environment should be protected," Jewett said.
DeSantis also was one of the first prominent Republicans to hitch his wagon to Trump, and during his 2018 campaign for governor he released a well-known ad showing him reading Trump's "The Art of the Deal" to one of his toddlers and building a wall out of toy bricks.
Trump rewarded that loyalty by providing an endorsement that enabled DeSantis to win the GOP primary for governor in 2018. He then went on to barely defeat Democrat Andrew Gillum in a general election that required a recount.