Criminal hate crime, aggravated kidnapping and other felony charges were filed against four young men and women who allegedly tortured and beat a bound and gagged man in Chicago, which they broadcast live on Facebook.
The suspects — identified as Jordan Hill, 18; Tesfaye Cooper, 18; Brittany Covington, 18; and Tanishia Covington, 24 — were charged Thursday ahead of an afternoon bond hearing.
The charges also include aggravated unlawful restraint and aggravated battery with a deadly weapon.
Chicago police spokesman Anthony Guglielmi had tweeted Thursday morning that authorities were continuing to investigate the "senseless attack. The attackers, who are black, were heard yelling anti-white epithets at various points throughout the 30-minute video.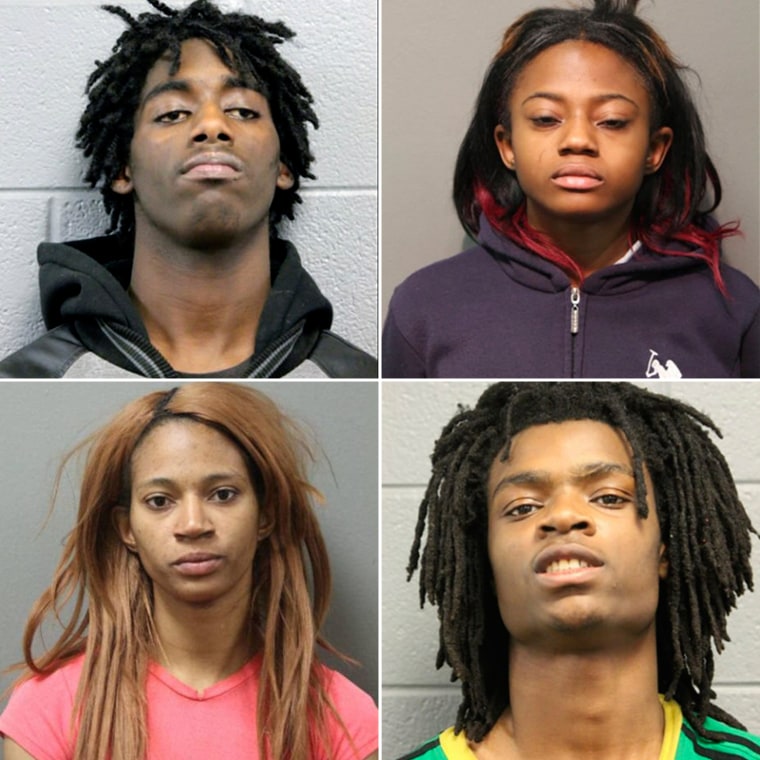 The unidentified 18-year-old victim, described as having mental health challenges, went to school with Hill and had been willingly with him since Saturday, police said. They added that the two had been known to hang out, so the victim's family in suburban Chicago only first reported him missing late Monday.
In a press conference on Thursday, the victim's family said that he is doing as well as he could be under the circumstances. But they were relieved he was home and offered thanks to local law enforcement.
"We appreciate all the support from everyone," the victim's brother-in-law David Boyd said on behalf of the family.
"This should never have happened," he added at the end of the press conference.
Officials said Hill and the victim got into an argument that was allegedly made worse by the two women, who are sisters. In total, it is believed he was tied up for four or five hours on Tuesday. Police do not believe the event was premeditated.
According to police, the suspects' focus on the victims mental capacity as well as his their statements about race is what led to the hate crime charges.
The victim was traumatized by the violence, and eventually spoke with police after he was located wandering on a Chicago street Tuesday night disheveled and in distress. He had to be hospitalized, officials said.
Related: Four Held in Connection With Kidnapping After 'Facebook Live' Torture Video Airs
The video, which first aired Tuesday and was also uploaded to YouTube, shows the victim cowering in a corner as the group kicks and slaps him and cuts his hair until his scalp bleeds.
The assailants can also be heard laughing, discussing drug use and yelling "F--- Donald Trump!" and "F--- white people!"
Police confirmed the second video that showed the teen being forced to drink out of a toilet in a news conference. NBC News has not verified that second video.
"It's sickening," police Superintendent Eddie Johnson told reporters Wednesday. Police also have no evidence it was a politically motivated attack.
Chicago Mayor Rahm Emanuel said he also found the video "sickening."
"There is more to our city than that," he said. "And I see it everyday."
A Facebook spokesperson said Thursday that the original video was taken down because the social network does "not allow people to celebrate or glorify crimes."
"In many instances, though, when people share this type of content, they are doing so to condemn violence or raise awareness about it," the spokesperson said in a statement. "In that case, the video would be allowed."
At around the same time that police found the victim on the street, other officers responded to a report of property damage and a struggle at a nearby address, and found the four suspects.
Police said that a downstairs neighbor made a noise complaint that led to the arrests.
Various groups, including members of Black Lives Matter, have condemned the attack as "barbaric behavior" and called for justice for the victim.