Gun violence is threatening to dim Friday night lights and endangering a beloved national pastime — high school football games.
This season alone, there have already been at least 16 shootings, resulting in two deaths and 13 people wounded at games across the country, according to the K-12 School Shooting Database, which has been tracking this data since the school shooting in Parkland, Florida, in 2018.
There have been two additional incidents at high school football fields this season: one where a crowd began a stampede after someone flashed a gun, and one where gunfire ended a Pop Warner game.
"I would call it an alarming trend," David Riedman, a criminologist and founder of the database, told NBC News. "Right now, it appears we're on pace with last year when there was at least one shooting at a football game each week on the season."
Karissa Niehoff, executive director of the National Federation of State High School Associations, agreed.
"It's been sad to watch," she said. "Horrific. It's definitely the worst I can remember in 35 years as a teacher, coach, leader in sports."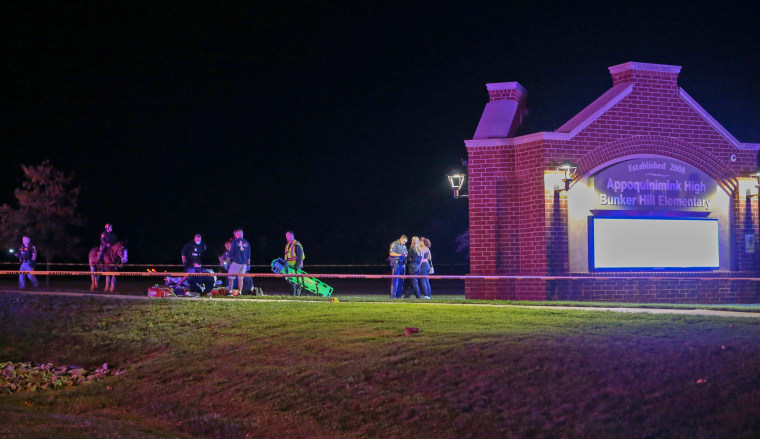 Niehoff said that when her association meets with local sports administrators about boosting security at big games, football in particular, this kind of violence is the "elephant in the room." She said she's grateful that, so far, none of these shootings have turned into mass casualty events.
"We're just praying that we never have to talk about something like that," she said. 
Last year, two Texas teenagers in a Dallas suburb who had allegedly been plotting to carry out a mass shooting at an Everman High School football game were intercepted by police before they got to the school, according to published reports. Police found an AR pistol and a 60-round magazine in their car.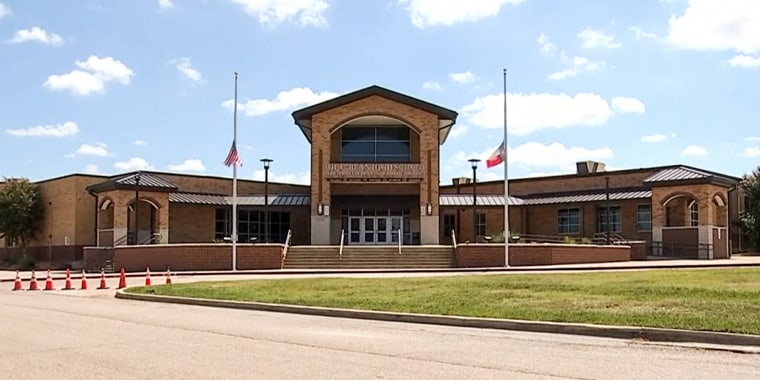 Riedman, who for statistical simplicity defines a high school football season as running from August through November, said violence at the games is not limited to southern and midwestern states where gun laws tend to be lax.
"This happens all over the country," he said. "Recently there were two students who were shot leaving a game in Chicago."
And, so far, the violence appears to be following a predictable pattern, Riedman said.
"It's almost always a dispute that escalates into violence because somebody has a gun," he said. "What has not happened yet is a planned attack on a high school football game."
What, besides guns, do all these incidents have in common? Insufficient security, Riedman said.
"The fundamental problem is security," he said. "It's often unclear who is responsible for security at high school football games. Most schools have never done a training session at a stadium."
On Thursday, an unspecified "threat" prompted officials in suburban Cleveland to play the Shaker Heights High School-Maple Heights High School game behind closed doors, with no fans.
Multiple students "told a trusted adult that they were aware of a threat related specifically to the game," according to Shaker Heights City School District statement. The exact nature of this threat was not disclosed.
Riedman cited the deadly shooting last month at a Choctaw High School football game in Oklahoma in which a 16-year-old was killed after being shot in the groin and three others were wounded. In the chaos that followed, an off-duty police officer working security shot and critically wounded a 42-year-old man in the chest. He survived.
A 15-year-old was later arrested and charged in connection with the fatal shooting.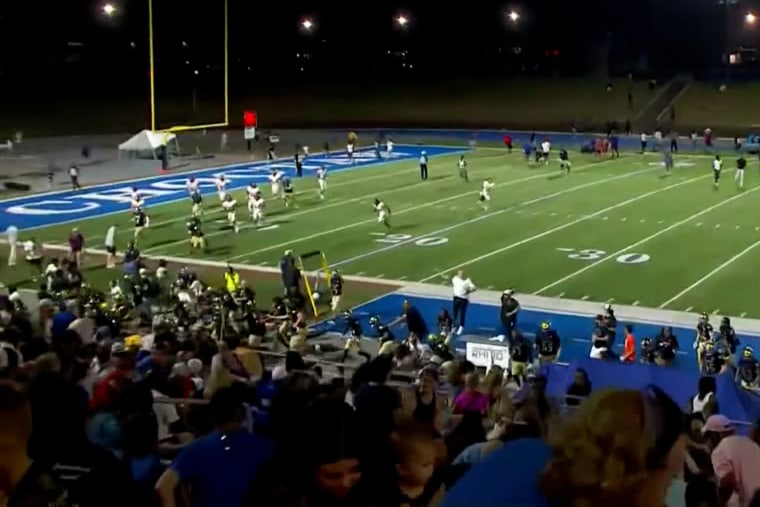 "Police aren't trained for handling a shooting in a stadium," Riedman said. "When there are gunshots, they're often accompanied by confusion and sometimes innocent bystanders get hurt. It's also very hit-or-miss with security screenings. In Choctaw, they had screenings at the start of the game but that was it. So somebody could have left the stadium and come back with a gun."
It is a sad fact of life that many schools in America have metal detectors at the doors to classroom buildings, but securing a major venue like a football stadium can be a tougher challenge, Neihoff said.
Bulky, airport-style metal detectors can't be easily moved from a central school door to a football stadium, she said. And there often aren't enough of these devices to cover multiple entry points at stadiums.
"I would encourage schools, if you're holding a large-scale event, as people come through with the ticket, take a look at what they're bringing in," Neihodff said. "You can do things like that that don't cost any money. They just require some more organization and time."
In the upstate New York city of Utica, the public school district this month announced on its official Facebook page that it was beefing up security by only allowing students accompanied by a parent to attend school-sponsored sporting events.
The school district made this move after a security officer was shot in the head and wounded Sept. 9 while trying to break up a fight that broke out in a parking lot outside a Proctor High School football game.
A 16-year-old who does not attend Proctor High has been charged with attempted murder, criminal possession of a weapon and other charges, Utica Police Lt. Mike Curley said.
To keep guns out, school officials banned backpacks and fanny packs from all district athletic events and said there would be "no re-entry and no admittance after halftime" at high school football games.
Also, at Utica high school football games, all fans will file into the stadium through a single entry point where they will be required to pass through a metal detector.
"Our students deserve to play and should not be penalized for an incident that happened in a parking lot," the schools superintendent, Kathleen Davis, said in an update Tuesday.
Extra manpower doesn't mean extra safety, the experts agreed.
Consider what happened Sept. 1 in Louisiana when 15-year-old Ja'Kobe Queen was fatally shot during halftime of what's called the Sugar Cane Classic between the Port Allen Pelicans and their archrivals, the Brusly High Panthers.
Police said Queen had walked over to a concession stand to buy a cold drink when shots rang out.
"Although we had extra security at this game, it ended in a tragic incident," West Baton Rouge schools said in a statement released a day after the shooting.
A 28-year-old woman was also injured in the shooting, the West Baton Rouge Sheriff's Office said. And an 18-year-old named Jarrettin Jackson II was later arrested in connection with the shooting.
It may be time "to re-evaluate our security protocols," West Baton Rouge Sgt. Landon Groger told reporters in the aftermath.
The California Interscholastic Federation, which oversees prep sports in the nation's largest state, said all schools have to file an "emergency action plan."
"It's taken care of at the local level," federation spokesperson Rebecca Brutlag said. "This can vary school to school."
She said the federation has also been concentrating on creating better high school sports fans.
"What we're really driving right now is our sportsmanship initiative," Brutlag said. Lack of sportsmanship "has gotten out of control at many events, not just in California but all over the U.S. We're really pushing to get everyone to be on the same page, support each other, be positive and be there for the kids."
Manny Macedo, who grew up in South Los Angeles in a community rife with gang activity and gun violence, said playing quarterback at Jefferson High School was a way to escape the mean streets.
"The coaches preach constantly to shut out any outside noise, to focus on what's going on the field," said Macedo, 20, now a sophomore at the University of California, Berkeley, where he leads the anti-gun violence group UCB Students Demand Action.
But that leaves the players on the field especially vulnerable, he said. And he worries about his nephew, who now plays running back on his old high school team.
"Now the players have to be focused on so many other factors," Macedo said. "Sports are supposed to be a sanctuary, but we can't enjoy them like we used to because gun violence can happen out of the blue."
Last month, he said, a woman watching a football game at Maya Angelou Community High School was hit in the leg by a stray bullet. 
"That had nothing to do with the football game," Macedo said. "But the lady was wounded inside a stadium I know well because I played there."