A woman who authorities believe may have been trying to cross from the United States into Canada on foot died of possible hypothermia last week while on the journey.
The body of Mavis Otuteye, 57, was found near the border town of Noyes, Minnesota, on Friday afternoon after she was reported missing the day before, the Kittson County Sheriff's Department said in a press release Tuesday.
Authorities believe Otuteye was a Ghanaian citizen and that she was trying to cross into Canada at the time of her death.
Her cause of death was possible hypothermia, according to a preliminary autopsy report cited by the sheriff's department. A final autopsy report was still pending.
Local television station WDAZ in Noyes reported that authorities suspected the woman was trying to reunite with her daughter.
"Evidently she didn't make it," Kittson County Sheriff's Deputy Matt Vig told the station. "And I think temperatures were in the 40s that night. Just tough weather for her to make that journey."
Related: Refugees Are Fleeing Trump's America for This Tiny Canadian Town
Otuteye had been living in Delaware for the last few years, according to Vig.
It was unclear how or when Otuteye first arrived in Noyes.
A dispatcher at the sheriff's department told NBC News on Wednesday afternoon that there were no deputies or spokespeople available to comment on reports that Otuteye was trying to reunite with her daughter.
Otuteye's death comes as a surge of immigrants and refugees in the U.S. have tried to seek asylum in its northern neighbor Canada, fearing a crackdown from President Donald Trump.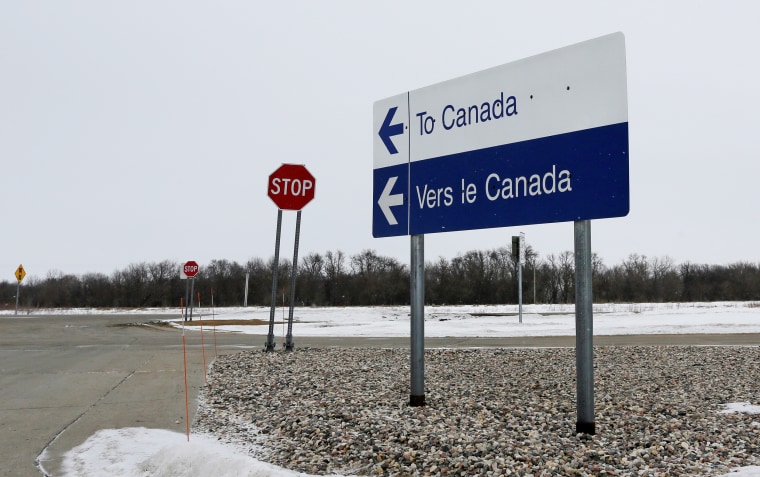 The Royal Canadian Mounted Police has apprehended more than 2,700 asylum seekers between official border points from January to April alone, according to the Canadian government.
The tiny Canadian town of Emerson borders Noyes and has population of just 678 — yet more than 300 immigrants have arrived since January.
Emerson Mayor Greg Janzen told NBC News on Wednesday that he and the whole town were "really caught off guard" by news of Otuteye's death.
"It's frustrating ... We knew somebody was going to die through this whole process, but this caught us completely off guard for this time of year," he said.
"There's no war in the United States, so why are people risking their lives?" he asked.