Humberto Cardenas and his mother were stuck in a traffic jam, desperate to escape Lahaina as it burned, when she told him something terrible.
"Just grab the pets and go," Cardenas, 23, recalled his mother saying, urging him to flee on foot with their dog and cat as flying embers from a wind-fueled fire ignited homes and trees around them.
Cardenas refused — "I didn't want to leave her," he said in an interview. He shared cellphone video of the terrifying ordeal Wednesday from the safety of his uncle's home in Honolulu, where he and his mother eventually escaped to after they fled their Lahaina apartment.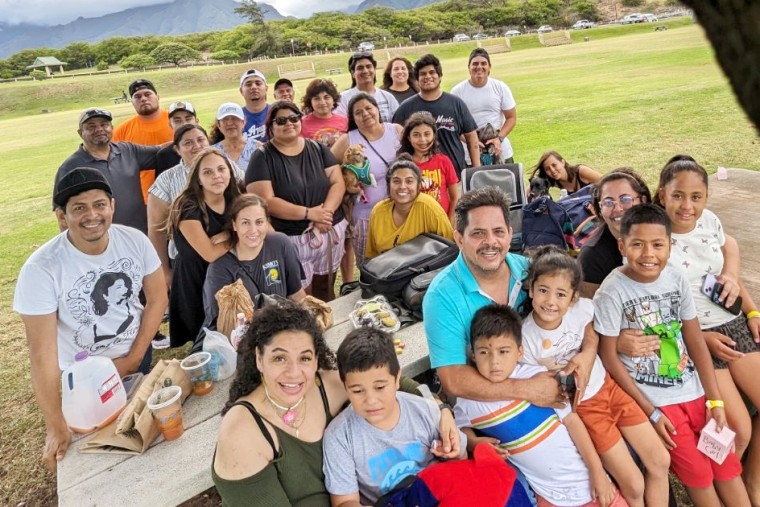 Cardenas' family suffered no injuries in a fast-moving wildfire that has become the deadliest in modern U.S. history, with a death toll that reached 110 Wednesday, but it devastated them in another way, said Pedro Haro, his uncle.
Haro, who grew up in the historic seaside community that was once the capital of the Hawaiian kingdom, said five homes of relatives who live in Lahaina were destroyed.
Twenty people in his family lost nearly everything, he said.
Cardenas, a barista, said the apartment where he lived with his mother and two siblings was among those that burned. He and his mother left Lahaina the afternoon of Aug. 8, after the manager of their apartment complex went door to door telling residents to evacuate. They grabbed the little they could — birth certificates, Social Security cards, a computer, their pets — and fled.
It took them about two hours to drive a couple of miles to an uncle's house in Kaanapali, just north of Lahaina, he said. In a video Cardenas shared with NBC News, flames can be seen ripping through a building just feet from the road. 
In another video, giant clouds of dark smoke can be seen overhead as powerful winds batter trees.
"She was just super scared," Cardenas said of his mother. "She didn't know where my sister or my brother was or my other sister and her kids."
They had tried to return home to Lahaina, Cardenas learned later, but authorities didn't let them. They are now in Oahu with other relatives, he said.
One of Haro's sisters, Ana Haro, said she also lost her home — and nearly her son.
Ana Haro, 50, said that before the fire, she had driven to the other side of the island to fill up her car with fuel because powerful winds had knocked out electricity to the area early Aug. 8. 
So she wasn't home when the flames roared into Lahaina that afternoon. And her son — a security guard who works the graveyard shift — was asleep when he awoke to the smell of smoke and their home in flames.
She later learned that he had grabbed their dog and run.
"He couldn't see anything around him, and he couldn't hear anybody," she said, adding that residents had already evacuated.
The smoke made him sick, Ana Haro said, but he eventually made it to safety and is staying in a hotel on the other side of Maui.
Many in the family are now in Oahu, Pedro Haro said, and they face a daunting future of trying to replace what was lost in the fire.
"It's calling insurance. It's FEMA," he said, referring to the Federal Emergency Management Agency. "There's so much stuff to do it's just like one foot in front of the other."
"It's not like we're a family of big means, but we'll figure it out," he added.