Chicago Mayor Rahm Emanuel won office twice on a promise to put a lid on gun violence, improve the public's trust in police and repair the city's corrupt image.
By firing his top cop and appointing a new police reform panel on Tuesday, Emanuel acknowledged that he'd fallen short, his plans upended by a police officer's killing of a teenage suspect — and the long-delayed release of a damning dashcam video that raised suspicions of a cover-up during the mayor's re-election bid.
The crisis probably won't cost Emanuel his job, however.
Emanuel, a former congressman and chief of staff to President Obama, is known as a tireless political warrior, someone who does not step down from a fight. Asked repeatedly Tuesday about calls for his resignation, Emanuel — who has more than three years left in his second term — ignored the question.
But Emanuel's political standing remains precarious, in large part due to crime and problems in the police department.
The murder rate has spiked. Black residents accuse the police of heavy-handed treatment. The city has suffered through several high-profile killings, some of them children caught in the crossfire. The latest occurred on Nov. 2, when 9-year-old Tyshawn Lee was shot in the head, police said, after he was lured into an alley and executed because of his father's gang connections.
The breaking point came with the release of a video showing Officer Jason Van Dyke's fatal 2014 shooting of 17-year-old Laquan McDonald.
The city had resisted sharing the footage, which shows Van Dyke hitting McDonald 16 times and contradicts police's original description of McDonald as lunging toward officers. A judge forced the city to release the video last Tuesday.
A chorus of public officials and community leaders called for Superintendent Garry McCarthy's resignation. On Black Friday, protesters stopped traffic on the Magnificent Mile shopping strip. On Monday, the NAACP marched outside city hall.
By Tuesday, it became clear that that the McDonald case could do irreparable damage. McCarthy needed to go.
Emanuel noted Tuesday that Chicago's overall crime rate had declined 34 percent in the last four years under McCarthy. He also argued that McCarthy had done a good job trying to rid the streets of guns and making the police department more accountable.
But Emanuel said that trust in the police had decayed to the point that McCarthy could no longer lead.
The firing marked a beginning, not an end, Emanuel said at a Tuesday news conference.
"Everyone has a role to play, and I'm just as responsible and accountable as everyone else in working toward that solution," the mayor said.
His career may now hinge on whether he rises to the task.
Emanuel took office in 2011 as a reform candidate, pledging to lead the city in a reduction in crime and to improve Chicago's reputation as corrupt and ethically compromised.
The police department alone represented a huge challenge. The force has a long tradition of misconduct scandals — entanglements with the mob and drug dealers, torture of suspects, beatings, shootings, cover-ups and other civil rights abuses that have cost the city hundreds of millions of dollars in legal settlements.
Press investigations and academic studies have exposed the department's poor history of disciplining problem officers, sustained by an internal "code of silence."
Critics have also accused city officials of papering over the department's problems with panels and re-organized internal-affairs units.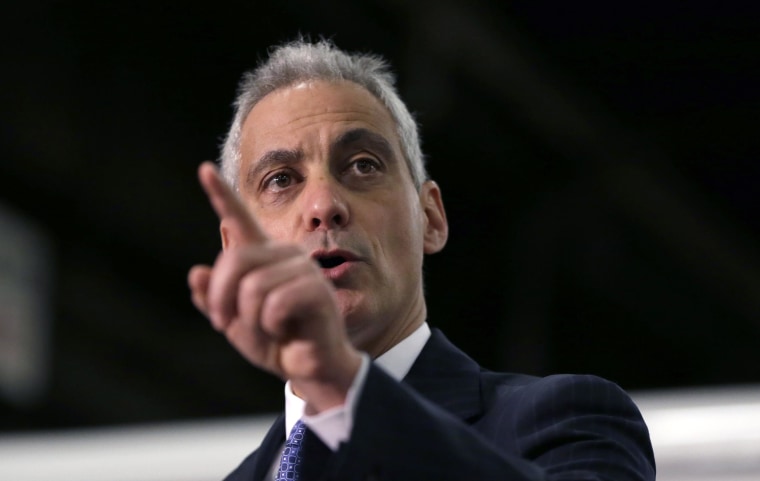 Those critics include Dick Simpson, a former city alderman and a law professor at University of Illinois at Chicago. He co-wrote a book called "Corrupt Illinois" that devotes an entire chapter to Chicago police corruption.
"Chicago's failure to rein in its errant officers, the department's lax discipline, and its active involvement in cover-ups have led Chicago's 12,000 police officers to believe that they can break the law with near-total impunity," Simpson and co-author Thomas J. Gradel wrote.
That history set up the department, and Emanuel, for the current crisis, in which the city has been accused of delaying an internal investigation until after the mayor's April re-election.
Had the scandal broken during the campaign, "he would have lost," Simpson said in an interview.
On Tuesday, Emanuel acknowledged the city's history of "excessive force and misuse of authority" and defended his efforts to overcome it.
"But for whatever progress we have made, the killing of LaQuan McDonald is a vivid reminder that we have much more work to do as a city," Emanuel said.