The tear-jerking tale of a retired Ohio cop who feared his beloved K-9 would be auctioned off to a stranger ended with some barking — but no bite.
Matthew Hickey was told Monday he could keep Ajax by simply signing-up to be an auxiliary cop in Marietta, Ohio.
"I am prepared to do everything I can so that dog, which I know you love, stays with you," Police Chief Rodney Hupp said.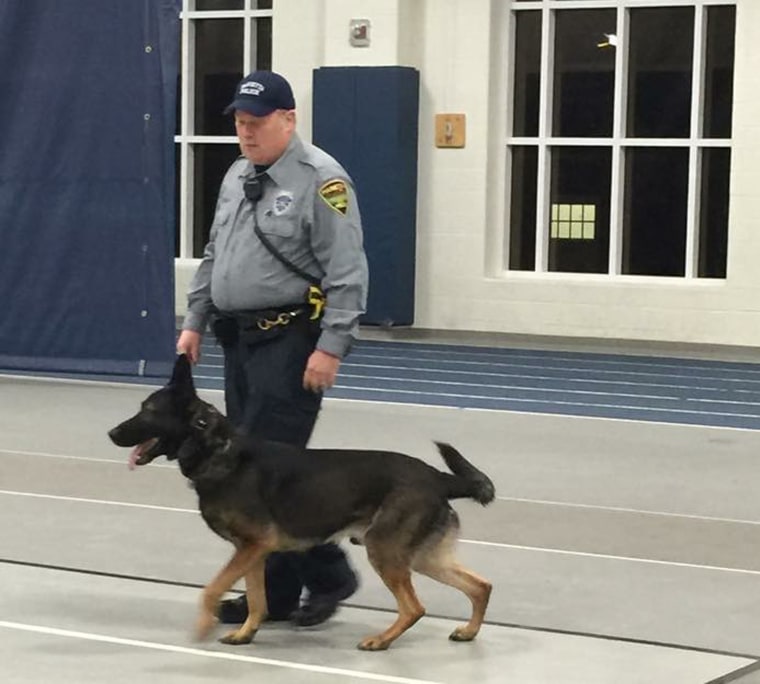 But as Hickey stood nearby, Hupp reminded the ex-officer that they floated the idea of making him an auxiliary cop before he went public with his complaints about losing Ajax — and before an online campaign to rescue the pooch was launched that has raised $65,000 so far and lots and lots of sympathy.
"You could have stopped this train wreck, simply by saying, 'they're working on a solution,'" Hupp said.
An angry Hickey insisted he had no idea the city was working on keeping him and his four-legged ex-partner together.
"The only thing I knew was that you had contacted me that the dog was $3,500 and that someone was going to come to my house and take the dog away from me," Hickey said. "You're making up small lies."
Hickey, who retired last week after more than 30 years on the job, had been teamed with Ajax for the past four years. He assumed his dog would be able to retire with him.
It turned out Ajax wasn't ready to hang up his paws. And state law required that the dog be auctioned off to the highest bidder — instead of being turned over to his master.
"Officer Hickey came in when he retired and wanted to buy the dog right then, but we couldn't do it," Marietta Mayor Joe Matthew told NBC News. "It's impossible. I would have loved to, but the state law won't allow us."
Hickey disagreed, publicly.
"He's like a brother," his daughter, Danielle Leal, said of Ajax in an interview with NBC News. "He is amazing. He's the biggest teddy bear."
Soon, Marietta's city leaders began hearing from angry people demanding that Ajax be reunited with Hickey, NBC affiliate WCMH reported.
Hupp was still smarting from that.
"This protest, bashing of the city needs to stop," the chief said. "Everyone involved in this is doing everything they can, pulling out all the stops, to take care of this."