The driver of an Acura who fatally struck six construction workers on a stretch of highway outside Baltimore collided with another vehicle moments before her car plowed into the laborers, investigators said Thursday.
"Crash team investigators believe this caused the Acura to lose control and subsequently traveled through the barrier opening into the work zone and overturned," Maryland State Police said.
State police released the names of the driver and the six victims of Wednesday's crash on the inner loop of Interstate 695, known as the Baltimore Beltway.
All the victims were Maryland residents and contract workers, police said.
Two of them, Mahlon Simmons II, 52, and Mahlon Simmons III, 31, were father and son, police said. They lived in Union Bridge.
Rolando Ruiz, 46, of Laurel; Carlos Orlando Villatoro Escobar, 43, of Frederick; Jose Armando Escobar, 52, of Frederick; and Sybil Lee Dimaggio, 46, of Glen Burnie, were also killed.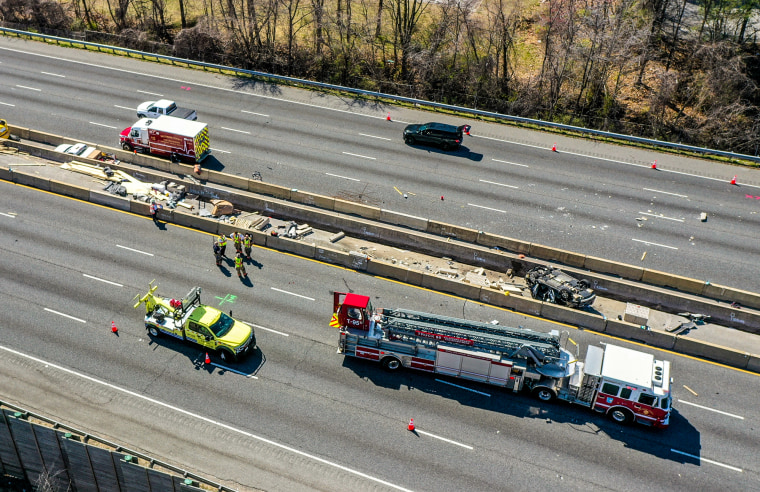 At the home of Jose Armando Escobar, a grieving woman who answered the phone simply said, "He died." Then she hung up.
Dimaggio's husband said that "she was a mama bear to everyone" and took pride in what she did. She and George Durm were married for 3½ years, and she had two children from a previous relationship.
"She was my life, my love, my everything," Durm said.
The driver of the Acura, Lisa Adrienne Lea, 54, of Randallstown, Maryland, was being treated at R Adams Cowley Shock Trauma Center in Baltimore, said police, who did not provide her condition.
She was alone in the vehicle, police said.
"Charges are pending the outcome of the investigation and consultation with the Baltimore County State's Attorney," state police said in a statement.
Lea was trying to change lands around 12:40 p.m. Wednesday when she struck the "front corner panel" on the passenger side of a Volkswagen and careened into a work zone between the Jersey barriers and struck the workers before her car flipped over, police said.
Helicopter video showed the Acura upside down surrounded by broken construction materials and other debris. All of the victims were pronounced dead at the scene, police said.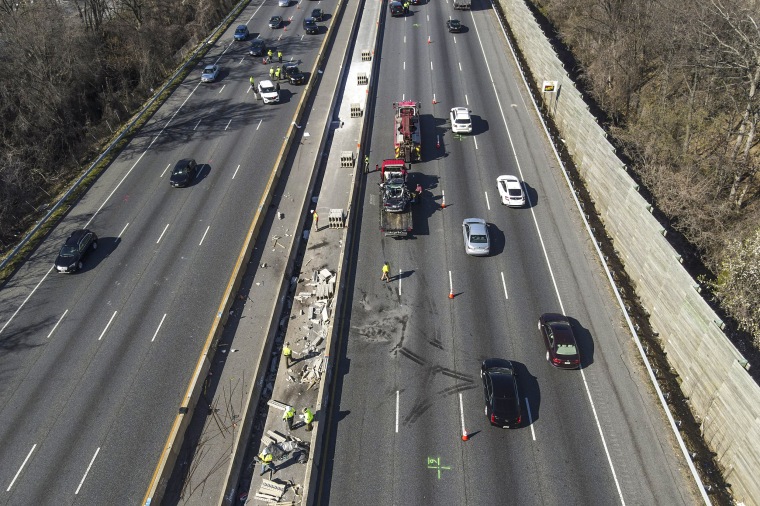 The Volkswagen was driven by Melachi Brown, 20, who was not injured, police said. He pulled over north of the crash site on I-695 "where his vehicle became disabled," police said. 
Dimaggio had been on construction jobs for a long time but had concerns about this job, her husband said. "This job scared her. Lots of traffic. Not enough lights. Not enough protection," Durm said.
Attempts to contact family members of other victims were not successful Thursday.
Multiple agencies are investigating with the Maryland State Police Crash Team, including the state Transportation Department Occupational Safety Office and the National Transportation Safety Board. 
The investigation's findings will be submitted to the Baltimore County State Attorney's Office for review.