An explosion at a Houston grinding and manufacturing facility killed two people and injured two others Friday morning, officials said.
Some residents said they felt the boom across the city. The blast, first reported about 4:15 a.m., scattered rubble as far as a half-mile and damaged nearby homes.
"We believe two employees lost their lives as a result of this explosion," Houston Mayor Sylvester Turner said at a news conference Friday evening.
Two other people were transported by the Houston Fire Department to a hospital with non-life-threatening injuries, and 18 others "self-transported" to hospitals with injuries that are also not life-threatening, Turner said.
Download the NBC News app for breaking news
"This is in essence a disaster area," Houston Police Chief Art Acevedo said of the neighborhoods around the manufacturing facility.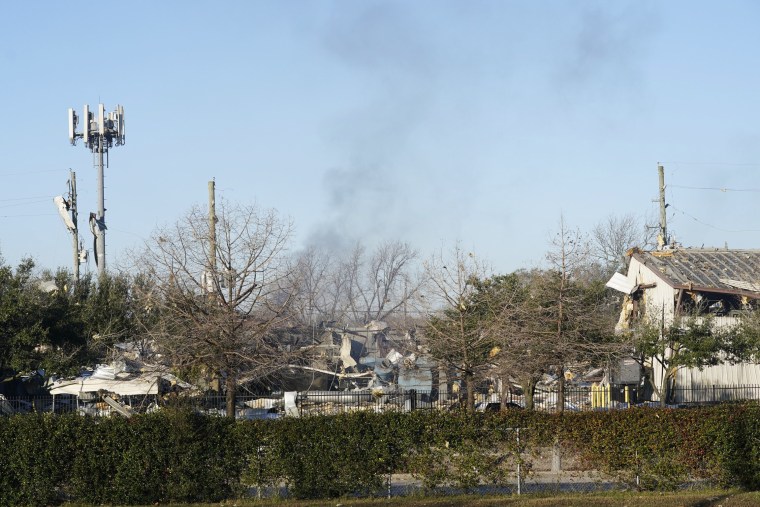 The explosion happened in a building at Watson Grinding and Manufacturing, which has been in Houston since 1972, the mayor said.
"We are saddened by the tragic passing of our coworkers, and our deepest sympathies are with their families for their profound loss," the company said in a statement through its attorney Friday night.
It said it would cooperate with all agencies investigating the accident.
The company makes valves and provides thermal-spray coatings for equipment in various industries, according to The Associated Press.
Authorities said earlier Friday that valves in the building were releasing the chemical propylene, which dissipates in the air. Fire chief Samuel Peña said later that the valves were secured.
"There is no hazard with the air quality," he said.
Frank Flores and Gerardo Castorena were killed in the blast, the fire chief said.
And the police chief said that as much as their families "were hurting, they wanted to express to the community their personal gratitude that no other persons died."
Nearly 200 homes and buildings near the explosion site were searched and a majority were damaged, with some knocked off their foundations, fire officials said. One city official said many of the homes will be uninhabitable for weeks.
"This was a significant, significant explosion," said Peña, who expects investigators to be on scene for several days.
"We suspect certain things as far as what may have occurred," but the department is not prepared to release that information until investigators have a definite cause and origin, Peña said. The Fire Department is also looking through its files for the inspection history at the site.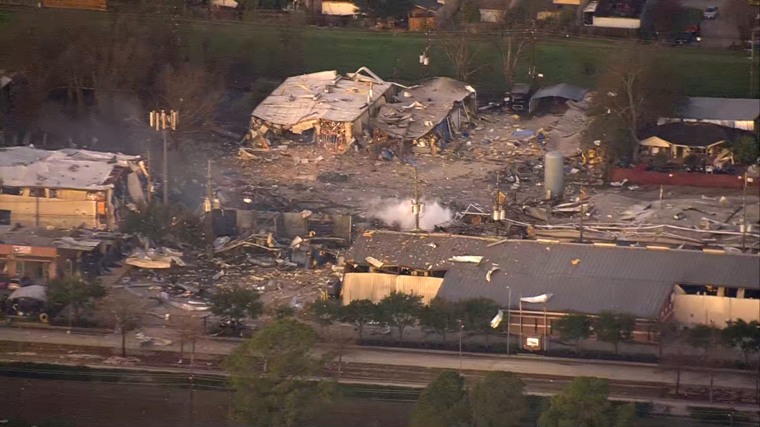 The scene looks "like a bomb has gone off," U.S. Rep. Sheila Jackson, a Democrat who represents Houston, said Friday night, noting the community's resilience.
"Individuals who were thrown out of their beds are moving boxes," Jackson said. "That is, of course, a miracle. And we experienced a miracle by the timing of this explosion, because of the potential for a greater loss of life."
Jackson said Watson Grinding and Manufacturing is a good neighbor, but she wants to make sure that "all was done to ensure that there was knowledge of the chemicals."
Residents in a nearby neighborhood in the northwestern part of the city told NBC affiliate KPRC in Houston that the blast blew out windows and damaged garage doors.
"It knocked us all out of our bed, it was so strong," Mark Brady, who lives in the neighborhood, said. "It busted out every window in our house. It busted everybody's garage door in around here. … It's a war zone over here."
The Houston Fire Department opened a criminal investigation into the explosion, as part of its protocol. The U.S Department of Alcohol, Tobacco, Firearms and Explosives in Houston said in a tweet that it is assisting police in the investigation.
"We have no reason to believe, we have no evidence that terrorism is involved, that a criminal act is involved," authorities said. "When you have this type of incident, part of our protocol is to conduct a criminal investigation."