The call for action against the "Forces of Organized Perversion" landed in the inboxes of conservative Roman Catholics across the country just before Election Day.
"Have you had enough?" activist Randy Engel wrote in a column that first appeared on the conservative website RenewAmerica.com. "Or will you wait until the Homosexual Collective's hobnail boot is pressed on the neck of your prone body or that of your child or grandchild before reacting?"
"Cast your vote for God, family, and nation," she wrote.
Many Catholics say they are worried that activists like Engel are the vanguard of a new offensive by ultra-conservative Catholic groups that see the growing acceptance of LGBTQ Catholics by Pope Francis and other reformers as a mortal threat to their church.
Websites like Church Militant, LifeSite News and the Lepanto Institute are ratcheting up the rhetoric while replacing polite and prayerful discourse with personal attacks on supporters of gay Catholics, they say.
Meanwhile, anti-gay activists have increasingly been disrupting gatherings of LGBTQ Catholics and their supporters, a phenomenon first reported by the National Catholic Reporter. Just this month, a group of Dominican nuns in suburban Milwaukee hired security guards to keep more than two dozen anti-gay protesters off their property where they were hosting a retreat for gay clergy.
Fordham University theologian Jason Steidl has coined a name for them.
"I call them the 'Catholic alt-right,'" Steidl told NBC News. "We haven't seen anything like this before. I think they are part of a bigger cultural movement. These people have hitched their wagons to Trump's presidency, to his tactics."
They have also tried to weaponize the Pennsylvania grand jury report released in August that named more than 300 "predator priests" to scapegoat homosexuals, never mind that many of the 1,000 victimized children were girls.
"They inject fear, hatred and homophobia into religious discourse," said the Rev. James Martin, a Jesuit priest and author of "Building a Bridge: How the Catholic Church and the LGBT Community Can Enter into a Relationship of Respect, Compassion and Sensitivity."
"They use the same tactics as the political alt-right: lies, personal vilification and demonization of minority groups," he said.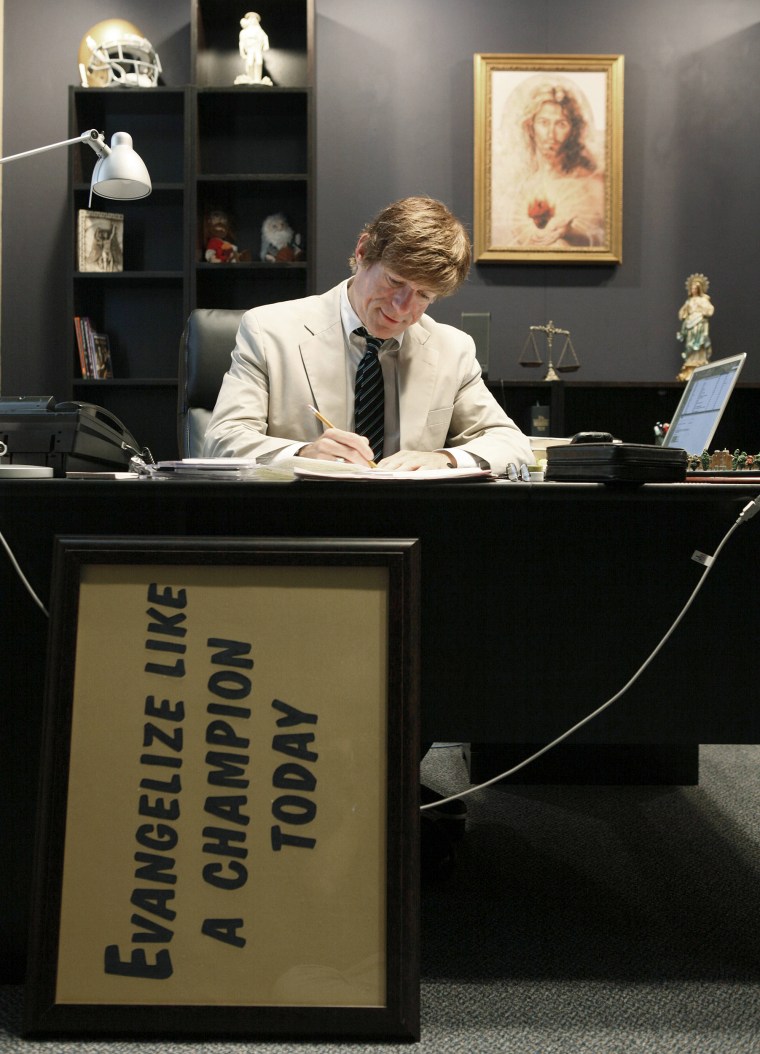 Michael Voris, who heads Church Militant, rejected the label "Catholic alt-right," calling it "non-applicable and stupid." He said all they are doing is vocally defending their faith and see President Donald Trump as an ally. He once compared Trump to Constantine, the first Roman emperor to convert to Christianity.
Voris agreed that conservative Catholics are more focused now on the LGBTQ community, but said it's because "the news [of the Pennsylvania grand jury report] has certainly multiplied under Pope Francis."
"I don't whip up crowds to stone them," he said. "We're not a bunch of Muslims in Saudi Arabia chopping peoples' heads off."
But the gay lifestyle is a sin, Voris said, and he's speaking from personal experience.
"I lived a gay lifestyle for a number of years," said Voris, who said he is now celibate.
Mike Hichborn of the Lepanto Institute also bristled at the Catholic alt-right label.
"The Lepanto Institute does not stand for anything beyond the absolute and immutable teachings of the Catholic Church," Hichborn wrote in an email. "That does not make us 'alt-right' but fully faithful."
"I don't whip up crowds to stone them. We're not a bunch of Muslims in Saudi Arabia chopping peoples' heads off."
Marianne Duddy-Burke, who heads DignityUSA, an organization that focuses on gay rights within the Catholic Church, said these groups have been emboldened by Trump, who "has legitimized attacks against entire groups of people and these people are following his example to go after gay Catholics."
And they're not just casting aspersions.
Since 2007, New Ways Ministry has tracked 80 Catholic church workers who they say lost their jobs after they were outed as gay, or supportive of gays. In some cases they lost their jobs after Catholic alt-right activists scoured their social media postings for "evidence" and told their employers.
On the group's website, there is a man who they say was fired by the Catholic Diocese of Cleveland after he "liked" a Facebook posting about a gay couple's wedding and a Florida teacher who was pressured to resign after administrators at her Catholic high school learned she and her partner were engaged.
Perhaps one of the most extreme examples of harassment was endured by Aaron Bianco, a gay man married to another man who told the New Ways ministry that he resigned from his job at a San Diego parish as a pastoral minister after more than a year of abuse. He said he received death threats, had his tires slashed, got hundreds of harassing letters, phone calls and emails, and was physically attacked after a Mass.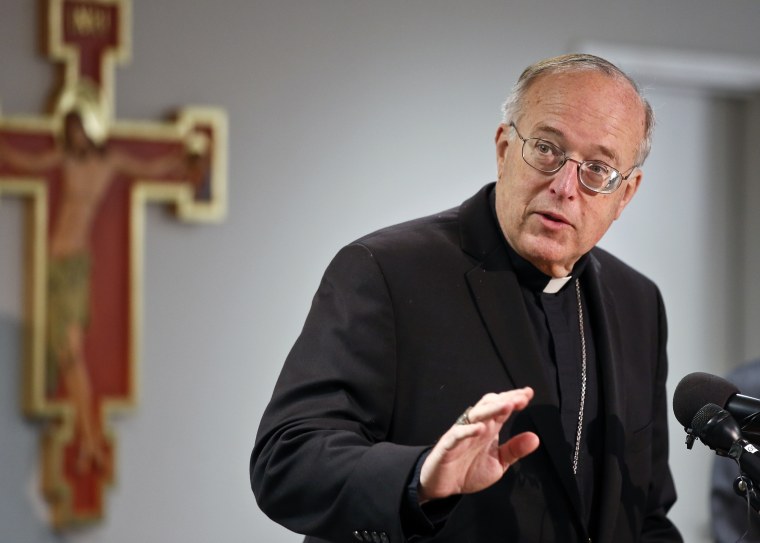 "They broke into the office/rectory and spray painted" an anti-gay slur on the conference wall, he wrote in an email to friends.
The final straw, he said, was when LifeSite News and the Lepanto Institute published an article about him that included family photos and his address. It also called for San Diego Bishop Robert McElroy to fire Bianco.
"Probably 95 percent of Catholics are fine," Bianco said. "The people in my parish are great. It's just these fringe groups that have been able to garner so much attention. The problem is no one has put them in check."
Hichborn denied outing Bianco and defended their coverage. He wrote that Bianco's sexuality was no secret and "all we did was report those public facts."
"It is just as absurd for the Catholic Church to employ active homosexuals as it would be to employ a practicing witch, a practicing abortionist, a Freemason or a Communist," he wrote. "Sodomy is completely inimical to the most basic teachings of the Catholic faith."
NBC News also reached out the Canada-based LifeSite but got no response.
Bianco said McElroy came to his defense and then found himself on the receiving end of abuse. But McElroy is the exception, not the rule, said Francis DeBernardo of New Ways Ministry.
"The U.S. bishops have done absolutely nothing to respond to the very vicious and violent way these groups are threatening people," DeBernardo said. "These are things the bishops really should have been speaking out against. But they are afraid of these groups."
Martin agreed.
"These are things the bishops really should have been speaking out against. But they are afraid of these groups."
"Some bishops promote sites like LifeSite," he said. "I know some people read them in Rome. ... These groups are very small, but they have an outsize influence and a very big voice. Fear and hatred are remarkably motivating for some people."
In response to repeated requests for comment from NBC News, the U.S. Conference of Catholic Bishops released the following response from their spokesman Bishop Christopher Coyne of Burlington, Vermont:
"The promotion and defense of the faith should invite an encounter with the merciful love of Christ and contribute to a more civil and peaceful dialogue in our church and society," he said. "I urge my brothers and sisters to exercise extreme caution before giving credence to anyone who instigates shameful, digital stoning as a way to defend the Church. Catholic participation in the public square should be marked by both fidelity to the Gospel and to charity toward all our fellow citizens."
Martin said he knows what it's like to be on the receiving end of abuse from the Catholic alt-right. His book, which calls on Catholics to show gay people more respect and compassion — but does not explicitly challenge the Church's teachings on homosexuality — was treated like heresy when it was published last year.
"I would find myself confronted after some talks by people yelling: 'You're a heretic! You're a false priest,'" Martin said. "They would find out I was supposed to speak at a parish or at a university and they would launch a telephone campaign to get the lecture canceled."
Online, the abuse is even more repugnant, he said.
Who are the Catholic alt-right?
They are longtime pro-life activists like Engel, who holds the title of national director of the U.S. Coalition for Life, which appears to be a shoestring operation registered to a P.O. Box in tiny Export, Pennsylvania (pop. 895). She appears to be the only employee, according to available records.
But Engel, who told NBC News she prefers to be called a "traditional Catholic," has a platform on the RenewAmerica site, which boasts 157,000 likes on Facebook. It was launched in 2002 as a vehicle for supporters of failed GOP presidential candidate Alan Keyes.
The "Homosexual Collective," as Engel refers to it, appears to be a favorite subject, based on a survey of her columns that appear on the website.
Never mind that a 2004 report commissioned by the U.S. Conference of Catholic Bishops, known as the John Jay Report, concluded there was no connection between homosexuality and the sexual abuse of children by priests. It found these priests targeted whoever was around them regardless of age or gender.
"The John Jay staff said what the bishops wanted to hear," Engel said in an email to NBC News.
Engel's assertions "are part of a tired trope that has been used to malign gay men for generations," Steidl said.
"If anything, her work suffers from a lack of imagination," he said. "These homophobic stereotypes are as false as they are salacious, revealing Engels' and others' desperation in a society that is quickly moving toward LGBTQ affirmation and a church that is in the earliest stages of considering and acting on the pastoral and spiritual needs of LGBTQ Catholics."
While Engel is hardly alone in her thinking, even more dangerous are the outfits with a much greater reach like Voris' Church Militant, the experts said.
Based in suburban Detroit but not affiliated with the archdiocese, Church Militant produces podcasts, YouTube Videos, online articles and a daily talk show that Voris says gets about 1.5 million views a month.
It has nearly 19,000 Twitter followers, over 68,000 YouTube subscribers, and more than 196,000 Facebook likes. In 2016, the umbrella company, St. Michael's Media, reported to the IRS total revenue of more than $1.35 million. And it has juice enough to drive donors to raise more than $100,000 for a Chicago priest who was ousted from his parish after burning a rainbow flag, which is a symbol of LGBTQ pride.
Church Militant has also caught the attention of The Detroit News, The New York Times and other mainstream media organizations. Voris was also profiled in a video produced by The Atlantic.
The chief focus of the slickly produced web videos that Church Militant has been posting of late are gays in the Church, some of which have gotten up to 100,000 views.
Waving a pencil like a wand, Voris stars in most of the videos, which open with him declaring that this is "where lies and falsehoods are trapped and exposed."
The Southern Poverty Law Center is not a fan. "Church Militant focuses on homosexuality with an intensity and frequency bordering on obsessive," it said.
Voris insisted just 5 to 10 percent of the 4,000 or so videos Church Militant has produced over the years deal with what he called "the gay cabal in the church."
"Lots of people weren't talking about that back in the day, but now they are," he said. "I don't consider that harsh rhetoric. I think that is newsworthy."