More than 300 incidents of harassment or intimidation have been reported following Donald Trump's election Tuesday night, the Southern Poverty Law Center (SPLC) told NBC News Monday.
The SPLC first published its report on post-election incidents on Friday but said reports have continued to stream in. They found that harassment most commonly occurred in K-12 schools and on university campuses. Many, though not all incidents, involved direct references to the Trump campaign, according to the group's report.
The anti-intolerance watchdog said it will continue to tally incidents of hate and harassment reported through social media, news reports and direct submissions to its website.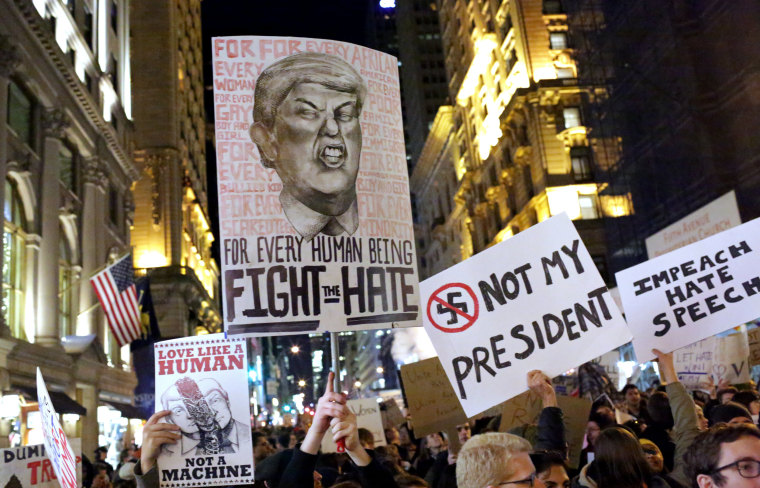 The Law Center said they were unable to independently verify each incident reported, but NBC News has separately confirmed dozens.
Some incidents of hate crimes that NBC News has confirmed independently:
On Sunday, a rector found the words "Trump Nation, Whites Only" scrawled on the walls of the Episcopal Church of Our Saviour in Silver Spring, Maryland. The church offers weekly Spanish-language services.
The University of Michigan issued a campus safety alert Sunday after a Muslim student told police a white male demanded she remove her hijab or he would "set her on fire with a lighter." Police are investigating.
New York Governor Andrew Cuomo ordered state police to open a multi-agency hate crimes investigation into reports that a swastika and the word "Trump" was spray painted on the walls of a residence hall at SUNY Geneseo.
In Philadelphia, police are searching for the man who grafittied "Trump Rules" and "Black B----" onto the hood of a woman's van.
Parishioners found graffiti on the walls of St. David's Episcopal Church in Indiana. A swastika, "Heil Trump" and "F-- Church" were spray painted on the walls of the church, which performs same-sex weddings, WTHR reports.
"Colored" and "Whites Only" signs were placed above drinking fountains at First Coast High School in Jacksonville, Florida, a district spokeswoman confirmed with NBC News.
Mere hours after Trump won the election, "Make America White Again" was scrawled across the wall of a softball field in Wellsville, New York. Police are investigating.
Also on Monday, the FBI'S Uniform Crime Reporting division also released its annual "Hate Crimes Statistics" report, tracking the number of bias-motivated incidents reported to law enforcement officials in 2015. The number of hate crimes rose 6 percent in 2015, according to the report, and the vast majority (59 percent) of victims were targeted because of their race or ethnicity.
Related: Black UPenn Students Added to Racist Text Group: School
Attacks motivated by religious bias and sexual orientation were also among the most frequently reported types of hate crimes. The number of reported anti-Muslim hate crimes spiked in 2015, growing by an astonishing 66 percent, according to the FBI report.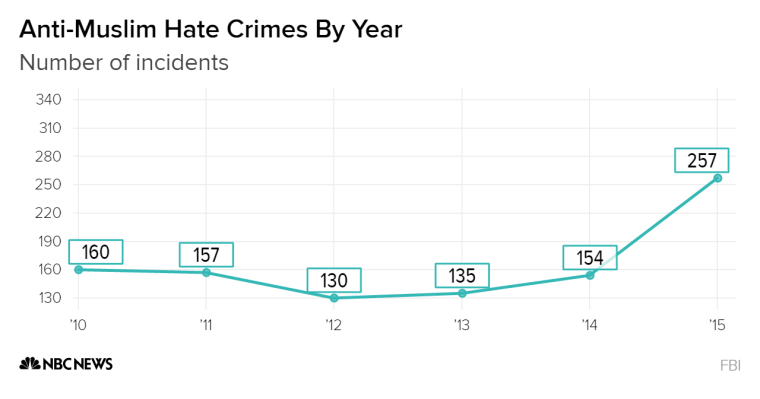 In all, more than 5,800 incidents of hate crimes were reported to authorities, involving 7,121 victims. Of the known offenders, "48.4 percent were white, 24.3 percent were African American, and race was unknown for 16.2 percent of offenders," according to the report.
Related: How the 2016 Election Exposed America's Racial and Cultural Divides
In addition to monitoring anti-Arab bias, the report also tracked incidents of anti-religious bias for seven additional religions for the first time. The expanded report now tracks anti-religious bias against Buddhist, Eastern Orthodox, Hindu, Jehovah's Witness, Mormon, Sikh and other Christian victims.
Monday's report marks the 25th anniversary of the FBI's efforts to compile data around hate crimes. The report contains data from nearly 15,000 law enforcement agencies.