The administrator of the Federal Emergency Management Agency said recovery efforts in the wake of deadly Hurricane Harvey would take "years" as hundreds of water rescues were still underway on Sunday.
FEMA Administrator William Brock Long said Sunday on NBC's "Meet the Press" that the agency was "deep into" life-saving missions after the storm brought torrential rains and heavy flooding to parts of Texas.
"We're not doing recovery," said Long. "Right now we are deep into the life-safety mission of helping people be rescued through swift water rescue, search and rescue.'
Long added that recovery efforts would take "years" after the damage from the storm.
"It's going to be years," said Long.
The FEMA chief also added President Donald Trump was "extremely concerned" about the situation.
"He's given me all the authorities to amass the resources from the federal government down through our state and local partners," he said adding, "right now we have nearly 5,000 staff that we have coordinated across the federal government within the states of Texas and Louisiana."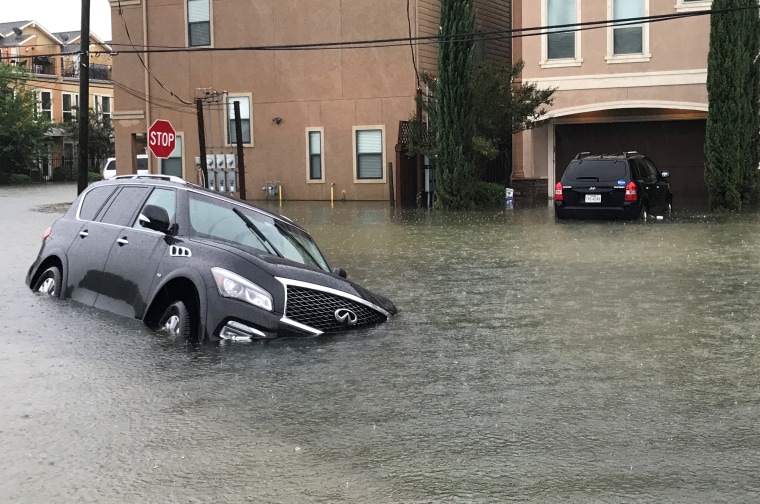 Long said that the agency was poised to "process all claims" to its national flood insurance program.
"We're already mobilizing, we are telling people to reach out to insurance holders as soon as they get flood damage," he said.
Harvey has caused catastrophic flooding in Houston and across southeast Texas after making landfall late Friday as a Category 4 hurricane, the National Hurricane Center said.
At least two people have died since, with one person found dead in a vehicle in Houston on Saturday night in a possible drowning and another dying in a house fire in Aransas County that rescuers were not able to reach because of flooding.
Long added that citizens "should listen to their local officials" and only call 911 if you're in an emergency or "dire situation."
GALLERY: Hurricane Harvey: Life-threatening Rain Hammers Houston
"One thing that is important is that the president's declaration is constantly expanding, it's dynamic," he said, later adding. "I want to be sure that we're not letting paperwork get in the way of pushing down federal resources to report the best way that we can. We are moving forward, leaning forward."
Texas Gov. Greg Abbott on Sunday praised the federal agency's response as an "A plus" effort.
"I've got to tell you, I give FEMA a grade of A+, all the way from the president down," Abbott said. "I've spoken to the president several times, to his Cabinet members, such as secretary of homeland security, such as the administrator of FEMA, such as Tom Price, the secretary of health and human services."
"All across the board, from the White House to the federal administration to FEMA, they've been very helpful," he said.
Houston police said more than 1,200 people have been rescued amid the major floods. Abbott on Sunday said 3,000 members of the national and state Guard have been activated. Trump on Friday said he signed a disaster declaration at the request of the Texas governor.
The president will travel to Texas on Tuesday, White House Press Secretary Sarah Huckabee Sanders said Sunday.
"We're measuring rain these days not in inches but in feet," Abbott said.