OYSTER BAY, Fla. — Cainnon Gregg felt a wave of anxiety at the prospect of seeing how much damage his oyster farm had sustained from Hurricane Michael's fierce winds and 14-foot storm surge.
Climbing on his boat last week to venture out to his oyster farm in a spring-fed bay, he felt like he was going to throw up. But he tossed some beers in a cooler and pushed the boat forward, weaving through debris like staircases and satellite dishes that Hurricane Michael had haphazardly tossed into the warm coastal waters here. As a breeze tempered a hot sun on the cloudless day, Gregg felt ready to celebrate surviving the storm — or to mourn what it had done to his last two years of work and the 200,000 oysters he had growing in the bay.
His anxiety-laced nausea lifted when he saw his lines of oyster bags tangled like spaghetti on the section of the bay he leased from the Florida government. It wasn't all gone.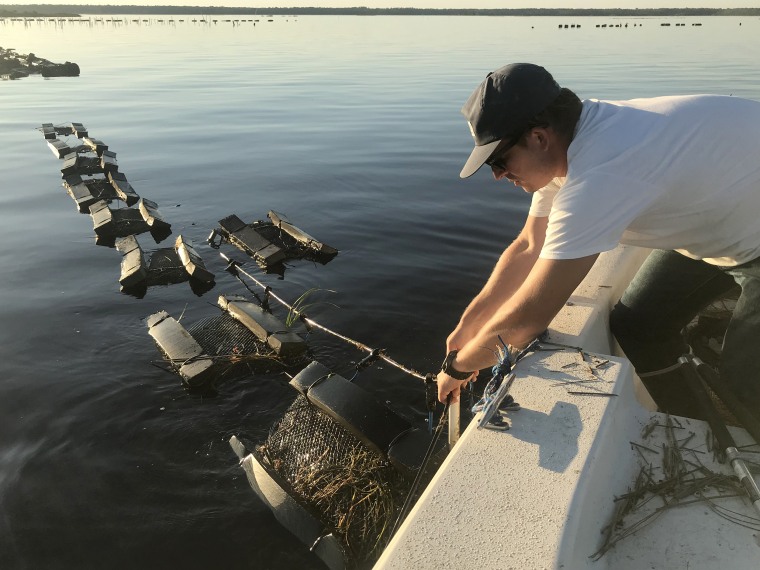 But then he checked the bags.
"I don't know what happened to them, but I'm experiencing a lot of death in these oysters and bags of oysters that I was going to sell this week," said Gregg, 30, who operates Pelican Oyster Company. He poured out a pile of shells. The hollow sound of their clatter indicated the absence of meat and a complete loss.
The operations in this part of Florida are relatively new. The oyster farming industry first started here in 2013, when the state changed the regulations around its aquaculture leases. In recent years, single farms have begun to grow as many as a million of the mollusks, and the bay here now makes up nearly a tenth of the state's farmed oysters.
Oyster farmers start by buying seed, or baby oysters, that has been grown in controlled labs. They then distribute the seed in netted bags that float in the ocean, where the oysters mature over the course of nine to 12 months. Farmers like Gregg then heft the bags up and remove the ready-to-eat oysters. Except this year, the nets brought up more shells than marketable mollusks.
After the brutal winds and rain of Hurricane Michael struck nearly two weeks ago, some of the 38 operators who farm here estimated losses ranging from 60 to 90 percent of their crop.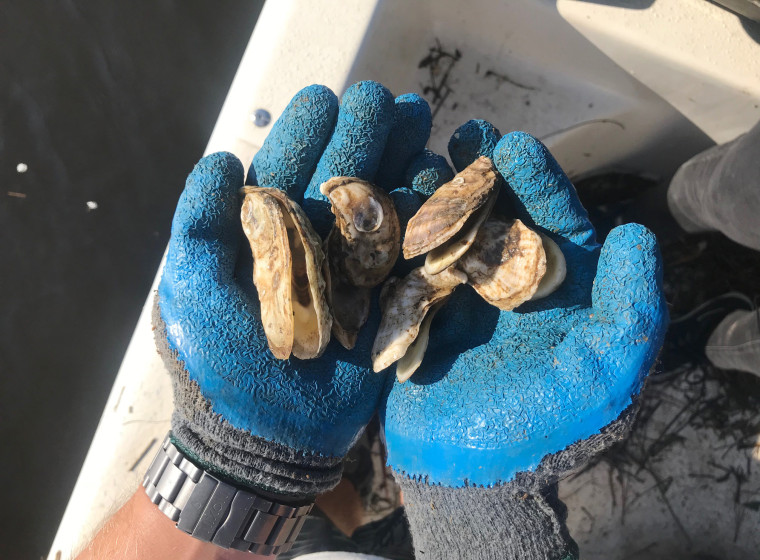 Now these farmers said they are wondering if they can continue after the storm ravaged the region and killed 39 people. The storm razed entire towns on the coast, and residents continue to live without power, running water, sewer and cell service.
As many here begin to rebuild, the oyster farmers said that they are constantly reminded that the prospect of another hurricane looms in their future.
"We had to all get together after the storm and decide: Are we going to dump some more money back out here and keep moving forward or just call it quits, go back to welding?" said Scott Lawrence, who cashed in his retirement fund earned from welding to join some partners in this new industry.
Lawrence, 28, who is one of the partners in L&W Oyster, watched as a shirtless colleague sprayed out one of their 200 muddied and debris-strewn cages, each holding more than 3,000 oysters that he hypothesized had choked to death on the seafloor from dirt and refuse.
"I think we might fare the same, buying scratch-off tickets, to be honest with you," he added.
The advent of oyster farming in the Gulf
The oyster farming industry developed after Florida's oyster fisheries struggled in recent years. There were many reasons for the decline of the traditional industry, including over-harvesting naturally occurring oysters, pollutants from the BP oil spill, and Georgia and Florida debating over water rights that flow into Apalachicola Bay. The region once produced 90 percent of Florida's oysters and 10 percent of the nation's supply, according to the governor's office, and the practice of harvesting mirrored fishing more than farming.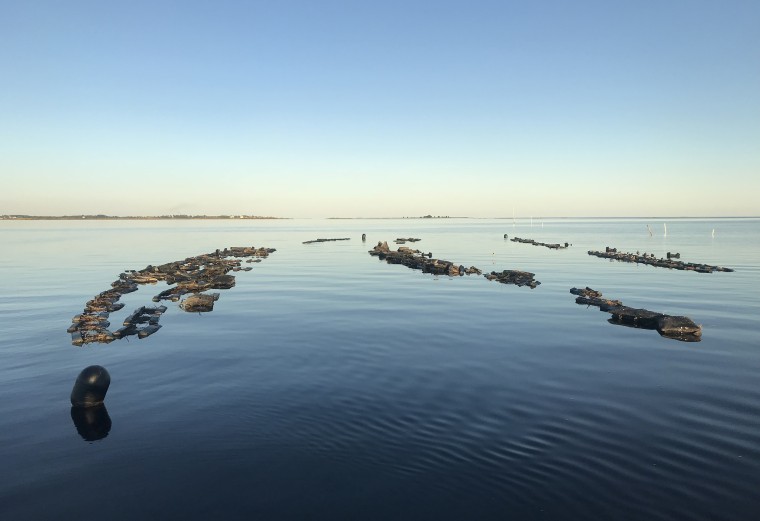 In 2013, then U.S. Secretary of Commerce Penny Pritzker declared a commercial failure for Florida's oyster fishery, but a University of Florida report from the same year recommended that oyster farming could help the damaged ecosystems and promote restoration. That's when the Florida state government legalized the practice.
Today, those who work here in Oyster Bay now only take out the oysters they put in, and experts believe that it is helping these damaged coastal ecosystems come back. But because the industry is still so young in the Gulf of Mexico, there's no clear way to prepare for a storm. Some farmers sank their farms to the ocean floor, hoping to avoid the powerful winds and crashing waves of the storm, while others attempted to tie their lines to stronger anchors.
"There's nothing that says if the storm is this category you should do this, for this storm you should do that," said William Walton, an Auburn University professor at the School of Fisheries, Aquaculture and Aquatic Sciences who is known by farmers here as "Dr. Oyster." "But if you go out on that water, it really depends on what the protection is, and it depends where the winds are blowing, where the storm is coming from and how fast it's moving. We may never get to the point where there's a simple to-do list."
Farmers said they don't yet have time to even think about preparing for the next storm, as their immediate livelihood is threatened.
Once oysters are mature, Gregg and the other farmers in the region work to get them to market as quickly as they can, so the bags aren't lost to theft, storms, predators or the other unknown quantities of the sea.
"Every day that you're keeping these oysters," Gregg said, "you're risking losing these oysters."
Dreams curtailed by a storm's fury
Now time is also a major factor for these farmers who want to sell those few oysters that did survive Michael. It's unclear when they will be able to sell again, because they won't be able to bring any oysters to market until the Florida Department of Agriculture has tested and approved the bay's water quality. But no one is sure when the state will do that, as Florida's water testing facility in Apalachicola was damaged in the storm.
The Department of Agriculture did not immediately comment on what that timetable might look like, but farmers could face further losses if they are not able to sell their mature oysters soon.
Ben Wiggins and Phil Brugginer, both 35, pulled up their boat to Lawrence's to compare losses with the other farmers. The two men, who run Palmetto Island Oyster Company, said they seeded 400,000 oysters this past year and expect to lose more than 60 percent. That means they can't quit their jobs — Wiggins is a landscaper and Brugginer works at a grocery store — to work on their oyster farm full-time, a dream that both men shared.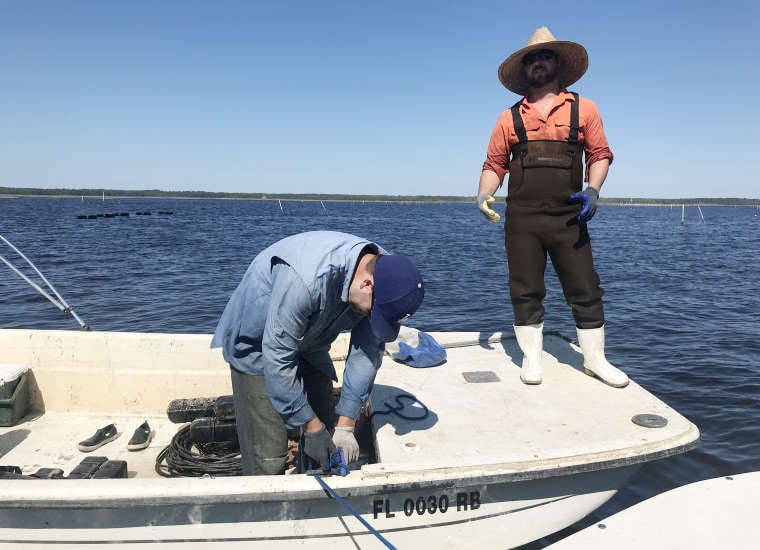 "This sets us back six months, if not a year," said Wiggins, who wore a large straw sun hat and tugged at the buckle on his waders. "So we won't be doing this any time soon since we don't know when we can sell again."
All the farmers said the future is unclear, but these losses are a very serious hit. Few had any type of insurance because many insurance companies considered the activity too risky.
When Gregg, who works alone without insurance, spent more than $5,000 on 200,000 oyster seeds to put in the water last August, he hoped that he might be able to sell half. By his estimate, that would have earned him about $50,000 after he paid back his loans and bought new oyster seed. Now his seed is gone, and each bag contained a huge amount of dead oysters.
Gregg became quiet after he poured out one of the last bags, the boat gently swaying in the bright Florida sun. Tears welled in his eyes as he held himself up on the edge of the boat. His family lives paycheck to paycheck, he said, and now he didn't know how he was going to pay his bills.
"So many people have it so much worse," he said, wiping his face, "but that doesn't change the reality of my situation."