The detention of a Kansas father of three who has lived in the U.S. for three decades highlights what experts say is the extraordinarily complicated nature of immigration law — and how much can change from one administration to the next.
Immigration experts said the path towards citizenship can easily get derailed by what appear to be minor infractions, which may have contributed to the seemingly out-of-the blue detention of Syed Ahmed Jamal last month.
Jamal, who is from Bangladesh, was about to take his daughter to school on Jan. 24 when U.S. Immigration and Customs Enforcement (ICE) officials showed up on his front lawn in Lawrence, Kansas, and arrested him.
"It's been said that tax law and immigration law are the most complex. They're so intricate," said Alma Rose Nieto, a member of the American Immigration Lawyers Association and a legal analyst. "It's like brick-laying — the foundation, you start with one, and they all go together like a crossword puzzle. You miss one and that will bring the whole thing down."
Jamal's arrest stunned his family, who say he entered the U.S. for the first time in the 1980s, lawfully.
An attorney who initially represented the family, Jeffrey Y. Bennett, said he had a series of visas, including F1s for his graduate and Ph.D studies in the sciences, and an H1B visa for highly skilled workers. (Jamal is now represented by Kansas City, Missouri, based attorney Rekha Sharma-Crawford.)
There's no typical path to attaining citizenship, and often times, the process can be fraught, said Royce Bernstein Murray, policy director at the American Immigration Council, an immigrant advocacy group based in Washington, D.C.
"Obviously there are laws and regulations that guide eligibility and the process, but every case is certainly unique and runs into its own hiccups and obstacles along the way, particularly when you have someone's immigration status tied to their employment situation," she said. "You end up with other players involved in the process."
A three-decade attempt at citizenship is not unheard of, Murray added.
"It's not necessarily a linear path. It can be trying different options at different times based on changes in someone's personal situation, based on situations in the law, based on discussions with different immigration lawyers who may see different pathways," she said. "So it's not uncommon to see someone who's built a life here but hasn't, based on their best efforts, get right with the law."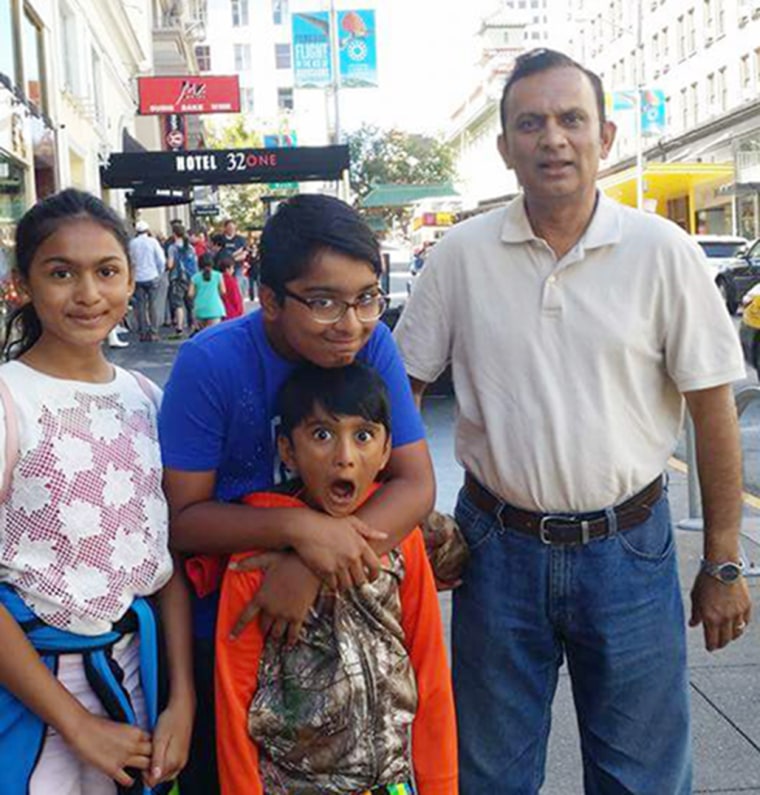 Sometime before 2011, Jamal tried to change his status from an H1B to an F1, Bennett said, and got approval on the change of status.
"I don't know how long after, the government basically took back that approval and said they had made a mistake, and I believe one of the reasons is that the H1B had already been revoked by his employer prior to the time that he had already submitted his change of status," unbeknownst to Jamal, according to Bennett.
"He thought he was still in status and therefore he submitted his application for a status application and the general rule is you still have to be in lawful status at the time you submit, otherwise it can be denied," he said.
Related: Michigan father deported to Mexico after living in U.S. for three decades
But Jamal was also under the protection of prosecutorial discretion — an Obama-era policy where immigrants who were law-abiding were allowed to stay.
In a statement, ICE said that he had overstayed a temporary visa in the past and disobeyed a judge's order to leave the country.
The agency added that "Jamal came to ICE's attention in September 2012. Based on an active ICE arrest warrant, he was transferred to ICE custody Sept. 11, 2012, from the Johnson County (Kansas) Jail."
Bennett, Jamal's attorney, could not confirm details of that detainment. But he insisted his client had no criminal history, save for a couple of speeding tickets.
Some of the circumstances listed by the Obama era policy for ICE to exercise prosecutorial discretion in terms of deportation priorities included if they were not a threat, as well as strong family or community ties and length of time in the U.S.
"They were allowed on a humanitarian basis and because it was beneficial to the country for them to stay," Nieto said.
But that changed when President Donald Trump took office, she said. Trump rescinded the Obama-era policies and gave the Department of Homeland Security much broader authority in detaining or arresting people believed to be in violation of immigration law.
Nieto said she had seen people who had previously received prosecutorial discretion now "shocked" at being detained.
"Things are not the same. Everything has changed and people that merited circumstantial and a humanitarian stop to their deportation are now being picked up and arrested and detained," she said.
She urged people who had been under the protection of prosecutorial discretion to seek guidance from immigration attorneys to discuss their options.
Related: Judge grants Christian Indonesians in New Jersey time to fight deportation
"Perhaps some case can be reopened in court after years of having prosecutorial discretion, maybe something else has changed in the laws or in their lives which might merit a motion to reopen their case in court," she said.