Staff members at the Consumer Product Safety Commission recommended new safety rules for infant rockers Wednesday, saying the popular products were linked to 11 deaths from 2011 to 2022. Most occurred while babies were sleeping. 
The reclined seats, which are designed to soothe babies by rocking them back and forth manually or with motors, were also associated with 88 injuries over the same period. In many of the cases, infants hurt their heads after rockers tipped over, CPSC staffers said. 
The recommended safety rules, which were sent to CPSC commissioners Wednesday and obtained by NBC News, aim to prevent infants from suffocating by making rockers firmer and flatter. They also would require rockers to pass stability and other safety tests and seek to prevent strangulation from hanging straps. In addition, the rules would require prominent warning labels emphasizing the hazards associated with rockers, urging caregivers not to allow babies to sleep in them or put soft bedding in them.  
"We have to make these as foolproof as possible — you need to make it so that it's almost impossible to use in an unsafe way," said Dr. Rachel Moon, who leads the Sudden Infant Death Syndrome task force for the American Academy of Pediatrics. 
She said the CPSC staff proposal would help reduce deaths but added that she was concerned rockers could still be dangerous because babies could fall asleep at an incline — a position that could jeopardize their breathing.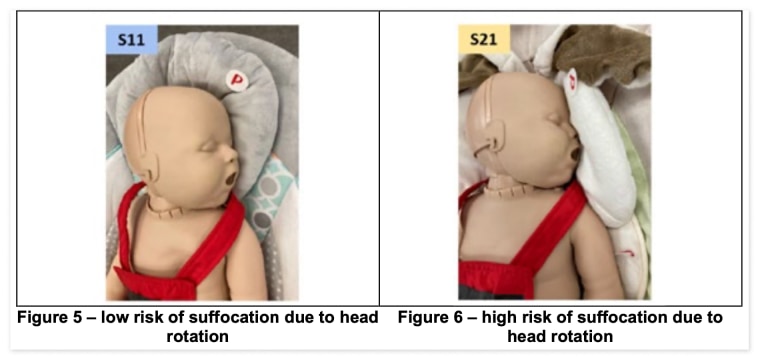 The CPSC's four commissioners are scheduled to meet Oct. 4 to decide whether to adopt the recommendations. The next step would be a public comment process before the rules are finalized, which could take months or years. The agency declined to comment on the proposal ahead of the vote. 
The CPSC staff report estimated that nearly 570,000 infant rockers are sold every year and that it could cost manufacturers about $80,000 to redesign each model if their products do not already meet the new requirements.
Infant rocker manufacturers Fisher-Price, Kids2 and Beaba did not respond to requests for comment. Fisher-Price defended its rockers in a letter last year to Congress obtained by NBC News, saying the products were safe when parents monitored their babies and properly restrained them. 
4moms, which sells a rocker that was recalled last year because of a potential strangulation hazard, said in a statement that federal safety rules are "helpful," that changes could be needed and that it would monitor the rulemaking process. The company said that no incidents were related to its rocker, which remains for sale, and that it had been recalled to add a strap fastener out of "an abundance of caution." 
Of the 11 deaths mentioned in Wednesday's report, nine occurred when infants were placed in the products for napping or sleeping, CPSC staff members said. Many of the incidents involved soft bedding like blankets, which can pose a suffocation threat, that was placed near or on the babies. Some infants had not been properly strapped into the rockers and were later found facedown. 
Cathy Greninger's 4-month-old granddaughter, Savannah Savage, died sleeping in a Fisher-Price Infant-to-Toddler Rocker in Amarillo, Texas, in January 2019. Savannah had dozed off in the rocker and slept there overnight, which Greninger said the family did not realize was against manufacturer's instructions.
A forensic pathologist ruled that Savannah died of probable positional asphyxia, according to a Randall County, Texas, justice of the peace.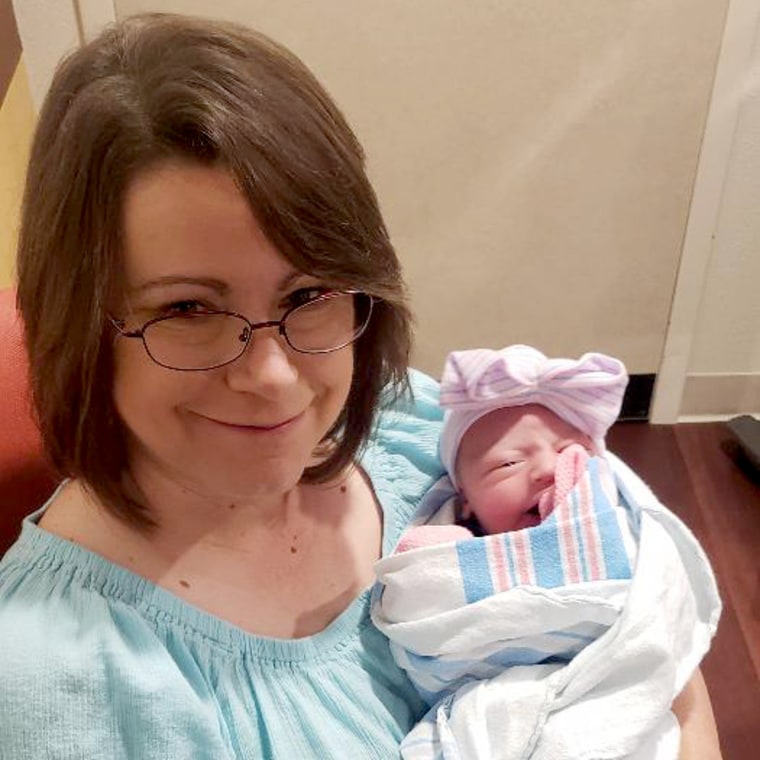 Greninger welcomed the CPSC staff's recommendation for safety rules, saying it was "at least a start," but she said she believes rockers should be removed from the market. Because many are advertised as calming places for infants, with settings such as vibrations, Greninger said she thinks it is almost impossible for babies not to fall asleep in them.
"If it's made for an infant, they're going to fall asleep in it," she said, "so I think they just need to be banned." 
In June 2022, the CPSC and Fisher-Price issued a joint warning that 13 babies had died in the company's Infant-to-Toddler and Newborn-to-Toddler Rockers from 2009 to 2021. On the same day, the CPSC issued a warning with another manufacturer, Kids2, that one baby had died in the company's popular Bright Starts rocker. Both statements cautioned against using rockers, swings and other inclined seats for sleep. 

In its letter to Congress last year, Fisher-Price said that in at least 11 of the 13 incidents, the infants were left unattended and that in at least six cases, the babies were not properly restrained in the rockers. 
Manufacturer warning labels generally say that infants should not be left unsupervised in rockers and that the rockers should not be placed on soft surfaces, as they could tip over and babies could suffocate. But some companies have previously suggested using rockers for supervised naps, warning only against using the products for "unsupervised" or "prolonged" periods of sleep. 
Rockers are distinct from inclined sleepers like the Fisher-Price Rock 'n Play, which was recalled in 2019 and has been linked to about 100 deaths. 
After the deaths associated with the Rock 'n Play, a federal law signed last year prohibited sleepers for infants with inclines greater than 10 degrees — a change intended to reduce the risk of positional asphyxiation, among other hazards. Infant rockers and other seats often place babies at inclines of significantly more than 10 degrees, which can pose similar risks of asphyxiation if they fall asleep, said Erin Mannen, an assistant professor of mechanical and biomedical engineering at Boise State University, who has studied the issue. 
The CPSC staff proposal does not address the incline of rockers. 
The CPSC has increasingly focused on infants who have died sleeping on cushioned products. This month, CPSC commissioners proposed the first regulations for nursing pillows, citing dozens of deaths, most of them in incidents involving sleep. This fall, the agency is expected to advance rules for infant loungers — a product linked to at least 25 deaths, according to an NBC News investigation. 
Before 4-month-old Savannah died in 2019, she was a healthy baby with the "most gorgeous blue eyes" who was just starting to coo and loved to watch her family's Chihuahua run around, said Greninger, her grandmother.
On the day Savannah died, Greninger was supposed to babysit. Instead, early that morning, he got a frantic call from Savannah's dad, who screamed into the phone: "Savannah's gone! Savannah's gone!"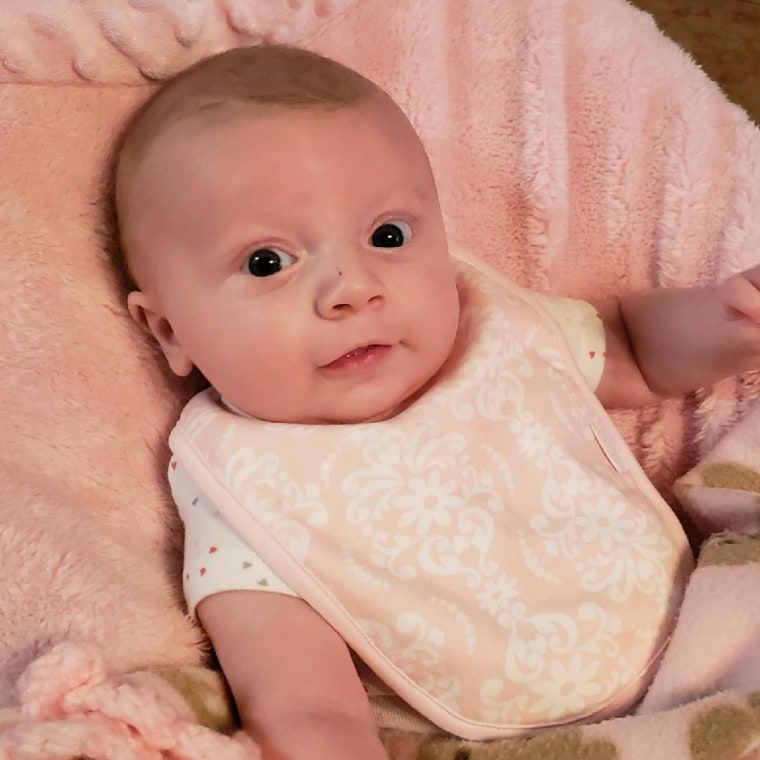 Greninger told the CPSC and Fisher-Price about Savannah's death within weeks. She said she was devastated that so little action had been taken since then. 
"I was so worried that if it could kill Savannah, it would kill somebody else," Greninger said. "We miss her terribly. And I just hope that her life had some meaning."