The father of convicted Colorado movie theater shooter James Holmes ended a three-year public silence on Tuesday, taking the stand at his son's sentencing to make a final plea to save him from execution.
Robert Holmes said he and his wife had no idea before the July 2012 massacre that their eldest child was mentally ill, or harbored impulses to kill.
The father, a retired financial fraud analyst who admitted to having trouble expressing his own emotions, also said he still loved his son.
Asked by a defense lawyer why, Robert Holmes responded, "Well, he's my son and, you know, we always got along pretty well and he was actually an excellent kid."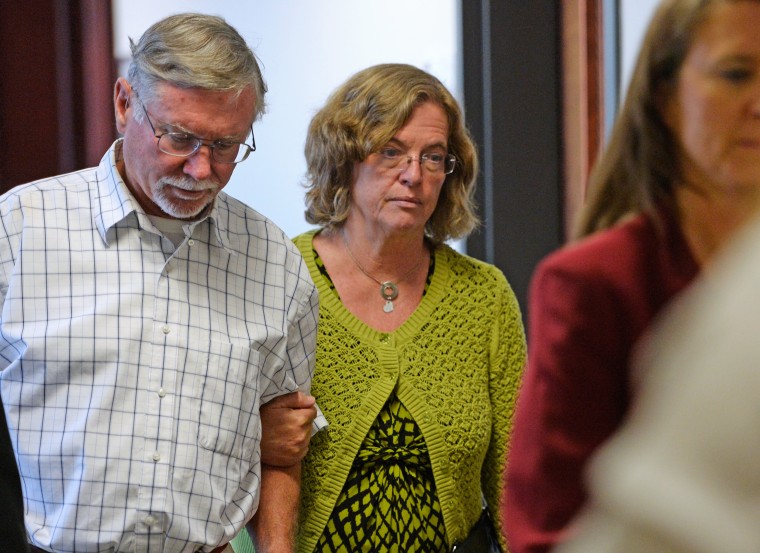 Robert Holmes also walked the jury through his son's early years, narrating family photos and home videos that depicted a typical, happy childhood — the beach, camping, Halloween. The father described his son as being "pretty affectionate" with his parents and younger sister, as a regular soccer player, a good student and a video game enthusiast.
James Holmes' social life began to deteriorate when the family moved from northern California to San Diego for middle school and high school. He had trouble making friends, and seemed isolated, even though he continued to earn good grades, his father testified. They saw a family counselor for years.
By the time James Holmes graduated high school and went on to study at the University of California at Riverside, not that much had changed, his father testified.
"He had a few friends he hung out with, but generally, socially, he seemed pretty isolated. But he was still doing well in school, still participating in sports," Robert Holmes said.
He said he wasn't concerned, because he saw a lot of himself in his son.
James Holmes initially failed to get into graduate school, where he wanted to study neuroscience. He moved back home and worked nights in a factory, where he seemed disappointed. "That was one of my worries," Robert Holmes said. "It didn't seem like he was happy."
James Holmes applied to more graduate schools, and was accepted to the University of Colorado at Denver.
But Robert Holmes that he and his wife never had any indication that their son developed mental illness, even in the weeks before the shooting, when he broke up with his girlfriend and dropped out of graduate school in Colorado. "I assumed he was depressed, but that was our main concern," Robert Holmes said.
The father's testimony, which was to be followed by that of his wife, Arlene, marked the first time either of them have spoken publicly since the shooting, in which their son opened fire in a crowded midnight screening of "The Dark Knight Rises" in Aurora, Colorado, killing 12 people and injuring 70.
Their sole public statement had been a letter they penned to prosecutors asking for his life to be spared.
For the three months James Holmes has been on trial, Robert and Arlene Holmes have sat quietly behind him.
Their testimony is expected to cap the defense team's effort to persuade the jury to sentence Holmes to life in prison.
The same jury convicted Holmes of the massacre this month, rejecting defense lawyers' arguments that he was legally insane at the time of the attack. Two state psychiatrists and two defense psychiatrists agreed Holmes suffers from mental illness. But the state doctors also testified that he could distinguish right from wrong, the legal criteria in Colorado to prove sanity.