Good morning, and happy Wednesday. Here are six of the top stories we are following this morning at NBC News:
1. 'Not just crying wolf': South preps for dangerous winter storm
Commuters in the Southeast face treacherous travel conditions this morning as a sweeping snow and ice storm brings below-freezing temperatures. Ninety-one counties in Georgia are under a state of emergency, and officials have told drivers to stay off the roads. The storm is expected to move up the East Coast on Thursday, dumping at least six inches of snow in some parts. Read more in NEWS.
2. U.S. on the Olympic medal hunt in halfpipe, speedskating
Fresh off the men's flop, a quartet of U.S. women's snowboarders try to get the American medal chase back on track. Former Olympic gold medalists Kelly Clark and Hannah Teter are among the Americans going for gold. Finals begin at 12:30 p.m. ET. Meanwhile, American speedskater Shani Davis will vie for his third straight gold in his quest to make Olympic history. The competition starts at 9 a.m. ET. Read more and watch the latest events live at NBC OLYMPICS.
Davis let it be known on Twitter that he's ready to strike gold in the 1,000 meters:
3. NBC News' Tom Brokaw reveals cancer diagnosis
The 74-year-old newsman said in a statement that he is being treated for multiple myeloma, a cancer affecting blood cells in the bone marrow, after doctors diagnosed him in August. Doctors, he said, are optimistic about his outcome. Read more in NEWS.
4. Pacific castaway arrives home to El Salvador
Shark fisherman Jose Salvador Alvarenga, who says he survived more than a year lost at sea in the Pacific, made a brief public appearance at San Salvador's airport late Tuesday after flying home from the Marshall Islands. Alvarenga's was reunited with his family, who said they were overcome with emotion. Read more in NEWS.
5. Almost 1 in 3 Americans experienced poverty: report
A weak economy helped lead nearly a third of Americans into poverty from 2009 to 2011, according to a new Census Bureau report. Although observers say most of those people weren't in poverty for the entire period, the lack of permanent, high-paying jobs has many Americans living paycheck to paycheck. Read more in BUSINESS.
6. Sky's the limit for Westminster top dog
Every dog has its day — and Tuesday belonged to a wire fox terrier named Sky. She was crowned the No. 1 prized pooch at the Westminster Kennel Club Dog Show, beating out more than 2,800 contestants for the Best in Show title. Read more in NEWS.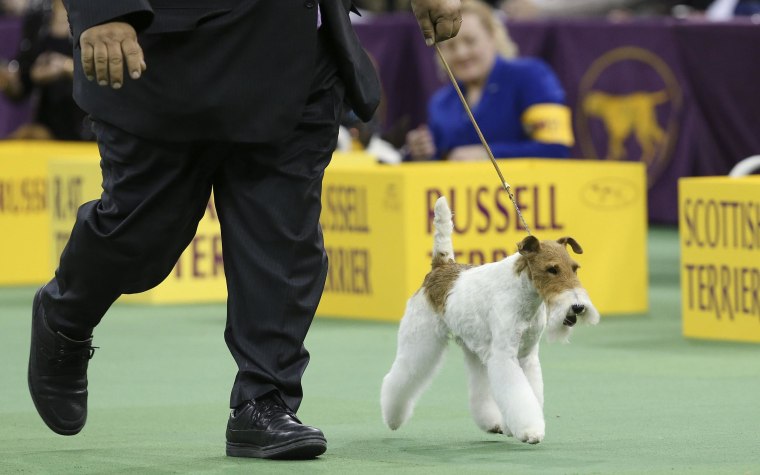 … What's trending today: Olympics edition
Putting aside any of the logistical problems on the ground, one thing's for sure: Sochi is stunning from space.
The International Space Station's astronauts snapped the Olympic site from 260 miles above using a Nikon 3Ds with a 600mm lens.
Give this view a gold: