Actor Charlie Sheen is the subject of a felony threat investigation triggered by his ex-fiancée, Los Angeles police and the woman's lawyer told NBC News on Wednesday.
Scottine Ross, a retired pornographic film star, has previously accused Sheen, 50, in a civil suit of assault, battery, intentional inflection of emotional distress, false imprisonment and negligence for failing to disclose that he was HIV-positive during their engagement, which ended in 2014.
David Ring, an attorney for Ross, 26, who performed under the name Brett Rossi, told NBC News that his client returned to Los Angeles police recently to seek a protective order against Sheen.
The order was sought after The National Enquirer and Radar Online published excerpts on March 31 of what they said was an audiotape in which Sheen confesses to having lied about his HIV status and having threatened to kill Ross.
Los Angeles police served a search warrant Tuesday at the magazine's New York headquarters seeking the audiotape and confirmed Wednesday to NBC News that Sheen was the subject of a "felony threat investigation." They would provide no further details.
The magazine's parent company, American Media Inc., said in a statement to NBC News that it believes the warrant "violates federal and state law prohibiting the use of search warrants against media companies who are reporting news and information."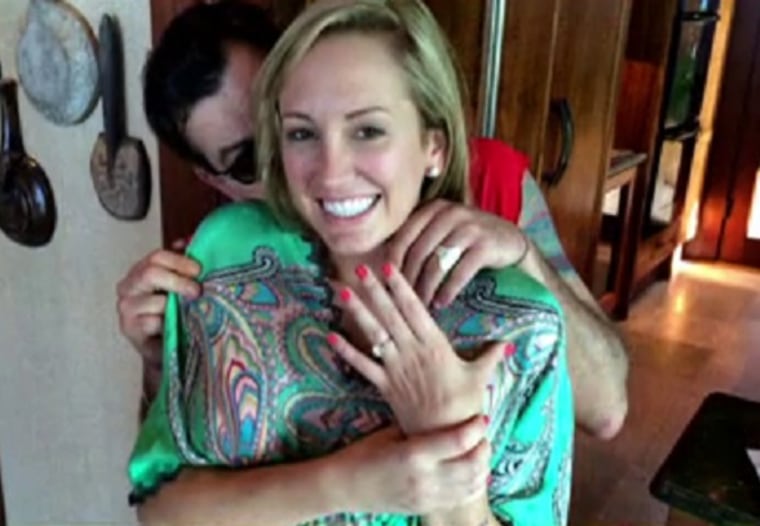 The search warrant, which was obtained Wednesday by NBC News, says Ross told investigators that Sheen had unprotected sex with her while he was infected with the human inmmunodeficiency virus that causes AIDS, without informing her of his condition. It said Ross told police that she "endured domestic violence, physical assaults and death threats" while she was with Sheen.
The allegations included in the warrant match those made in a civil lawsuit Ross filed Dec. 3 in Los Angeles County Superior Court. In the suit, Ross alleges that in addition to concealing his HIV status from her, Sheen on numerous occasions erupted in violent fits, often accompanied by threats.
On a November 2013 visit to Cabo San Lucas, Mexico, for example, Sheen punched a hole in the hotel room wall, grabbed Ross and began violently shaking her while screaming obscenities, she alleges in the suit.
In January 2014, she alleges, Sheen demanded information about Ross's ex-husband. When she refused to provide it, Sheen flipped over a coffee table, threw a punch at her and began kicking her as she lay huddled on the floor, Ross alleges.
Later that month, she alleges, Sheen began graphically describing how he wanted to murder her ex-husband and other unidentified people. According to the lawsuit, Ross found text messages on Sheen's phone indicating that a "hit" had been placed on her ex-husband.
Two months later, the suit alleges, Ross told Sheen that she was pregnant with his child. He again flew into a rage over the prospect of having a "retarded child" owing to his HIV status and browbeat her into getting an abortion she didn't want, the suit says.
Other sections of the suit accuse Sheen of having thrown a stone pillar at Ross and of having pulled a gun on her. But after each incident — once he had calmed down or sobered up — he would be remorseful, sweet and lovable, it says.
When Sheen ended their engagement by text message in October 2014, Ross says in the suit, she twice attempted suicide — only to be ridiculed by Sheen in a text message for not being able to "calculate the appropriate dosage of a vintage drug such as valium to successfully kill yourself."
"His HIV status, my abortion happened to be contributing factors to prove manipulation and excessive abuse — they're just contributing factors to the fact that he abused me," Ross told MSNBC in December.
In a response filed Dec. 7, Sheen denied ever having been abusive and called Ross "an extortionist who gets paid for sex as a prostitute and a porn star." He accused her of having violated a non-disclosure agreement by making Sheen's HIV status public.
A judge granted Sheen's request last month to put the suit on hold pending arbitration, and no further hearings are scheduled until May 2017, according to court records.
Sheen's manager Mark Burg told NBC News early Thursday that he hadn't heard the audiotape but alleged that Ross "started a lawsuit all because Sheen doesn't want to marry her."
He added: "I look forward to the LAPD looking into the audiotape and once and for all exonerating Charlie Sheen in yet another attempt at extortion. Charlie has suffered enough. Hopefully we will see him back on TV making people laugh, which is what he does best."