Deadly rip currents are to blame for a dozen apparent drownings over the past two weeks on Florida's Panhandle, where there aren't enough lifeguards to keep beachgoers from venturing out into the water — despite red flag warnings, experts said Wednesday.
"The combination of southwest waves and the strengthening sea breeze will increase wave heights and heighten the rip current risk," NBC meteorologist Kathryn Prociv warned. "The outgoing tide from midday through early afternoon today will also add to the rip current risk."
Adding to the danger is the chronic shortage of qualified lifeguards, said Tom Gill, a spokesman for the nonprofit United States Lifesaving Association.
"Swimming on an actively guarded beach is always the safest option," Gill said. "But not every beach is patrolled by a lifeguard and the high heat has been pushing a lot of people into the water."
The result is that some of America's most beautiful beaches, stretching across the panhandle to the Alabama border, are now the deadliest as well, according to data from the National Weather Service.
Seven of the 12 deaths were reported in Panama City Beach, which now has the highest number of apparent drownings in any single locale in the U.S. this year, according to the NWS's "Surf Zone Fatalities" database. All the fatalities were men ranging in age from 39 to 68.
By comparison, as of Wednesday there have been a total 60 apparent drownings in the entire country, according to the NWS website.
Panama City Beach spokeswoman Debbie Ingram said they just don't have enough lifeguards to patrol the nine miles of beach in their resort community, which is a favorite destination for spring break partiers.
"Hiring is a struggle," Ingram said in a text exchange. "We are competing with other beach communities, some of whom offer higher wages. Many times we get college kids who go back to school."
Bay County Sheriff Tommy Ford, whose jurisdiction includes Panama City Beach, said on the department's Facebook page Sunday that beachgoers who flout the law and have to be rescued by his deputies are partially to blame for the "tragic and unnecessary deaths" in the Gulf of Mexico.
"These same heroes, who have risked it all to save others, have been cursed and given the finger, while trying to warn visitors of the life-threatening dangers," Ford wrote on Sunday.
While this many reported drownings in such a short period of time is unusual, the NWS has recorded 195 rip current deaths since 2002 on Panhandle beaches.
"Contrary to popular belief, the Gulf isn't always 'flat' (calm with no surf)," the agency said in a recent update. "There are a variety of conditions that can bring big waves to the area and an increased threat for rip currents."
Former NFL quarterback Ryan Mallett became the latest apparent drowning victim Tuesday, when he was pulled unconscious from the water in Destin, in nearby Okaloosa County.
The Okaloosa County Sheriff's Office said Wednesday that at the time Mallett was in the water, there were yellow beach safety flags flying and no indications of any rip currents.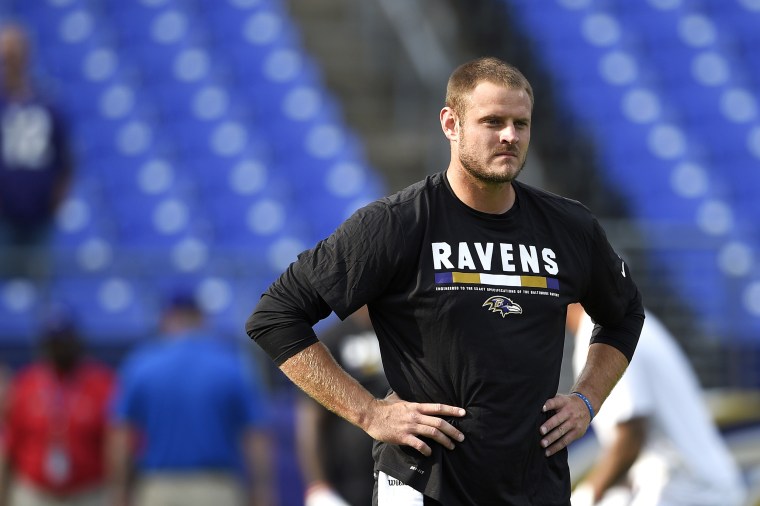 "It's a deadly combination of very hot weather and rough water conditions," said Gill. "There have been red flag conditions on many of those beaches for days."
A red flag condition occurs when the surf is deemed extremely dangerous as a result of big waves or strong rip currents that could drag even the strongest swimmer out to sea or, in the most recent cases, out into the Gulf of Mexico. 
And for the last three weeks, Florida and a large swath of the South has been baking in a brutal early-season heat wave, with some areas recording triple-digit temperatures.
While lifeguard "staffing levels" this year are better than they were last year, Gill said "the staffing agencies are still having to fight for every prospect they can get because there are still more jobs than available lifeguards."
Panama City Beach has 10 permanent lifeguards, eight of whom work full time, Ingram said. They also have a dozen more lifeguards who were hired to work six months.
But it's not enough, the spokeswoman said, which is why money to hire an additional lifeguard has been built into the city budget every year for the past three years.
Last year, beach attendance across the U.S. was over 262 million and 53,387 people had to be rescued, according to statistics from 110 agencies compiled by USLA, the lifesavers association.
That was actually a decline from 2021, when beach attendance was nearly 343 million — more than the population of the U.S. — with 77,702 rescues reported by 120 agencies, according to the USLA.