Punishing heat is gripping Texas for a third straight week, with tens of millions of people in other states across the South also facing scorching conditions this week. It's a brutal heat wave that officials say "shows no signs of letting up."
Much of Texas continues to swelter under triple-digit temperatures, and heat records across the state have been smashed in what has been a blistering start to summer. Warnings and advisories for excessive heat are also in effect across the Southwest and parts of New Mexico, Oklahoma, Arkansas, Louisiana, Mississippi, Alabama and Florida, according to the National Weather Service.
In an update Monday, the agency said the oppressive heat has been caused by a "stagnant upper-level ridge over the south-central U.S.," adding that the dome of high pressure is expanding and that it will blast heat over much of the southern band of the country in the coming days.
In Texas, San Angelo hit a record high of 112 degrees Fahrenheit on Sunday, surpassing the previous record of 104 set in 1994. The same day, Del Rio set a new record high temperature, hitting 110. The previous record of 106 was set in 1994, according to the weather service. The agency said it was the eighth straight day that Del Rio had set a daily record high temperature.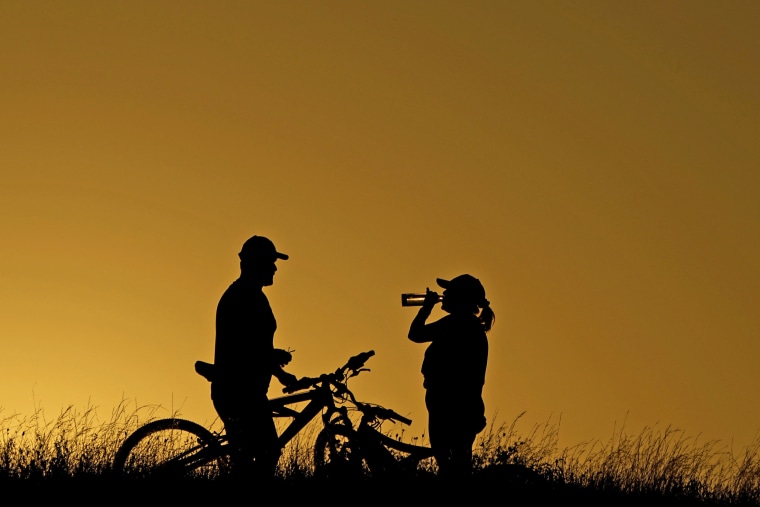 Officials urged people to take precautions during the heat wave, particularly those in what are considered vulnerable populations, such as children, the elderly and people with chronic illnesses.
Heat causes more deaths across the U.S. every year than any other weather event, including tornadoes, floods and hurricanes, according to the weather service.
Officials in Texas said a 14-year-old boy fell ill and ultimately died over the weekend while he was hiking in Big Bend National Park, where temperatures hit 119 degrees Saturday. The boy's stepfather also died while he was seeking help, according to the National Park Service.
Studies have shown that climate change is making heat waves both more frequent and more intense, increasing the risks of heat-related illnesses and deaths, droughts and wildfires.
In addition to the heat records already set in Texas, forecasters say more could fall later this week, as triple-digit temperatures are expected in parts of Missouri, Arkansas, Tennessee, Texas and Louisiana.
The weather service said Tuesday that temperatures are not expected to cool off much overnight, adding to the dangerously warm conditions in those regions.
Heat index temperatures — which represent what conditions feel like to the human body when humidity and air temperatures are combined — are forecast to be well into the triple digits over the next few days across the South, including index values of up to 110 in Little Rock, Arkansas; 111 in Houston; and 117 in New Orleans.