Lightning-sparked wildfires swept across Northern California on Wednesday, scorching huge swaths of sun-parched land and leading to orders for thousands of people to evacuate, officials said.
Gov. Gavin Newsom said Wednesday that firefighters were battling 367 known wildfires statewide — 23 of them major fires or complexes — and that there had been more than 10,800 lightning strikes over the previous 72 hours.
Wednesday morning, the pilot of a Bell UH-1H helicopter was killed in a crash while on a water-dropping mission at the Hills Fire around 9 miles south of Coalinga in the San Joaquin Valley, said the California Department of Forestry and Fire Protection, or Cal Fire. The pilot worked for a private company contracted by the agency.
Travis Air Force Base in Solano County, northeast of the San Francisco Bay Area, Wednesday night ordered all non-essential personnel to leave due a large fire called the LNU Lightning Complex Fire, which has burned more than 124,000 acres and destroyed 105 structures.
Smoke from more than three dozen blazes in counties just outside San Francisco, San Jose and Oakland led to alerts in some Bay Area communities for residents to stay inside.
Firefighters had their hands full across nearly every part of the region. Eight of the nine counties that make up the Bay Area were fighting fires Wednesday, all but San Francisco.
"The resources that have been on these fires for the past 72 hours are the same resources that have been out there for the last 72 hours," Cal Fire Unit Chief Shana Jones told reporters in Calistoga. "They are fully engaged and happy to do so to protect you. However, it is imperative you hear the message. ... You have to evacuate when we ask you to."
Police, sheriff's deputies and firefighters urged residents near fires to be ready to leave at a moment's notice.
"This is an incredibly emotional and stressful time for many of us who have endured many fires and natural disasters over the last couple of years," Sonoma County Sheriff Mark Essick said.
"We realize this is a trigger point for many in the public, and we ask you that you please go to your plan," he said. "We've all been working on this for the last couple of years. Be ready and follow the plan when it comes time to evacuate."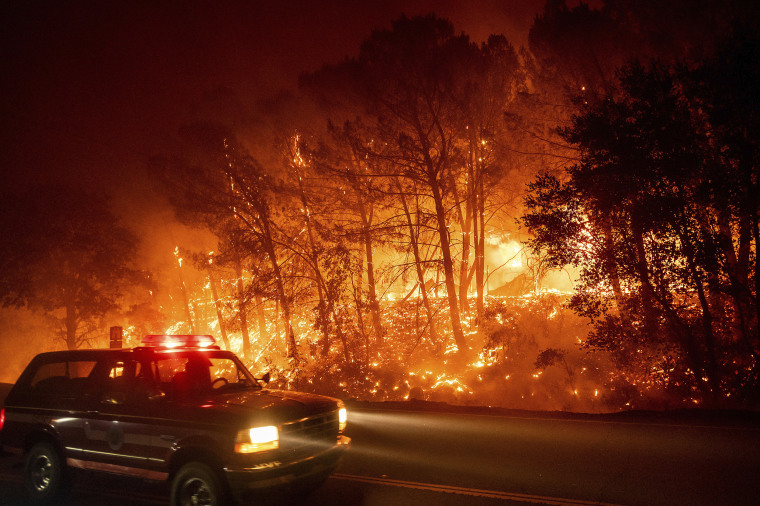 About 20 fires that were being tracked as the single SCU (Santa Clara Unit) Lightning Complex Fire had consumed 102,000 acres with about 5 percent containment by Wednesday night, according to Cal Fire. The blazes are in the counties of Santa Clara, Alameda, Contra Costa, San Joaquin and Stanislaus. No structures have been destroyed, but more than 3,700 were threatened.
Eight fires connected to lightning strikes in Napa and Sonoma counties, called the LNU (Sonoma-Lake-Napa Unit) Lightning Complex Fire, had grown to 124,100 acres by Wednesday night, destroying 105 structures and threatening 25,000. It was zero percent contained, Cal Fire said. Four people described as civilians have been injured.
Five fires in San Mateo and Santa Cruz counties — dubbed the CZU August Lightning Complex — broke out Monday night and had scorched 25,000 acres by Wednesday afternoon. The complex was zero percent contained, Cal Fire said. At least 20 structures, considered single-family residences, have been destroyed but the damage assessment process was just beginning.
In the San Mateo and Santa Cruz county fires, about 22,000 people were ordered to evacuated from the region, which is marked by dense wooded parkland.
Cal Fire issued additional evacuation orders overnight for neighborhoods in the path of CZU, SCU and LNU blazes. Deputy Chief Sean Kavanaugh said residents should also feel free to leave on their own, before a formal order is implemented.
"If you have a 'go bag,' have some stuff packed up, ready to go, if you feel any type of threat whatsoever, make that decision. Make that decision to please leave your home," Kavanaugh said. "The last thing we want is for people to be trapped in their homes and not be able to get out."
Download the NBC News app for breaking news and alerts
Recent high temperatures, arid conditions and parched land have left much of Northern California in danger of lightning-sparked blazes, according to University of Nevada, Reno physics professor Neil Lareau, who specializes in the atmospheric conditions of wildfires.
"The lightning storms have been the driver for the outbreak," Lareau said Wednesday.
"The heat and aridity and the dryness of fuels — and, we've seen year after year, hotter summers," he said. "And if you look at metrics that look at things like the 'thirst' of the atmosphere, as it gets hotter, the capacity to draw water tends to draw water more efficiently."
By midday Wednesday, numerous communities in the urban Bay Area were under alert for unhealthy air.
Residents in Oakland and San Jose and bedroom communities such as Pleasanton, in the East Bay, and Redwood City, south of San Francisco, were asked to stay indoors because of the smoke, according to data posted Wednesday afternoon by the Bay Area Air Quality Management District.
San Jose State University shut down all in-person and online classes and meetings because of the fires.
"Everyone please be safe! Fires surrounding the city and region. Air Quality is very poor," Vincent J. Del Casino Jr., the university's provost and senior vice president of academic affairs, said in a statement. "Faculty, staff, and students — let's continue to support each other and be flexible as we manage this latest emergency."
Firefighters had a long day ahead of them battling flames and blistering temperatures around Northern California. The mercury was expected to hit 102 degrees in Sacramento, 98 in Napa and Vacaville, 96 in Santa Rosa and 94 in San Jose.