A Los Angeles County sheriff's deputy was "ambushed" and killed in his patrol car by an unknown person Saturday. Authorities suspect the deputy was targeted simply because "he was in uniform."
Deputy Ryan Clinkunbroomer, 30, was found unconscious in his car at 6 p.m. Saturday, Sheriff Robert Luna told reporters at a late-night news conference. The bystander called 911, and Clinkunbroomer was taken to the hospital with a gunshot wound. He did not survive.
Authorities have not identified a suspect. Luna said that no theory had been eliminated for the shooter's motive but that it appeared the deputy was targeted because "he was in uniform."
"He was just driving down the street, and for no apparent reason — and we're still looking into the specific reasons — somebody decided to shoot and murder him," Luna said.
Clinkunbroomer had just left the Palmdale station, and his car was found nearby at the intersection of Sierra Highway and Avenue Q. Law enforcement officials familiar with the investigation said Sunday that a video clip that shows a car pulling alongside the patrol car before it speeds away is a focus in the investigation.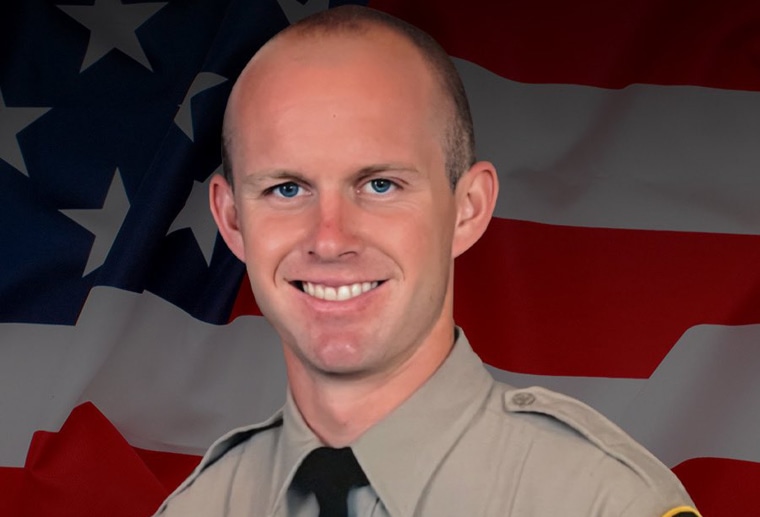 There have been few leads as detectives question whether Clinkunbroomer was targeted or whether the shooter was seeking any person in uniform driving a patrol car to attack, a source said. Investigators are looking for additional video that may match what appears to be the moment of the ambush.
"Detectives are in the initial stages of this investigation and seeking the public's assistance to apprehend this suspect," Luna said Saturday. "So I'm going to continue with my notes, but I'm just going to pause — we really need your help."
On Sunday, the department said in a statement it was searching for a car apparently seen in that video: a dark-colored 2006 to 2012 Toyota Corolla. The department characterized the sedan as a "vehicle of interest."
Richard Pippin, the president of the Association for Los Angeles Deputy Sheriffs, described Clinkunbroomer's death as an "unprovoked execution" in a statement Sunday.
"We all suffer immeasurable loss when cowardly acts of murder such as this are committed," Pippin said. "We are left reeling from this incomprehensible tragedy. I assure you that every law enforcement officer in the region is focused on relentlessly pursuing these criminals until justice is served."
Clinkunbroomer, a third-generation deputy, had spent the last year and a half as a field training officer. Luna described the role as one reserved for the "best of the best" in the department.
"He embodied the values of bravery ... selflessness and an absolute commitment to justice," Luna said. "Our deputy was a devoted family member and a shared cherished member of our community who was cowardly shot while working tirelessly to serve our community this evening."
Clinkunbroomer had gotten engaged just four days before his death, Luna said. In addition to his fiancée, Clinkunbroomer is survived by his parents and his grandparents.
Deputies gathered alongside other county employees and community members to form a processional as Clinkunbroomer's body was transported Saturday night. Clinkunbroomer was draped in an American flag as he was wheeled out of the hospital and into a coroner's vehicle.
Late on Sunday, the sheriff's department announced a $250,000 reward for information leading to the arrest and conviction of a suspect.
The money includes $100,000 from county taxpayers, committed by elected Supervisor Kathryn Barger, $100,000 from the city of Palmdale, which has a contract for police service with the sheriff's department, and $50,000 from the union representing rank-and-file deputies in the department.