Love letters up for auction reveal the depth of the passionate relationship between Jacqueline Kennedy Onassis and David Ormsby-Gore, a close friend of President John F. Kennedy's whose marriage proposals she rejected.
Ormsby-Gore, the fifth Baron Harlech, served as the British ambassador to the United States during the Cuban Missile Crisis — an appointment that Kennedy personally requested for the friend he first met when his father, Joseph Kennedy, served as the U.S. ambassador to Great Britain from 1938 to 1940.
Several biographies of the Kennedys have discussed Ormsby-Gore's proposals to Jacqueline Kennedy in the years after the president was assassinated in November 1963. But the newly discovered trove of correspondence gives fresh insight into the "many lives and deaths and hopes and pain" that the two shared, as Jacqueline Kennedy wrote on Nov. 13, 1968 — a month after her marriage to Aristotle Onassis, the billionaire Greek-Argentine shipping tycoon.
"I care about you so much, and before Georgia I thought maybe I had cut all communication forever, I hope that isn't true, we have known so much and shared and lost so much together," she wrote. "I hope that bond of love and pain will never be cut."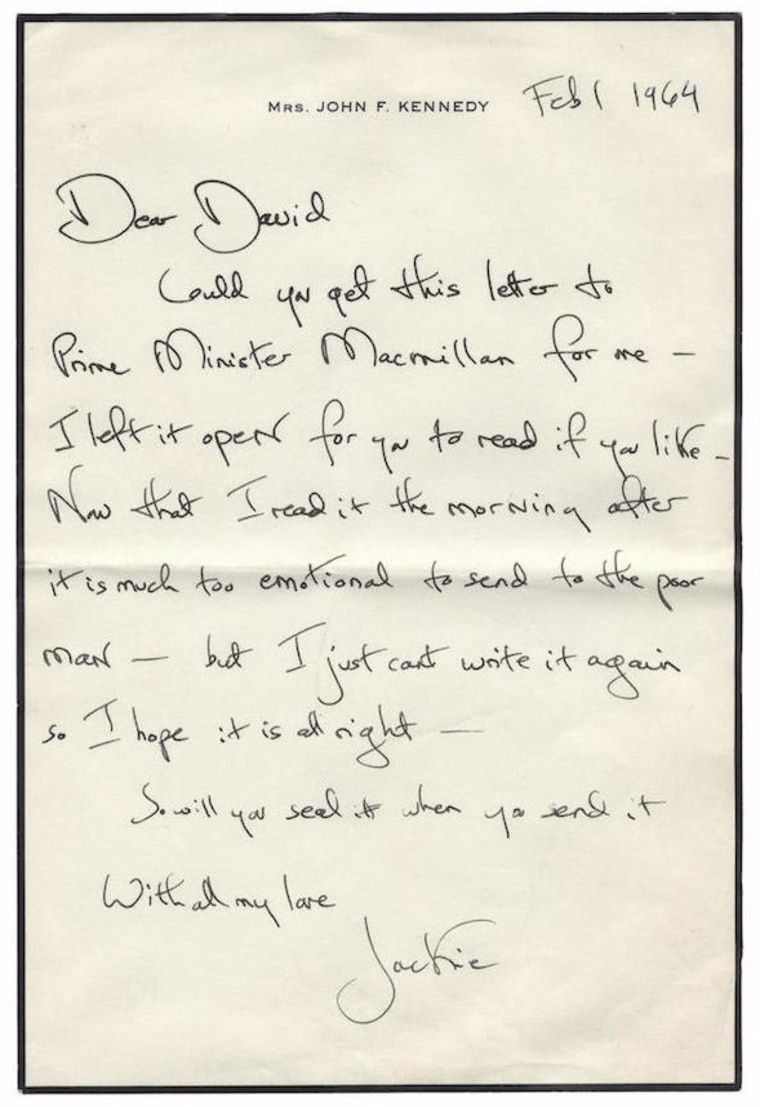 The mention of Georgia appears to refer to a visit that Ormsby-Gore and Kennedy made to Greenwood Plantation near Thomasville, Georgia, in February 1964 — just weeks after the president was killed. The plantation was the home of their mutual friend John Jay Whitney, a former U.S. ambassador to Great Britain.
The letters are to be put up for sale by Bonhams Auctions in London on March 29, although some are going on public display this week at Bonhams' New York office. Written on both personal and White House stationery, they were discovered recently in two red leather briefcases in Ormsby-Gore's untouched study at Glyn Cywarch, the family's centuries-old estate in Wales, the auction house said.
When Ormsby-Gore died in 1985, the former first lady attended the funeral, along with her brother-in-law, Sen. Edward Kennedy.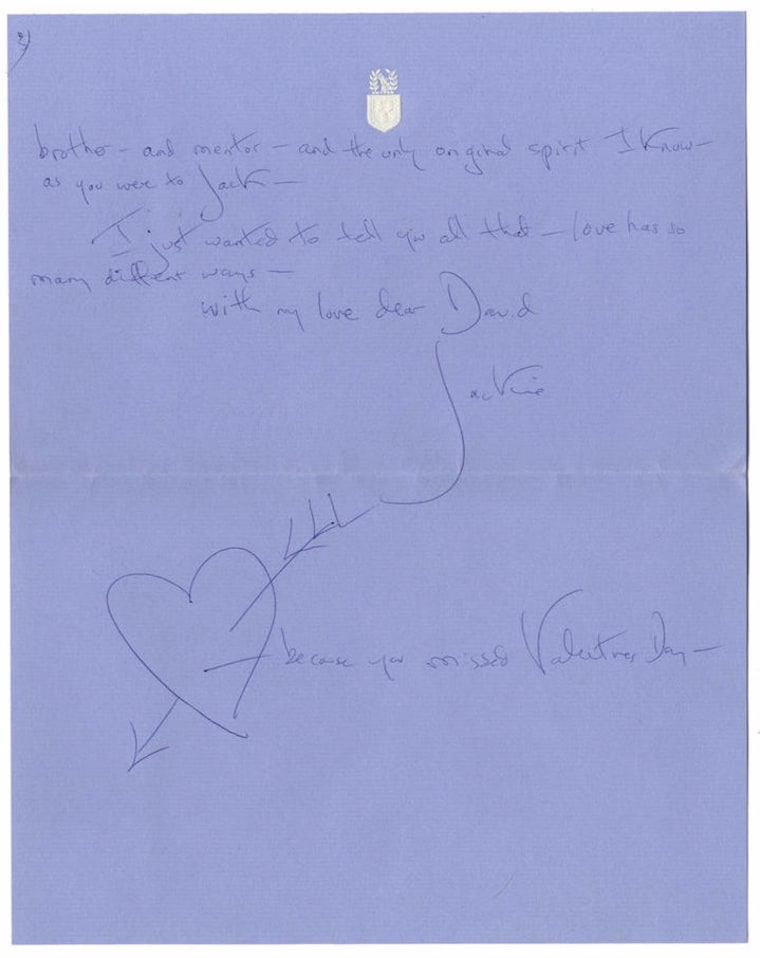 In one of the letters, Kennedy acknowledges the "cri de coeur of loneliness" that Ormsby-Gore had expressed in earlier correspondence and writes, "I would do anything to take that anguish from you."
Anything, that is, except to marry him.
In another letter, written in longhand on stationery bearing the name Aristotle Onassis' yacht, she wrote: "You know me and you must know that the man you write of in your letter is not a man that I could marry. ...
"You and I have shared so many lives and deaths and hopes and pain — we will share them forever and be forever bound together by them," she wrote. "If ever I can find some healing and some comfort it has to be with someone who is not part of all my world and past and pain."
In Onassis, she wrote, she had found a "wise and kind" man who "wants to protect me from being lonely."
"Only I can decide if he can and I decided," she wrote.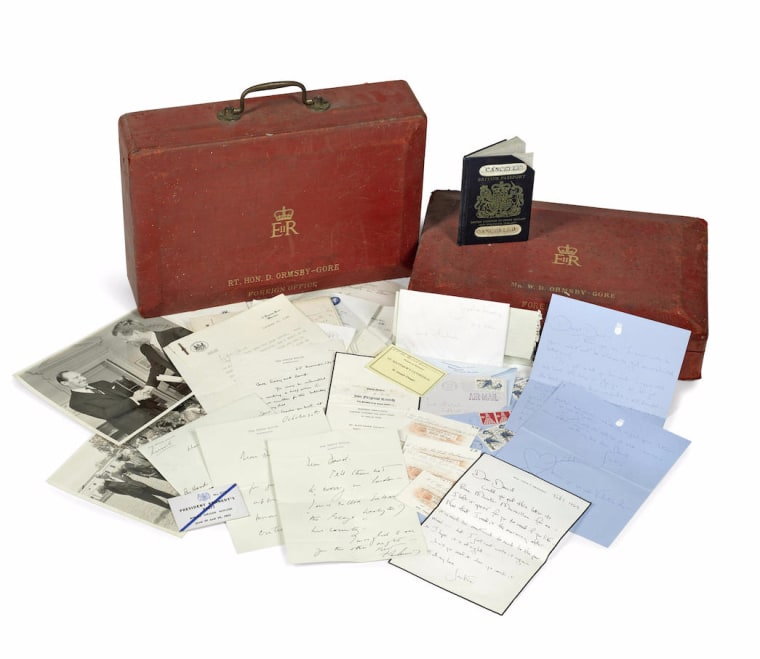 That letter must have been painful for Ormsby-Gore to read. In what appears to have been an undelivered draft, he wrote, "Do you think it conceivable that you might be wrong that we could find together a few little nuggets of happiness after the terrible shipwrecks that have struck at us in both our lives[?] As for your photograph I weep when I look at it."
In addition to the love letters, the Bonhams auction lot includes letters from John Kennedy, photos and memorabilia — among them four White House passes that were given to Ormsby-Gore as ambassador the day after the president was assassinated.
Bonhams estimated the lot as being worth $120,000 to $190,000.